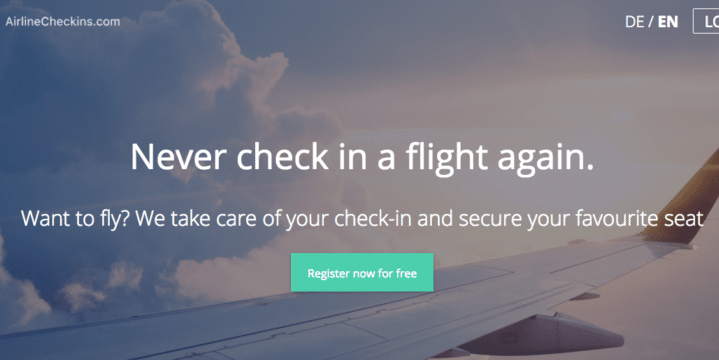 Lufthansa Airlines Innovation Hub has created a website that allows registered users to automatically be checked into any flight—and not just Lufthansa flights. In fact, the free service is open to travelers of over 100 large- and medium-sized airlines from around the world, as long as the airline offers online check-in. Here's how it works:
You register once at AirlineCheckins.com and store your travel documentation, personal information and seating preferences in your profile. When you purchase airline tickets, you use the personal AirlineCheckins.com email address that you're assigned (firstname.lastname@AirlineCheckins.com). When you fly, you're then automatically checked in for all flights you've booked using your AirlineCheckins.com email address.
The check-in takes place within a few minutes of your airline making online check-in available for a flight. Why is this helpful? The advantage is that you're likely to get a better seat if you've reserved one you don't want, or if you don't have one reserved. It also bypasses the burden of needing to manually input information—like passport info and birthdays—multiple times.
The disadvantage is that you're giving your personal information to another website and letting an automated service choose your seat. And once a seat is chosen, it usually can't be changed until you get to the airport.
Once checked-in, you'll automatically receive your boarding pass by email or text message. You can also specify travel companions in your profile to ensure a smooth check-in for multiple travelers.
The free service has been in beta for over a year and approximately 5,000 travelers from 60 countries have used it. It officially launched last week, but I probably won't use it since I like to analyze my seats up to the last minute. I usually consult SeatGuru to be sure I get the best seat on the plane. However, I would consider using it for airlines that only do open, first-come, first-serve seating like Southwest Airlines. And according to AirlineCheckins.com's PR team, it does serve Southwest passengers and will likely assign them to the premier (A) boarding group.
If you have a flight already booked and you want to use AirlineCheckins.com, you still can. You can just forward the relevant booking confirmation email from the airline to checkins@AirlineCheckins.com or to your personal AirlineCheckins.com email address.
How about you? Have you used it? Would you?
____________________________________________________________
Tried this tip? Let me know in the comments!
Have your own tip? Email it to whitney@johnnyjet.com!
Want to see more tips? Click here for all 972!
Want even more travel tips? Sign up here for the Daily Travel Tip newsletter! Just fill in your email address and check the Daily Travel Tip box—and you'll have Johnny's best tips, straight to your inbox each day!
If you already subscribe to our weekly newsletter, you can sign up on the same page. Just fill in your email and check the Daily Travel Tip box on the same page and you'll receive an email with a link to update your JohnnyJet.com preferences. On that page, just click the Daily Travel Tip box and Update Profile.