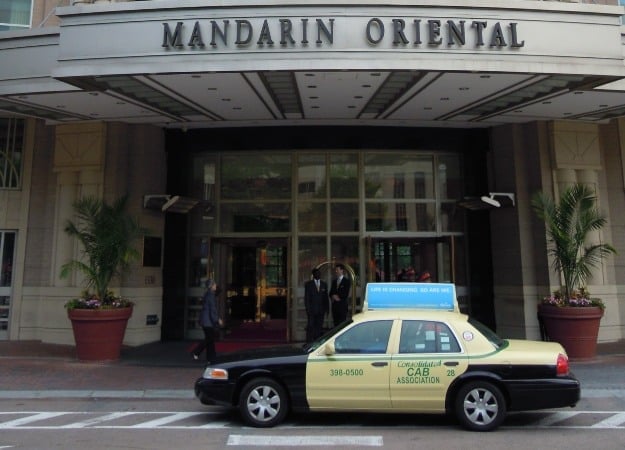 I arrived at Dulles International Airport with the Icelandair clan (the executives hosted a gate party in celebration of their inaugural flight), so I jumped on their charter bus to the city. That saved me a good $40 or so. When their bus pulled up to the Milford Hotel, I said my goodbyes and hailed a taxi. The Ethiopian driver was friendly and said taxis in D.C. are some of the least expensive in the country, which is why they add a $3 night charge. I'm not sure if he was "taking me for a ride" or not, but the price seemed reasonable–especially coming from Iceland: The 10-minute trip to the Mandarin Oriental Hotel cost me $11.75 compared to a six-minute ride in Reykjaviík that set me back $18.
Did you know there are thousands of Ethiopians in the D.C. area? I've heard estimates between 150,000 and 500,000.
Mandarin Oriental Washington DC
When I told the taxi driver I was heading to the Mandarin Oriental (M.O.), he said, Wow! That's a really nice and expensive hotel. I informed him I was a travel writer so I wasn't paying and I was there just to check it out. Here's my honest view of my two-night stay.
Mandarin Oriental DC Arrival
We pulled up to the Mandarin Oriental, Washington, D.C. (website) around 10 p.m. There was a line of cars and a bunch of people leaving–a function at the hotel must've just ended. The decked-out doormen still managed to keep traffic flowing, and one of them opened my door, welcomed me, and grabbed my luggage from the trunk. I told him I could take care of it from there since it was just a carry-on. He kindly obliged.
Mandarin Oriental DC Front Desk
There was no line at the front desk, and the one visible available clerk happened to be a beautiful half Chinese and half Japanese woman. She was very kind as she welcomed me to the M.O. while taking my credit card with both hands just like they do in Asia. She proceeded to give me a chilled lavender face cloth and a glass of cold ice tea. She asked how my trip in was and then took my bags and escorted me to the elevator.
Mandarin Oriental DC Tai Pan Club
Along the way to the elevators she pointed out different hotel amenities and paintings then informed me that I had access to their Tai Pan Club (normally $100 extra a night). When my eyes perked up since I was hungry, she said I could go up there now before they closed and she'd drop my bags off in my room for me. Gotta love M.O.'s service.
In the lounge was yet another pretty Asian woman who greeted me, asked me my room number, and then showed me around. There was no substantial food at that time of night, but you can order off the room service menu. I grabbed a bottle of water, a cookie (chocolate chip, peanut butter, oatmeal raisin, and sugar were available), and some snack mix before calling it a night. BTW: Every time I went up there I witnessed M.O.'s incredible service. The workers were friendly, discreet, and one step ahead of any request.
Breakfast in the Tai Pan Club
Without a doubt the best part of the club is breakfast. It was a complimentary European breakfast, so it wasn't anything vast, but it was top quality–especially the fruit. I also loved the carrot muffins and the views: One side has a view of an office building with the Washington Monument behind it, and the other was of the Potomac River and Reagan National Airport.
To give you an idea of the service: I was walking toward the buffet with an empty glass of the fresh-squeezed orange juice I had just downed, and one of the three workers stopped what she was doing in mid stride, grabbed the pitcher, and said, More juice? as she poured me another glass with a smile.
Other perks of having Tai Pan access, besides the complimentary breakfast, all-day snacks, and evening cocktails and hors d'oeuvres, include:
20 percent discount in Empress Lounge (excluding special promotions)
20 percent off dinner only at Sou'Wester (excluding special promotions)
20 percent discount on any 80-minute treatment in the Spa at Mandarin Oriental
Tai Pan Hours of Operation:
• Mon-Fri: 7 am – 11 pm
• Sat-Sun: 8 am – 11 pm
• Breakfast Mon-Fri 7-10 am, Sat-Sun 8-11 am
• Happy Hour 5-7 pm daily
Mandarin Oriental DC Rooms
The rooms aren't overly large, but they are incredibly elegant with their teak wood furnishings and beautiful art. The main thing I didn't like was the fact that it was too cluttered. They had all kinds of folders, magazines, calendars, and glasses everywhere, so the first thing I did after I photographed the room was pile them all up and hide them behind the 32″ LCD flat-screen TV (with a state-of-the-art home entertainment system) that had soft Chinese music playing. Don't get me wrong; I really appreciated the three free bottles of water–I just didn't need all those glasses (or any, in fact).
The Good
The best part about the room was the bed. Its four pillows were all the same size, and they and the bed were extremely comfortable. Other highlights included:
– Marvelous view of the Potomac Tidal Basin (other rooms overlook the district's historic monuments) – Oversized marble bathroom with large soaking tub and separate glass shower stall – The 15″ LCD flat-screen TV in the bathroom mirror – The bathroom is stocked with long soft towels – When the Do Not Disturb sign is on, the maid slides a note under door–she does not call or knock. – The night maid comes in and lays the robe on the bed with a note and puts the slippers on the floor. She also tidies up and leaves more Gilchrist and Soames soap and bath products. – Windows are almost completely soundproof. – The curtains are blackout. – My room had three dual-line telephones. – Overnight complimentary shoe shine was available upon request. – Complimentary morning newspaper. – Oversized in-room safe, large enough for a laptop computer.
The Bad
The Internet is free for Tai Pan guests, but it's normally $5 an hour, $15 a day, $35 for 3 days, or $75 for a week. The prices aren't crazy expensive, but the connection was slow because I didn't have a strong signal in my room.
 The walls are not completely soundproof, so I could hear my neighbor on occasion and some hallway traffic (though there's not a lot).
Marine One
A police helicopter continuously goes up and down the Potomac Tidal Basin making sure everything is A-OK. When I heard a different chopper noise, I looked up and sure enough, it was Marine One (the president's helicopter)! I jumped out of bed and grabbed my camera and quickly snapped a shot. It turned out that wasn't my only opportunity–I saw it at least six times over two days. FYI: It looks like they park the helicopter about a mile away behind a building near the river.
Sou'Wester
The Mandarin Oriental has three restaurants. One is called CityZen, which is quite possibly D.C.'s best restaurant–it is a AAA Five Diamond (for the fourth consecutive year). I didn't get to eat there because it was full (reservations are a must), but I wasn't unhappy because I had a fantastic meal at their Sou'Wester restaurant with Linda Beltran, the hotel's PR maven (@MO_washingtonDC) and Andrew Evans (@WheresAndrew).
The chef at Sou'Wester offers regional American cuisine with a Southern flair. To start I had their insanely addicting hush puppies with honey butter and corn bread. For an appetizer I had "Nose-To-Tail" Shoat with spring vegetable ragout and fried egg ($14). For my entrée I had Grilled Ayrshire Farms chicken "under a brick" with extra virgin olive oil braised spinach, crispy "smashed and fried" potatoes, and lemon-rosemary jam ($23). To finish it off in style I went with their Sundae at the Ball Game ($8). It's made with pretzel ice cream, butterscotch kettle corn, beer caramel, and Parker House doughnuts. Oh my. You will not leave hungry or disappointed.
Mandarin Oriental, Washington, D.C.
1330 Maryland Ave. SW
Washington, DC 20024
Tel.: (202) 554-8588
Sightseeing in Washington DC
Before I arrived in D.C. I told some of my local friends where I was staying, and they all gave me the impression the M.O. was a ways from the city's sites. But it was just a 10-to-15-minute walk to the Washington Monument, and from there everything was accessible including the White House, which I also walked to. BTW: I saw one of the Secret Service agents walking the president's dog in the backyard.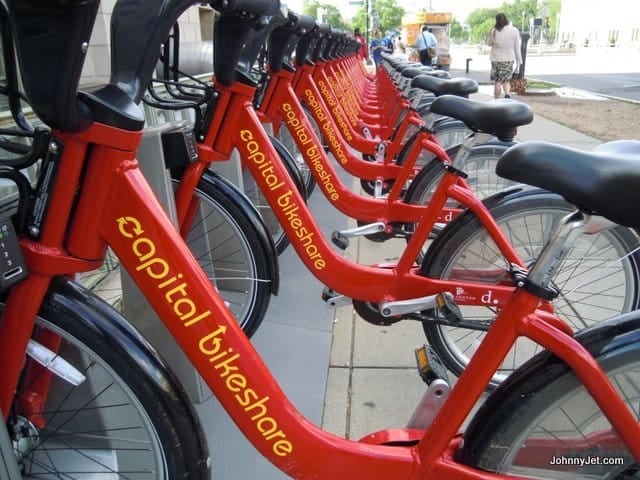 Capital Bikeshare
Like in most major European cities, D.C. offers an affordable bike-sharing program. It's called Capital Bikeshare, and they have 1,100 bicycles with 110 stations across Washington, D.C., and Arlington, VA. You can pick one up and return it to any station near your destination. Access to the bikes is 24 hours a day, 365 days a year. To become a member it's $5 for 24 hours or $15 for 5 days. The first 30 minutes of each trip are free. After that, the prices are as follows: 31-60 minutes: $1.50; 61-90 minutes: $4.50. Each additional half hour is $6 (up to 7 hours); 7 to 24 hours will set you back $70.50. Obviously, it's geared toward short-term sharing.
Reagan National Airport
What's also nice about staying at the Mandarin Oriental is that it's just a 10-minute drive to Reagan National Airport. They even have a free town car for Tai Pan guests, if it's available (they only have one); if the town car isn't available it's about a $12 taxi ride.
Second Trip To DC in a Month
My second trip to D.C. this month was last Thursday, when I flew United Airlines from Los Angeles to Dulles Airport. Here are some of my observations and tips from that trip.
-When the ticket was booked for me a week before the trip, I immediately went to assign myself a seat, but everything was taken except the dreaded middle (FYI: The plane was a 757 aircraft, so the configuration is 3×3). Here's how I was able to get a better seat: every day for seven days I kept logging on to United.com until an aisle seat opened up. One eventually did become available, as it almost always does–those with high frequent flier status tend to get upgraded, and their plush economy seat opens up.
-I have Premier status (which means I fly at least 25,000 actual air miles on United or its partners), their lowest elite level, so I don't have a lot of pull, but I was able to get a seat in Premium Economy (5 extra inches of legroom) for free.
-Security at LAX's Terminal 7 (T7) on Thursday at 11 a.m. took me 15 minutes in the Premier line. The regular line took about double.
-Inside T7 was packed with summer travelers but there weren't long lines at La Brea Bakery or Baja Fresh (my two favorite places to eat in the United terminal).
-I grabbed a tasty but expensive mozzarella sandwich with pesto and roasted peppers from La Brea Bakery for $9.98 (with tax).
-Boarding was pretty chaotic–everyone was hovering around the gate (airline workers call these people gate lice)–and since I was one of the first economy passengers on the plane I saw 99.9 percent of the people boarding. Most of them were clueless, banging into me with their bags and taking their time in the aisle. We ended up being delayed 20 minutes thanks to the slow pokes who can't stow bags quickly, and we missed our departure slot.
– Before takeoff I told the flight attendant (FA) that the window casing on the Emergency Exit door wasn't looking too good since it was sticking out. He said, I know but it's OK. I felt uncomfortable until a follower of mine (@Sluggoaafa) on Twitter replied with a better answer: "That part of window does nothing anyway, it's just velcro'd to interior of door frame."
-United doesn't have Internet (except on their P.S. flights to and from LAX/SFO and JFK), so the only entertainment were some audio channels and the dated overhead monitors playing shows and a movie.
-One thing United has that the others don't is Channel 8. They allow passengers to listen to air traffic control, so I knew exactly when we were taking off and landing as well as our speeds and altitude. I didn't know air traffic tells planes to slow their speed to 170 mph on the final descent, did you?
-Flight time was 4 hours and 35 minutes.
Dulles Airport
This was my second time to Dulles Airport in the last 30 days, and I'm really digging their brand-new remodeled terminal–it's incredible. The design makes you feel like you are in a first-world country–FINALLY! And to top it off, its new tram system even charts the next tram's arrival, down to the second. FYI: Dulles Airport is in Chantilly, Virginia, on 12,000 acres of land 26 miles from downtown Washington, D.C.
Dulles to D.C.
From Dulles, it's a 35-to-40 minute drive to D.C. when there's no traffic. Marriott arranged a car from Loba Transportation to pick me up, and I had yet another Ethiopian driver just like the last time I was in D.C. What's crazy is I also had one on the way to LAX a few hours earlier. Are Ethiopians taking all the limo and taxi driver jobs? If they were all like my Loba driver it would be OK, because he was an awesome guy and told me all about his homeland, which I found fascinating. One of the interesting things he said was he doesn't like to return to Ethiopia because locals think if you live in America you are rich, so you have to bring gifts for all your friends and family–and he means everyone. He said in Ethiopia you don't even know who all your relatives are, and you can't question them, so instead he travels to other parts of the world.
Courtyard Washington, DC
I was in D.C. to take part in Courtyard by Marriott's Behind-The-Bistro Experience (more on that in a minute). They put us up at the Courtyard Washington, D.C./U.S. Capitol (website). When I pulled up to the hotel at 10 p.m. I was disappointed to learn it wasn't in the heart of the city. It's one metro stop from Union Station and a few from downtown. I guess I should've Google mapped it, but I didn't. The good news is there's a brand-new metro stop just a hundred yards from the entrance of the hotel. My driver told me this is a new, up-and-coming area, so I shouldn't go wandering off in the wrong direction at night. It did seem a little sketchy on the outskirts, but once I got inside the eight-floor, 218-room hotel I felt completely safe.
Arrival
When you enter the hotel there is a friendly security guard on the ground floor. He directed me to the new state-of-the-art lobby on the second floor, which is the only floor one can access without a room key. After checking in I was bummed to learn that the hotel's Bistro closed at 10 p.m., so I just missed getting dinner. I didn't want to walk a couple blocks to the nearby Wendy's, McDonald's, Pot Belly, and others, or order takeout from one of the nearby restaurants that deliver (the front desk has a book of takeout menus). Instead, I hit the Marriott Market, which is behind check-in and is basically a 7Eleven convenience store on a much smaller scale. I grabbed a bottle of water ($2) and a nasty Hot Pocket Spicy Chicken Burrito ($4) and heated it in the Market Place's microwave. FYI: There is a 7Eleven downstairs.
Lobby
What's nice about Courtyard is that most of them have remodeled their lobbies, making them inviting for guests to hang out in. It really is a nice relaxing environment, and there's free Wi-Fi throughout the lobby (and hotel). There's also a GoBoard, which is a monster LCD touch screen that has easy access to the latest news, weather, and airport conditions. In addition, there are two free computers (30-minute time limit if people are waiting) and a "boarding pass computer" to… print your boarding pass (duh).
The Bistro at Courtyard
In the morning I witnessed firsthand Courtyard's Bistro. Its slogan is "Eat. Drink. Connect." They partnered with Starbucks to provide guests with quality food and beverage offerings. What's cool is that Marriott has listed all the calorie counts (they did it after NYC instituted it and they wanted to be ahead of the game). For breakfast there isn't a buffet so I ordered off the menu and went with the Healthy Start: egg whites, turkey, and spinach on an english muffin ($8.25), and a strawberry-banana smoothie ($3.25). The food was good and the staff were friendly and quick to serve (though the cashier was a little slow). Note: Some rates include breakfast, so try and get one of them.
My Room at Courtyward by Marriott DC
One reason why business travelers like sleeping at Courtyard by Marriott, besides the price (rooms start at $99 in D.C.), is that all the rooms are the same. They know what they are going to get and where everything is. They also like the rewards program and its amenities like free Internet (if you want faster speeds you have to pay). The room and bathroom were comfortable, and the bed was firm (there wasn't a mattress pad like at Marriott, so it wasn't that cozy, but I slept well). There was a flat-screen TV, a work desk, and lots of electrical outlets. I found the walls to be a tad thin, as I could hear the neighbors talking and the adjacent room's door slam. I also didn't like that the air-conditioning was loud and the windows not completely soundproof (you can't open them). I was there over the weekend and it was all families (domestic and foreigners), but during the week 80 percent of the hotel is business travelers. Note: The hotel also has a well-equipped fitness center, indoor pool, and six meeting rooms with 2,800 square feet of total meeting space. Sadly, I didn't visit any of them (I'm especially bummed I missed the first two).
Courtyard Washington, DC/U.S. Capitol
1325 2nd St. NE, Washington, DC 20002
Courtyard by Marriott Behind The Bistro Experience
As I mentioned earlier, I was in D.C. for Courtyard by Marriott's Behind-The-Bistro Experience. Eight food and travel writers were invited to go inside Marriott Headquarters and Test Kitchen for about three hours to find out why the fast casual hotel food & beverage concept is working for Courtyard, why other hotel chains are adopting this trend, and what really goes into the food selection and recipe creation. We sampled 8-10 menu items (listed and pictured below), including some potential items Courtyard is contemplating for the fall.
It was a neat experience, and I was shocked by how good some of the food was. In fact, since we had so many courses I was planning on just taking nibbles of each, but with many of them I cleaned the plate.
We met with:
-Janis Milham: VP & Global Brand Manager, Courtyard Marriott International, Inc.
-Paul Gotzman, VP, Food and Beverage Culinary Sustainability
-Brad Nelson, VP, Culinary Development
-Thomas Rebler, Senior Director, Culinary Sustainability
-Kathleen Wellington, Director, Culinary Sustainability
Notes and Highlights from The Behind The Bistro Experience
-First of all, getting to go to the Marriott Headquarters. I've been a fan of Marriott for some time now, and seeing the building where 4,000 people work to make the magic happen was a treat.
– Marriott's Headquarters is in Bethesda, Maryland, about 30 minutes outside of D.C. Gotta love going to different states, and it's been a while since I was in Maryland.
-When we first arrived they brought out some of Marriott's memorabilia so we could see them up close. To touch them we needed to put white gloves on. To learn how Marriott became what it is today, see this Wiki link.
-Running into one of Marriott's star PR executives, Catherine Leitner.
-Seeing Marriott's Café where they have calorie counts just like at the hotel cafés.
-They sometimes work on seasonal dishes two to three seasons prior.
-Starbucks is offered in every bistro and accounts for 20 percent of breakfast sales.
– 64 percent of Marriott's Bistro sales is for breakfast. Lunch is only a small percentage (6 percent).
-The food is made every morning in each hotel kitchen.
-They use bread from La Brea Bakery.
-Everything offered at the Bistro is based on customer research.
-Mr. Marriott is a meat-and-potatoes kind of guy and he likes what most customers do.
-Diners are more adventurous with appetizers across the Marriott brand, so they don't get too gourmet with entrées.
-Only 10 percent of people order a whole-wheat bun when it's offered.
-The turkey burger has only 10 percent less fat than a beef burger.
-Bistro has become a brand within a brand and is the fastest-growing part of the company. Then went from 0 to 343 restaurants in three years.
-Courtyard by Marriott plans to have 450 Bistros by the end of 2011.
-Everything at the Bistro is customizable for the hotel.
-Dessert is a tough sell for the Bistro since most customers don't order it.
-My favorite dish was the roast beef dip. The meat was so lean and the bread was delicious (they put cheese on both sides to protect bread from getting soggy).
-Caitlin Martin, one of the PR girls working on the Courtyard by Marriott account, used her iPad to Skype in one of the writers who couldn't make it. First time I've seen that.
-We were able to see Marriott's Showroom which has an exact replica of every one of their brands hotel room. Here's the video I made of them to give you a better feel.
Bolt Bus Washington DC to NYC for Cheap
On Saturday I was planning on flying from Washington, D.C., to Toronto, but my sister called and said my dad wasn't feeling great. So I canceled my plane ticket and did some research on getting to New York so I could see my dad. This is what I learned: Airfares between the two cities are ridiculously expensive, especially last minute: $382 nonstop and $262 with a stop (12-hour travel time). Even if the tickets were $50 I wouldn't have flown since you have to go out to the airport; deal with security, delays, and boarding chaos; and then arrive to an airport miles away from the city.
My first choice was the train since it's the most reliable and comfortable; has the most legroom, biggest seats, a dining car, and electrical outlets; and departs and arrives in the center of the cities. But Amtrak's last-minute fares were expensive too: $134 for the regular train (takes 3 hours and 25 minutes). Taking the Acela Express (2 hours and 45 minutes) was $229. Note: There was a regular train for $78, but it left at 3:15 a.m.
I then looked up bus fares. While I was in D.C. I kept seeing Bolt Bus, Mega Bus, and Greyhound drive by with big signs implying they are cheap, so I checked them out (there are other companies too). When I logged on to their websites I discovered they really are cheap.
My first choice was Bolt Bus because most of my friends/followers on Twitter expressed their love for them. Bolt had buses departing every 30 minutes and last-minute fares for as low as $17.50, but the mornings were all sold out, so I looked at Mega Bus. Mega had last-minute fares as low as $15 but the first available bus wasn't until 11:30 a.m. Since Bolt Bus had one leaving at 1 p.m. and Mega's trip duration was 15 minutes longer, I figured I would go with Bolt.
Just for the fun of it I logged on to Greyhound Express (Note: when I did a search for regular Greyhound, not Express, travel times were twice as long and expensive). Greyhound Express had buses leaving every 90 minutes and starting at $19 with a travel time of 4 hours and 18 minutes. I was tempted to go with them, but since I wanted to try Bolt Bus out I gave them my credit card. Bolt charged a $1 transaction fee, so the total for a one-way ticket to NYC was $20. TWENTY DOLLARS! Isn't that insane? You can't take a taxi 5 miles for $20, yet you can take a much more comfortable bus 225 miles. Makes no sense, but I'm not arguing.
By the way, I could've rented a car, but didn't even bother looking at those prices since I was just one person and knew the drop-off fee would be ridiculous. If I were traveling with three other people I possibly would've, but with bus prices so cheap and gas prices so expensive, why bother?
Here's my tips and observations from the Bolt Bus Trip
-Bolt Bus leaves from the upper parking lot of Washington, D.C.'s Union Station. Mega and Greyhound don't leave from here.
-To get to Union Station I was going to take the Metro near my hotel, but the ticket agent said, You can pay $1.85 to go one stop, but if I were you I would walk. It's just five minutes away. It turned out to be about 12 minutes, but I'm glad I walked since I got to see the neighborhood and stop at one of the restaurants I passed. I bought a meatball grinder from Pot Belly ($4.85), which I later shared with my seatmate. One thing is for sure: sharing a meal with a stranger (or at least offering) breaks the ice.
-It was my first time in Union Station, and it really is beautiful. I'm so glad I got to see it (but Grand Central blows it away in terms of beauty).
-My ticket was for 1 p.m., but since I didn't have a printer I went up to one of the Bolt Bus agents hanging out near the buses and told him my dilemma and he asked if I had my confirmation number. I just showed him my email receipt from my Blackberry, and he said, You can get on now. I said, But I'm on the 1 p.m., not the 12:30. He said, You can take this one if you like–it's leaving now. I asked if I would get a better seat if I waited for the 1 p.m., but he said that bus would probably be late so I should go now. I did. When I got on the bus I was expecting to be stuck in the last row, but I wasn't. The first row had a vacant seat and so did the third. I took the third since I could stick my carry-on bag somewhat under it (my bag was too big, as there isn't the same amount of room as there is under plane seats).
-My seatmate was a Congolese guy who turned out to be really nice. He works for a nonprofit Congo organization and travels between NY and D.C. at least once a week. He almost always takes Bolt Bus, and he taught me a few tricks. One is that he chooses a seat in the first eight rows because they have electrical outlets, and two is that if you want to get an "A" boarding pass, all you need to do is register with Bolt Bus Rewards Program. I hadn't registered so I had a "C" card. I guess they board like Southwest Airlines. FYI: I just registered (after the trip) and it took 60 seconds, so it's worth it.
-We left on time.
-It took 20 minutes for us to get out of D.C. and onto the thruway.
-The bus only had four empty seats out of 50.
-You can purchase tickets online until three hours before departure (for example: they stop selling the 3 p.m. bus at 12 p.m.).
-They don't oversell their schedules, so they guarantee you a seat provided you arrive a minimum of 15 minutes prior to the scheduled departure.
– Five minutes prior to departure, any unclaimed seats are released to walk-up and standby passengers. I should've shown up for the 9 a.m.!
-The seats recline but they don't give you that much legroom.
-There's not a lot of room for overhead space, so big bags need to go below the bus (no charge).
-There is a toilet on board.
-No dogs, cats, birds, or other animals can be transported (except service animals).
-Our bus driver was an excellent driver and had a personality like Cuba Gooding Jr.–he kind of looked like him too. What was annoying is that he was using a Nextel phone that's like a walkie talkie. Their initial sound needs to be eliminated, but I appreciated the fact that he was in constant contact with the drivers in front of and behind him to find out about road conditions. He made a detour but we still got stuck in traffic twice due to accidents.
-The driver also played soft music. I was just three rows away and it sounded like it was coming from a passenger's headphones–it wasn't loud enough to enjoy.
-I learned we were on a 45-foot bus when the driver was ragging to his colleague about a local D.C. bus driver who parked in two lanes: "He said you know that bus driver ain't no bus driver and he's just in a 35-foot bus, not like our 45 foot."
-Two different cars lost their tied-down luggage. That was the cause of one of our delays as cars had to swerve out of the way of a suitcase.
-We took a 15-minute break in Natch, Delaware, at their incredible one-year-old (it opened June 28, 2010) Welcome Center. It's located on the Delaware Turnpike part of I-95 between Exit 1 (Rte. 896) and Exit 3 (Rte. 23). The 42,000-square-foot rest stop has 21 fuel pumps and a bunch of restaurants including Baja Fresh, Brioche Dorée, Burger King, Cinnabon/Carvel, Famous Famiglia Pizza, Popeye's Chicken, and Starbucks. There's also Z Market, Postcards from Delaware, and iShades shops. (Delaware has tax-free shopping.) What I appreciated the most was no line for the bathrooms–they had plenty.
-The trip took 5 hours and 30 minutes thanks to traffic.
-We all got off at 33rd Street and 7th Avenue in NYC.
-We traveled five states in five hours–not bad for one day.
-To get to Connecticut I took Metro North ($9.25) from Grand Central Terminal. Trains leave every hour.
-My dad's doing much better, thanks for thinking of him!