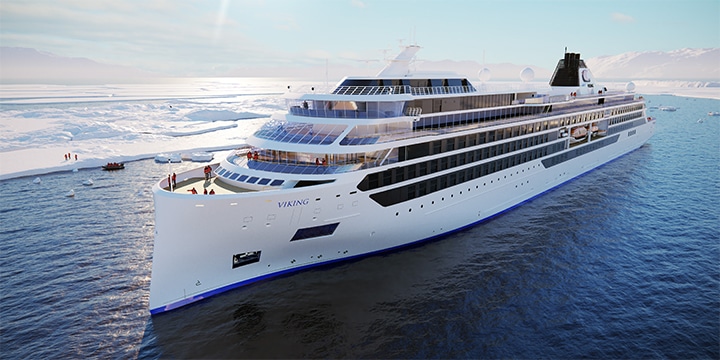 I've been fortunate to sail with Viking a few times. The first time was a river cruise through Europe, where my husband and I visited some of the continent's most famed Christmas markets. I've also sailed along the Douro with Viking. Then they launched their ocean liners and I sailed on Viking Sea from Lisbon to Le Havre. And Johnny has sailed Viking Star from Lisbon to London with his dad. All of my sailings with Viking were 5-star experiences. From the style and the service to the food and accommodations, I truly enjoyed every single trip. After basically taking over the river cruise industry, then sailing into the ocean cruise biz with great success, Viking now has its sights set on the next big thing in cruising: Viking Expedition Voyages.
RELATED: Best Credit Cards For Cruises
"We invented the concept of modern river cruising when we launched in 1997; then we reinvented ocean cruises and became the 'World's Best Ocean Cruise Line' in our first year of operation, as well as every year since then. Now, in creating 'the thinking person's expedition,' we are perfecting polar expedition cruising, and we will usher in a new era of comfortable exploration in the heart of North America," said Torstein Hagen, Chairman of Viking. "Our guests are curious explorers. They want to continue traveling with us to familiar and iconic destinations, but they would also like to travel further. We began as Viking River Cruises; then we evolved into Viking Cruises with the addition of ocean cruises; today we stand singularly as Viking, offering destination-focused voyages on more than 20 rivers, five oceans and five Great Lakes, visiting 403 ports in 95 countries and on all seven continents."
Set to launch in 2022, Viking Expeditions will include Viking Octantis (first sailing in January 2022 to Antarctica as well as the North American Great Lakes) and Viking Polaris (first sailing in August 2022 to Antarctica and the Arctic).
Both vessels will carry 378 passengers each in 189 staterooms (the ships are still under construction) and will feature not only the beautiful Scandinavian interior design that guests are accustomed to seeing on Viking's existing vessels, but also innovative exterior design elements (straight bows, longer hulls and state-of-the-art fin stabilizers) that will help make the journey over rough waters as smooth and calm as possible.
Want to cruise on Viking or any other cruise line? If you'd like to speak to an agent, we've partnered with Cruise Planners—a top-rated travel agency—to help you plan your perfect trip. Contact Mike Gelman (1-800-724-5868) and tell him Johnny Jet sent you.
Because expedition voyages are so very different from river and ocean cruising, the new polar-class vessels are designed to reflect the needs of this type of travel. Of course, the ships will still offer the fine dining, Nordic-style spa and gorgeous, light-filled public spaces that both their river and ocean vessels have, but Octantis and Polaris will also feature some really cool elements.
Every stateroom will have a Nordic Balcony, which is an enclosed sunroom that converts into an outdoor viewing platform and has floor-to-ceiling glass for optimal viewing of the wildlife and breathtaking views. Each stateroom also features a drying closet to dry and store wet clothing and gear.
The Hangar, an enclosed in-ship marina is an innovative industry-first, which allows guests to board small, inflatable excursions craft from a flat, stable surface inside the ship, protected from wind and waves.
The Explorer's Lounge is a two-deck lounge located at the ship's bow that provides incredible views through double-height windows and the ships' lecture hall walls slide open to reveal floor-to-ceiling windows as well.
As part of Viking's commitment to creating a 'thinking person's expedition', guests can expect lots of opportunities for education and enrichment, both on-board and on-shore. There will be 25 experts joining each journey, like biologists, botanists, oceanographers, ornithologists, polar experts and researchers. There will be daily briefings and lectures about the destinations and on-shore, guests can participate in fieldwork (from identifying migratory patterns of birds to collecting samples with scientists).
So, it's exciting times ahead as Viking enters one of the fastest-growing segments in the cruise industry and we'll definitely be following along!
*Rack rates start at $1,250 per person per night (the cheapest rate as compared to other expedition vessels).