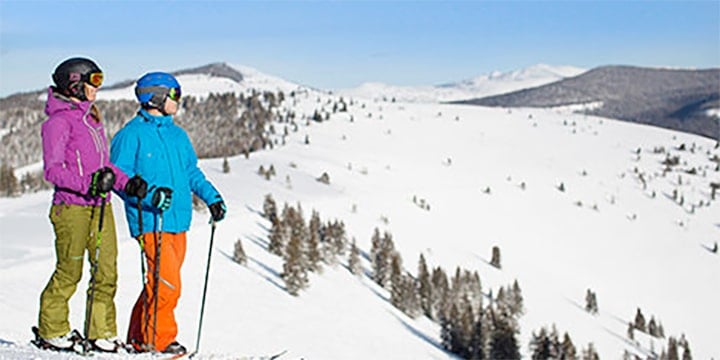 Why are you motivated to take a trip? I have many reasons for travel but one very important one to me is to explore and connect with family back on the east coast since my wife Natalie and I live in Los Angeles.
Just before my wife and I had little Jack, we went to Connecticut to spend time with my family and friends. It was our last trip before the baby was born and my sisters hosted a beautiful baby shower for Natalie. While we were back in my hometown of Rowayton, CT, we also enjoyed lots of family time exploring some of my favorite spots. We just loved seeing all of my little nieces and nephews running around and playing together. These days, when I return to Connecticut, I love exploring it with the little ones and seeing everything through their fresh and curious eyes.
Epic Exploration with Vail Resorts
Over the years, I've found that exploring with the people I love most keeps us connected and enjoying each other's company. I'm always on the lookout for new places to show my family – even if they have to meet me halfway. I discovered that Vail Resorts actually has 8 world-class resorts across the most iconic mountains in the U.S.-from Colorado to Utah to Tahoe.
I know what you're thinking: What would Jack do in Vail? Well, Jack would enjoy getting treated like royalty with half our family, while the other half of us hit the slopes in the winter or went hiking in the summer! Everyone keeps telling us that we'll need the occasional break from Jack so that we can enjoy some adult time (even though we still don't want to leave his side yet)! So, heading up to Vail, in particular, would be the perfect adventurous getaway for the whole family, adults and kids alike.
Exploring Vail with the Whole Family
The mountain activities and surrounding village offers much to do. With 5,200 acres of terrain and seven Back Bowls, Vail is the ultimate outdoor explorer's dream. Friends of mine also talk about Blue Sky Basin being one of their favorite parts of the mountain. I haven't done much skiing in recent years but I love it and look forward to my son learning to ski. And my brother and his kids love skiing so it's the perfect way for us to enjoy time together doing something we all love.
After an exciting day on the slopes, the mountain villages with cobblestone streets are perfect for trying out some new dining experiences. That's something my whole family would do together. And before the day is over, you can rest assured that my wife and sisters would enjoy the shopping as well. At the end of the day, I can picture sitting by the fire at the lodge with our family, sipping hot chocolate and watching the snow fall.
Ski Season is Almost Here!
Opening day at Vail is scheduled for November 18, which means that the chair lifts start turning very soon! December starts "Vail Snow Daze," the annual kickoff to Vail's winter season. The weekend of December 9-11 is packed full of celebrations for all ages – on- and off-mountain activities, concerts and parties. This year, visitors can enjoy the music of Michael Franti and Lettuce. Last year's artists included Rusted Root, O.A.R. and the Barenaked Ladies.
So if you're looking for a mountain exploration trip for the whole family, Vail Resorts has great mountains to check out as ski season will soon be in full swing. The good news is that a Vail Resorts' vacation has lodging and dining to suit every budget. Your family vacation doesn't have to break the bank. From the adventurous terrain for everyone and legendary Back Bowls to exciting events and the quaint town of Vail for the food and shopping scene, it's a great place for families and friends to explore year after year.
Learn more about epic family adventures with 8 world-class resorts, click here.
This is a sponsored conversation written by me on behalf of Vail Resorts. The opinions and text are all mine.