United has announced it will be revamping its international economy food and beverage service. Beginning on June 1, customers in economy class will receive a complimentary three-course meal, complimentary beer and wine, and snacks for purchase.
While competitors like American, Delta and many foreign airlines already offer complimentary beer and wine, it's a much-needed step for United as they try to remain competitive.
New multi-course menu
United also claims that in addition to there simply being three courses, the food will actually be better—and you'll get more of it. In its words, a "hearty three-course service" will be offered beginning with a beverage and snack of cheese and crackers, baked whole-grain bruschetta chips or Kiri cheese spread and crackers, followed by a "generous main course" served with salads and artisan bread.
New dishes will include:
"Home-style turkey meatloaf in spicy barbecue sauce, served with sweet potato mash, mixed vegetables, an artisan ciabatta roll and amaranth mango salad
Tuscan ravioli with roasted red pepper sauce, served with a petit artisan ciabatta roll and mixed-grain salad
Udon noodles with stir-fried vegetables and ginger soya sauce, served with a petit multi-grain baguette roll and apple wheatberry salad"
The final course will be a "premium dessert" such as gelato, sorbet, ice cream, or mousse.
Complimentary beer and wine
While United customers previously had to pay for beer and wine, it will now be free on long-haul economy with the meal. Each customer will receive a complimentary bottle of water as well. Note: Most international airlines offer free booze not just beer and wine.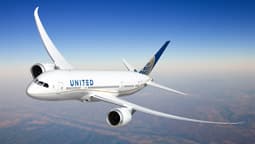 Snacks for purchase menu expanded
Along with enjoying complimentary meals, come June 1 customers will be able to purchase snacks overseas in economy. The snacks for purchase will be the same ones available (from the Choice Menu) in economy now on most North and Central America flights scheduled for more than two hours, flights to and from northern South America, and service between Honolulu and Guam.
Pre-arrival breakfast service
Complimentary pre-arrival service will remain the same. Depending on the market flown, economy customers will receive a croissant with jam, a warmed sandwich or a hot meal served with fruit and a roll. On flights where a hot meal is available, new options, such as cinnamon-swirl French toast and a Tuscan skillet with scrambled eggs, will join other offerings.
United's updated menus and complimentary beer and wine offering come just after it's revamped many of its largest airport terminals—Chicago, Houston, New York/Newark, San Francisco, Boston, and London. All have, according to United, been outfitted with a "streamlined experience from the curb to the gate," along with new restaurants and "modern" gate areas with power outlets.
United has also recently made a number of other small enhancements like new complimentary food menu in United Clubs, replaced snack boxes with freshly prepared entrees served on chinaware for select flights, and added craft beer (Goose Island) to flights.
What do you think? Have any of United's enhancements made a difference yet? If not, what else do they need to do?
Photos: United