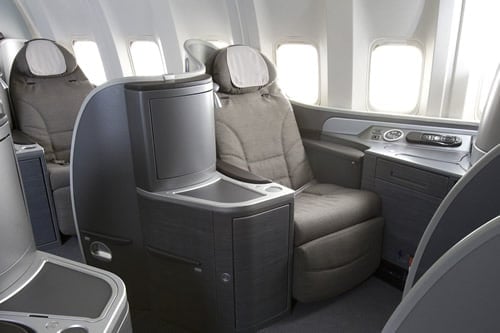 Have you ever dreamed of experiencing the luxury of turn-down service while 30,000 feet in the air? That question may sound a bit absurd, but in the race to bring luxury services to passengers willing to spend the money, United Airlines is doing just that.
There are a few new amenities United Airlines is offering to customers flying United Global First. New sleeping cushions with a 250-threadcount outer cover offer a wonderfully soft surface for passengers to curl up on. Along with their standard duvet, soft pillows, and Philosophy-brand amenity kit, United's Global First caters to the luxe on all levels.
With the new turn-down service, upon the customer's request, a crew member will position the cushion, duvet and pillows within the flat-bed suite for customers. The service is available for United Global First customers on all long-haul international flights.
"Throughout their travel experience, our Global First customers expect the highest level of service," said Mark Bergsrud, United's senior vice president of marketing. "The new turn-down service offers customers even more comfort, enabling them to arrive at their destinations refreshed and ready to go."
Customers seated in United Global First experience a higher level of privacy and comfort, priority airport services and more-personal attention. In United's three-cabin aircraft, United Global First suites offer flat-bed seats, additional storage compartments, a multi-course meal with fine wines and noise reduction headsets. On most aircraft, United Global First suites also offer laptop power, USB ports and personal on-demand entertainment.
United is investing $550 million in fleet-wide onboard improvements, including offering the world's largest fleet of flat-bed seats, with more than 175 aircraft with 180-degree flat beds in premium cabins once the airline completes the installation in early 2013. United also anticipates launching satellite-based Wi-Fi on international widebody aircraft by the end of the year, enabling customers to stay connected while traveling on long-haul overseas routes.
United recently upgraded the airline's United BusinessFirst product, offering customers an elevated business-class service, including an additional entrée option, expanded wine selections, improved in-flight entertainment and new amenities.