These days all the major hotel chains are getting so big and dominant that it's starting to affect my purchasing decisions—and I'm probably not the only one. And that's a huge mistake. I admit I often have to remind myself that it's okay to stay at a hotel that I don't have a loyalty program with or where I'm not sure what the rooms will be like—especially when it's cheaper. That's even the case when PR people email me with offers to stay at their properties for free or at a media rate to review it.
That happened last week when I stayed at The Tuscany in New York City. When I heard the name, I thought "what a weird name for a hotel in New York City—especially one that's not in Little Italy." But I did some research and learned that it used to be part of W Hotels—called W Tuscany—and its sister property next door, the W Court (129 rooms). Now both hotels have dropped the W and are now owned by St. Giles, which owns a total of seven hotels around the world. Their other properties are in London, Manila and Malaysia.
I spent three nights at the 124-room The Tuscany (full disclosure: two nights were comped, and the last was $199) with my dad. The hotel was so busy that the first night we were in a room (room 904) with a king-size bed and a daybed which I slept on and found cozy. The last two nights we were in room 306, which came with two full-size and very comfortable beds with luxury linens.
Here's what I liked about The Tuscany:
The location
The sister hotels are located in a section of Manhattan called Murray Hill, with The Tuscany on 120 East 39th Street between Lexington and Park Avenues. It's only three blocks from Grand Central Terminal so you have all the trains and subways right there to get you where you are going. Good to know: 11 blocks away is "Curry Hill" for those looking for some tasty Indian food!
Friendly service
I was surprised to see they had a doorman working the front door 80% of the time and they were always friendly. Some folks at the front desk were friendly too, but not all of them. My one beef with their service was that at one point I called down a couple of times and no one picked up, which is crazy—especially thinking about what would have happened if there had been an emergency. They definitely need to staff another phone operator or front desk receptionist.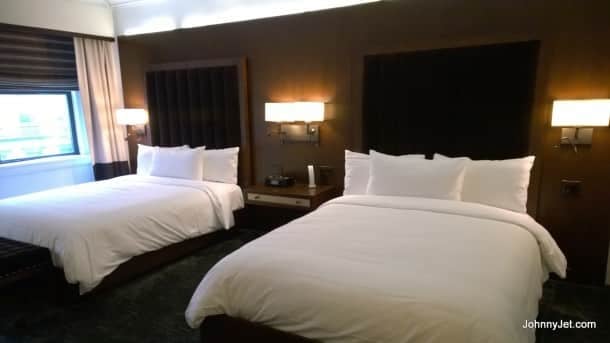 Large rooms
When I walked into the rooms, I was shocked to see how large they were (450 square feet)—much larger than most New York hotel rooms. The rooms have hardwood floor entryways and are furnished with handmade area rugs. All rooms include robes and slippers, iPhone/iPad docking stations, a 46" LED HD flat-screen television and large closets. I found room rates starting at $169 (Sunday nights).
Clean bathrooms with luxury toiletries
The bathrooms are also large and clean and come with rainforest showerheads and luxury bath amenities by Molton Brown. Our first room had a walk-in shower while the second had a deep soaking tub/shower. Good to know: The tubs are difficult for seniors to get in and out of.
Free Wi-Fi
The hotel does provide free Wi-Fi but at times it was painfully slow—I mean so slow that I couldn't even download my email (though that usually only happened around 9 am). When I complained they told me they were aware of the issue, so let's hope they do something about it as I'd would rather pay for reliable Wi-Fi. I think they should do what some major hotels do, which is give away basic Wi-Fi and charge for the fast stuff that hogs the bandwidth.
Excellent gym
On the second floor, there's a decent size gym with plenty of running machines and punching bags. And the equipment is all by TechnoGym.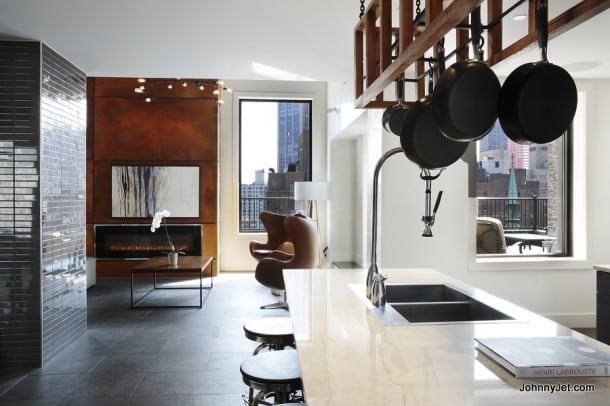 Fantastic penthouse
I was told their Penthouse is mainly used as a function room for corporations to rent out. I wasn't surprised since it's beautiful with barrel vault ceilings and has a full kitchen, fireplace and two bedrooms. One has a pullout couch. The Penthouse is 1,400 square feet and the best part is the private wraparound terrace with spectacular views of the Empire State and Chrysler Buildings. Price is $2,500/night.
Here's what I didn't like about The Tuscany
The hallways are small and the elevator has a loud ding every time it arrives to your floor and you can hear it—even with earplugs in
The windows are not very soundproof and dirty
There's only one elevator for guests; the one next to it is used by the staff
The blinds take a while to pull open and close but are blackout
If you want an umbrella the front desk puts a $30 deposit on your room until you return it (I can't really blame them)
The Wi-Fi is slow
The hotel isn't perfect, but with a few modifications, The Tuscany could be one of New York's hidden gems.