Yahsu from the Greek Islands! We left off last week from Seabourn's newest masterpiece the Odyssey where I told you all about this luxury 450-passenger yacht, which debuted in late June. Unfortunately, I didn't get to tell you about all the ports of call on our seven-day Aegean cruise so we'll explore the Turkish ports this week and the Greek ports next week. If you want to see some of Turkey's most popular destinations (including Ephesus and Bodrum) then you'd better grab your walking shoes, sunscreen and hat – we're going sightseeing Johnny Jet- style. To give you even a more of a feel for what it's like, we're including a dozen unedited mini videos. Let me know if you like them!
ISTANBUL TO DIKILI
Our first official port of call (besides Istanbul) was Dikili, Turkey. The distance from Istanbul to Dikili is 222 miles and we sailed throughout the night, arriving just after noon.
ANZAC DAY
All of the Aussies and Kiwis on board were looking forward to traveling through the Dardanelles near Gallipoli since that's where the Australian and New Zealand Army Corps (ANZAC) had their first major military battle during World War I. Anzac Day (April 25) is observed in Australia, New Zealand, the Cook Islands, Niue, Samoa and Tonga and is an important day of remembrance, similar to our Memorial Day.
SMOOTH SAILING
I woke up at 2am just as we were going through the busy passage. I donned my robe and walked out on the balcony and took a seat to take it all in. What a feeling it was to be cruising in Turkey! The water was as smooth as anything and there were lots of ferries and cargo ships keeping busy. The stars were bright and the warm air was a welcome relief from my heavily air-conditioned room. If I hadn't had a packed day of sightseeing ahead of me, I would have spent more time out there instead of forcing myself back to bed.
TENDERS
After having breakfast in the Colonnade, Natalie and I took one of the tenders to shore. Not every port required getting shuttled by a tender but when it did, Seabourn did an amazing job of running them frequently. We never waited more than 20 minutes. Inside the tender (lifeboat) was hot and stuffy but it amazed me how many people they could hold, though rarely were they crowded.
SEABOURN SERVICE
At each port, Seabourn set up a little camp with a tent, chairs and staff members who manned the fort and the drinks (mostly bottled water.)
EXCURSIONS
Like all cruises, Seabourn offers a variety of excursions for a fee and the most popular ones in Dikili were centered on the Acropolis of Pergamon (a Greek city that thrived during the Hellenistic period) and Asclepion (one of the leading medical centers of classical times).
DIKILI, TURKEY
Fortunately, Natalie and I decided to pass on an organized tour and we later heard that they were kind of boring, especially in the scorching heat. So instead of jumping in a car and traveling 14 miles to Bergama, we walked around the popular summer resort village, filled with local Turks and no Westerners, at our own pace.
DIKILI BEACH
It was steaming hot on the Dikili beach and almost impossible to walk on without shoes. The dark gravel sand felt like lava. We walked along the dirt path situated between the beach and street, admiring the beachgoers with their wicker umbrellas and the beachside cafes, all playing a variety of western music from 70s disco to rap.
GOING FOR A DIP
When we couldn't take the heat anymore, I ventured into the public bathroom to change into my bathing suit. Yes, like a fool I didn't already have it on. But the public bathroom scene in Dikili is pretty sketchy. Not only were there some freaks hanging around outside but I don't think people bothered to use the urinals to pee – they might have just walked in and peed on the floor. I ran out of there with my nose and mouth covered like someone had dropped a smoke bomb.
PUBLIC CHANGE
I had no choice but to improvise. So I did something I'd never done before (honest!) I asked Natalie if I could borrow her dress. I thought she was going to cry when I stretched her sundress way over my wide hips. But I needed to use it like a towel to swap my shorts for my suit. In California, using a towel to change is common practice but by the stares I received, I guess it was as foreign as me in Turkey. It was worth it. The water was an oasis.
DIKILI STORES
After going for a swim, Natalie browsed the shops and checked out the fruit and vegetable (loved the watermelon) vendors. There weren't many shops and the ones we saw sold cheap beach supplies like rafts, sandals, toys and 1990-style bathing suits. The shopkeepers spoke little English but were friendly so next time, I'll ask to use their bathroom to change into my suit.
TURKISH SNACKS
The only things we bought were from street vendors (jewelry and magnets) and Turkish treats from the tiny grocery store. Oh yeah! I also had a tasty toasted tomato and cheese sandwich from a streetside café for $2.
DIKILI MARINA
Before getting back on the boat, Natalie and I walked around the other side of the port. We discovered a mini marina filled with fishing boats and restaurants. The highlight was when the vendors showed off their day's catch. TIP: Always ask if it's okay to take photos.
DIKILI TO KUSADASI
The next day we went Kusadasi, Turkey. From Dikili, it's 158 nautical miles and we arrived at 7am; according to the captain, we sailed at 12 knots. There was no need for tenders here since we'd docked. NOTE: The Seabourn staff don't make any annoying morning announcements so if you want to sleep in you can.
FATHER OF TURKEY
But Kusadasi is one port you don't want to sleep in for and miss since there's so much to see and do here. To save time, Natalie and I pre-ordered breakfast the night before and had it delivered to our room at 7am. It was almost surreal, eating on our balcony while a statue of Mustafa Kemal Ataturk, the Father of the Republic of Turkey, stared down at us from atop a nearby hill.
NEW FACES TRAVEL
Since we'd had such an incredible experience with our personalized tour of Istanbul with New Faces Travel, we arranged a tour with them again. New Faces is a reputable tour operator that's been in business for over 15 years and is recommended by a lot of travel authorities including Andrew Harper. New Faces conducts tours in all corners of Turkey and also in Turkey's neighboring countries. They specialize in incentive travel, study tours, biblical tours, custom-made tours, blue cruises and shore excursions for cruise passengers.
OUR TOUR GUIDE
Our tour guide was Eylem Kurnaz (apollooracle@hotmail.com), a young, attractive, well-educated Turk who met us just outside of the modern Kusadasi port with a sign. We could have hired a private guide through Seabourn but that would have been more expensive. Or, we could have gone on one of their less expensive group tours but we would have missed out on a private and personalized experience. Either way, there's nothing like having a local historian and driver show you around in a comfortable air-conditioned van. It definitely eliminates all your worries. For more information, contact New Faces Travel at info@newfacestravel.com.
KUSADASI PORT
The Kusadasi port was brand new and looked like a single level American mall, complete with chain stores and a Burger King (total bummer, I know). The only thing different was that it had Turkish restaurants, rickshaw taxis and a duty-free shop.
GET AN EARY START
My best tip for Kusadasi (besides getting a New Faces guide) is to get an early start. Not only will you beat the rising temperatures, but you'll get a jump on the other tourists. It would have been fine if it had just been the 450 passengers from Seabourn but there were three others ships docked that day (the port can hold up to six) and most of those ships held thousands of passengers.
EFES
Our first stop, Ephesus or Efes (in Turkish) was the main attraction. It's a 20-minute drive from the port and according to Eylem, it's the biggest open-air museum in the world — bigger than Pompeii. Even harder to believe is that Efes is only 30% excavated and many experts say that in terms of ruins, this place is better than Rome itself. Note: Entrance fee is 20 TL ($13).
EFES HISTORY
The earliest settlement in Efes dates back to 6,000 BC so it's approximately an 8,000-year-old city. But mostly what we saw were the Romans ruins, which were from the golden age of the city. In its heyday (around the year 100), Efes was the fourth largest city on Roman soil and the population was roughly 250,000. Here's a 90-second clip of Eylem giving us a brief description of the area.
EFES MEANS 'BEE'
If you watched the video above, you learned that Efes translates to 'bee', as in the honeybee. In the old days, a lot of people engaged in bee farming, which is why they named their city Efes. Bees played such an integral part in their society that on one side of their old coins there was … you guessed it … a bee.
DID YOU KNOW: The "Budweiser" beer of Turkey is called Efes.
LEGEND
Eylem taught us about the legend of this magical and historical place. Efes was founded by Androclus, son of Codrus, who was king of Athens at the time. He went to an oracle in Delphi, curious about where to found a settlement in Ionia. The oracle told him to choose the site by three signs: fish, fire and a wild boar. Ah, heck! Instead of writing it out for you, just watch and listen to Eylem – it's two-minutes long.
EFES
As you can see from some of the photos, Efes really is one of the world's most beautiful archaeological sites. Obviously, I can't tell you everything but some of highlights or facts that stuck in my mind are these:
-The Romans came here because the land was so fertile.
-They grew everything except for the tropical stuff like pineapples, coconuts, mangoes, etc.
-It used to be ocean until 1400 years ago.
-Trading was huge.
-The main road had 175 shops.
– Mark Anthony and Cleopatra walked here.
– The Celsus Library is jaw-droppingly impressive. See this video.
PUBLIC TOILETS
Another interesting fact is that the Romans had surprisingly efficient public toilets. Unfortunately for them, there were no stalls so instead they sat side by side while clean water ran down by their feet. That's where they would dip the dirty sea sponge they used to clean themselves. The water ran continuously so it washed waste away.
THEATRE
The Efes theatre can hold 25,000 people and historians usually multiply the number by 10 to calculate the actual population of the time period. In the old days, it was used for gladiator contests but these days it's been used for major concerts for performers like Sting, Pavarotti and Elton John – just to name a few.
HOUSE OF MARY
If we'd just seen the ruins of Efes, that would have been amazing enough but that was just the beginning. Next up was a 20-minute drive to Mount Mary, to see the House of Mary (called Meryama in Turkish). This house (see video) is 1,200 meters up a hill and is an important religious site to Christians. It's believed to be the place where the Virgin Mary (mother of Jesus) spent her last days.
POPE VISITS
I questioned this fact until I heard that three Popes (Paul VI, John Paul II and Pope Benedict XVI) have all visited in recognition of its importance.
INSIDE THE HOUSE OF MARY
The entrance fee is 11 TL ($7) but you can't take photos. I thought about sneaking a photo or two in the small, crowded house, but I thought better of it; it didn't seem right to break the rules inside the House of Mary. Visitors are only allowed to spend a minute or so inside when it's crowded and it's patrolled by an angry monk. For photos of the interior, check out this website.
OUTSIDE THE HOUSE OF MARY
Outside the house, the walkways were packed mostly with Russian pilgrims vying for space to light a candle, collect some holy water or make a wish on the prayer wall.
GOOD TO KNOW: If you're allergic to bees, note that this place is filled with them so come prepared or skip the visit altogether.
BASILICA OF ST. JOHN
A short distance away (about 15 minutes) from the bottom of the hill is the Basilica of St. John. St. John was the youngest apostle and the only one to die naturally, which he did in Efes. It's believed he wrote his Gospel here. The entrance fee is 5 TL ($3) but if you have a tour guide, you don't need to worry about entrance fees or lines. Our New Faces guide took care of all of that.
7 WONDERS OF THE ANCIENT WORLD
Right next door (a two-minute drive) to the Basilica of St. John are the ruins of the Temple of Artemis, which is one of the 7 Ancient Wonders of the World. Unfortunately, due to earthquakes, there's only one of the 127 columns still standing (it was rebuilt) but the temple must have been amazing because the sheer size of the last standing column is impressive.
FYI: There's a stork's nest on top of the column, but we didn't spot any babies!
ARTEMIS
You can either watch this 30-second clip about Artemis or read what we were told: Artemis was a Greek goddess of many things including the forests and hills, childbirth, virginity, fertility and the hunt. She was also the twin sister of Apollo (God of the Sun). If you want, you can buy a small statue of her from street hawkers in the dirt driveway.
TURKISH RUGS
On our way back to the boat, Eylem asked if we wanted to stop off at a unique store to see some Turkish carpets. I knew that was coming because every tour guide around the world always wants to take you to their "favorite" shop so they can get a commission. I told him we already had enough rugs and we had no interest in buying but because it sounded interesting and it was on the way, we checked it out.
YUKSEL CARPETS
We went to Yuksel Carpets because it's a government subsidized co-op store (see video), where they employ young girls from nearby villages and teach them how to make Turkish carpets the old-fashioned way (see video). It's a dying trade since one standard-sized carpet takes 13 months to make if they spend no more than two hours a day working on it.
DID YOU KNOW? 70% of tourists who visit Turkey return home with a carpet.
YUKSEL CARPETS
The store was huge, boasting over 10,000 carpets. The owner is a great salesman and seems to be a fine guy (scan of his business card). His products are amazing and if I had the extra cash to spend, I would have bought one. We saw a bunch of different styles as his team rolled (see this clip) out carpets in no time. Some of his carpets have won international awards (see this video) and many of them changed colors when you looked at them from different angles (see this video).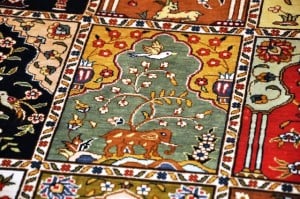 HOW SILK IS MADE
We learned the whole carpet-making process including how the silk is harvested by silkworms that feed on mulberry trees. After 42 days, they can extract the cocoons, which will give them 1.8 kilometers (1 mile) of silk. See this video for more.
HOW STRONG IS SILK
Did you know when silk is tied together, it's so strong that it can cut marble? It's supposedly the strongest organic material (see this video) in the world. But the silk rugs are so smooth and soft as can be.
TEA TIME
When we entered the store we were treated to cold apple tea in large glasses and before we left we had hot apple tea in small glasses. I'm not sure what that means but it's interesting, don't you think? I'm thinking that because it was so hot outside, we needed cooling off when we arrived and because it was so air-conditioned inside, we needed warming up before we left.
KUSADASI
Instead of getting dropped off at the port, we got dropped off by the beach so we could go for a swim; this time I changed in the car. The beachside resort is filled with restaurants, hotels and shops and there were a ton of tourists, mostly from England and Ireland. No wonder the ATM here offered TL, euros or pounds. Not US dollars, though.
KUSADASI: POPULATION
These days, the Kusadasi population is 50,000 in the winter and 500,000 in summer. Since it's so hot during the day — average temp is 44c (111 F) — the streets are bustling more at night. FYI: Their summer season lasts for six months.
KUSADASI BEACH
Sadly, the Kusadasi beach is dirty but the sand was softer than in Dikili. The first part (maybe 10 feet or so) of the water was rocky before the smooth sand kicked in but since neither Natalie nor I wanted to watch our belongings while the other swam, I put rocks in my pocket just in case I needed a weapon if someone tried to steal our bag. I have good aim and I kept a watchful eye. There were no problems. Beach chairs were available for just 5 TL ($3) to use for the day and they came with free bathroom and shower use.
NIGHT CONCERT
We went back to the boat for a few hours and then went back to Efes as Seabourn had arranged for a private and complimentary 90-minute concert of The Aegean Chamber Orchestra (see this video). Almost everyone from the boat went as they needed nine buses to shuttle us. We weren't in the main theatre but we were right outside of it and when nightfall came, it was magical. Sunset wasn't too bad either.
FOOD AT THE CONCERT
When we arrived, the entrance was lined with guys and girls greeting us with Turkish wines, water, grapes, pears and cherries. The tables had Baklava, figs rolled with pistachios, dried apricots and potato chips.
WELCOME HOME
When we returned to the boat around 10pm, the Seabourn staff were holding up a huge Welcome Home sign and passing out cold towels and drinks as we waited (10 minutes) to have our I.D. cards scanned and go through the metal detectors.
NATALIE'S TAKE
If you want a woman's perspective, check out Natalie's blog entry on Ephesus, which can be read on her blog at TrendyTravelista.com.
EFES TO BODRUM
Our last Turkish port was Bodrum and from Kusadasi it's just 111 nautical miles. It was a bit of a bumpy ride but I didn't feel sick – it was almost soothing or at least that's what I tricked my stomach into thinking.
TURK CELL
I knew we were getting close to Greece because my cell phone picked up a Greek signal before I went to sleep but in the morning, it was back on Turk Cell, which gave me data capabilities.
BRIDGE CAM
We arrived around 8am but it took a while to dock. Before opening the curtains, I turned on the TV to see the bridge cam to see exactly where we were and if it was nice out. Of course it was nice since it hadn't rained since May and wasn't suppose to until October. Related: Bodrum Weather Forecast.
BODRUM
I've heard about Bodrum from many of my glamorous friends as this beach community is considered the St. Tropez of Turkey. When I opened the curtains, I was treated to a picturesque yacht harbor filled with traditional wood-varnished sailboats that can be rented for a reasonable price. In fact, some of the Seabourn passengers chartered those boats to swim off the back.
BODRUM PORT
Like every port, we didn't have to go through passport control. I watched the crew tie up before going to get breakfast.
HOT, HOT, HOT
The weather forecast was 100F and it was hot but not that hot. We passed on doing any organized excursions and just hung around the ship doing laundry and catching up on work.
SHIP TO TOWN
We disembarked around 2pm and took one of the free shuttle vans, which left every 15 minutes, into the town center. The drive took 10 minutes.
BODRUM CASTLE
The main attraction in Bodrum is the medieval Castle of St. Peter, better known as Bodrum Castle. It was built by the Knights of Rhodes and there's no fee to get in.
BODRUM SHOPPING
We passed and instead walked the sidewalks that were bustling with tourists, and had shops that sold everything from local artwork to carpets. Natalie bought a hat since she'd left hers on the ship and couldn't take the heat any more.
BODRUM RESTAURANTS
There was no shortage of places to eat and café owners were aggressive, trying to get your business. But there was no need for the gelaterie owners to lure customers in. The mouthwatering gelato did that all by itself.
LEMON SODA
My best discovery was Uludag lemon soda, which costs just 75 cents and was so good, it was ridiculous.
BODRUM BEACH
There's definitely a bohemian atmosphere to Bodrum, no more evident than it was on the long, narrow beach. It's not soft sand (more like pebbles) but the water was refreshing and clear, though cooler than I would have expected.
PEOPLE WATCHING
Since this beach was much more crowded, Natalie and I took turns guarding our bag while the other swam. The swimming area was roped to keep boaters out and there was lots of space. It was so strange to see Muslim women wade into the water with their headscarves on and see salesmen stroll the beach hawking everything from bread to lottery tickets.
CARELESS PARENTS
There was a little Turkish kid trying to skim rocks between the swimmers and his parents couldn't have cared less. So instead of yelling at him, I blocked the path where Natalie was swimming, which pissed him off and amused me.
BEACH TO SHIP
To get back to the ship, we skipped the shuttle and said walked back since we could see the boat from the beach. I'm glad we did because it was a short coastal walk (not even a mile) and the scenery was fantastic.
NEXT WEEK
Next week – The Greek Islands! You won't want to miss it!
Web Resources