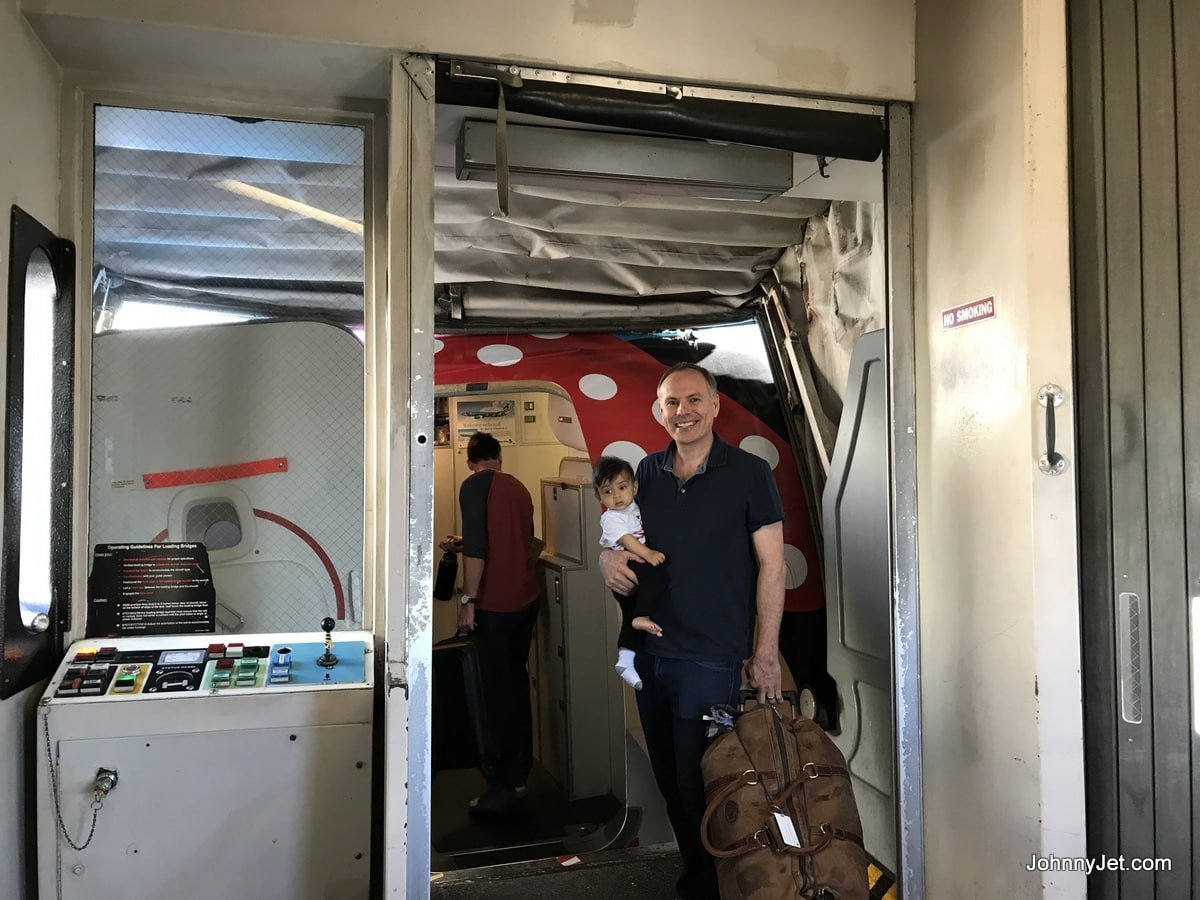 Last week, Natalie, baby Jack and I flew up to Seattle on Alaska Airlines! Our LAX-SEA flight departed at 8am and it was the first time we've traveled with carry-on only since Jack arrived. Before the little man was born, we flew 98% of the time without checking a bag—even on around-the-world trips. It was all thanks to a new service called Babierge, which I will write about next week and my wife will write about in her free newsletter. It was also the first time I'd flown Alaska Airlines in over a year and it reminded me of how much I like them. Here are 10 reasons I think they're one of the best U.S. airlines, including the fact that I have a monthly column in their in-flight magazine.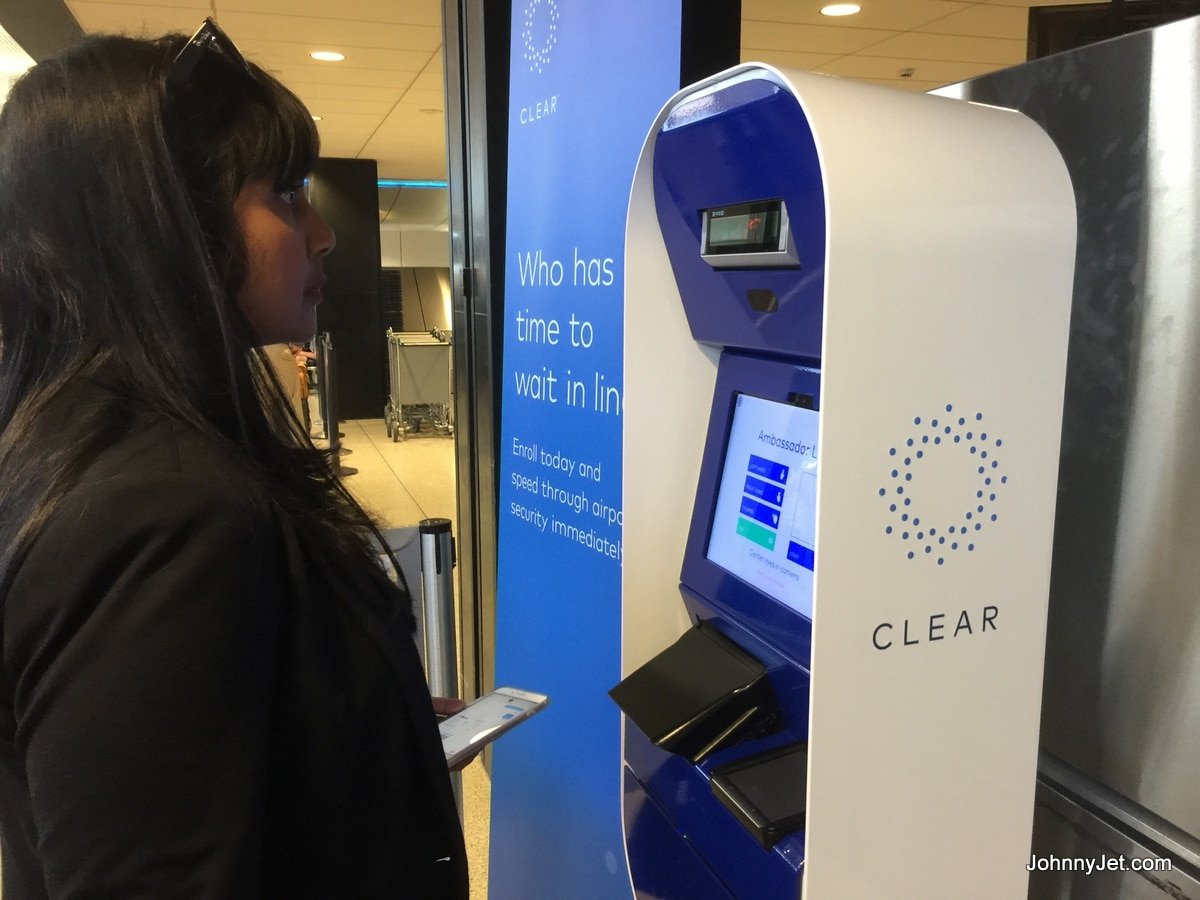 How to get through airport security more quickly
This trip had a number of firsts for us: it was Natalie and Jack's first time flying Alaska Airlines, visiting the State of Washington and the first time we used CLEAR. CLEAR is a membership program that allows approved travelers to get to the front of the security line in select airports. It's even faster than TSA Pre. Here's how.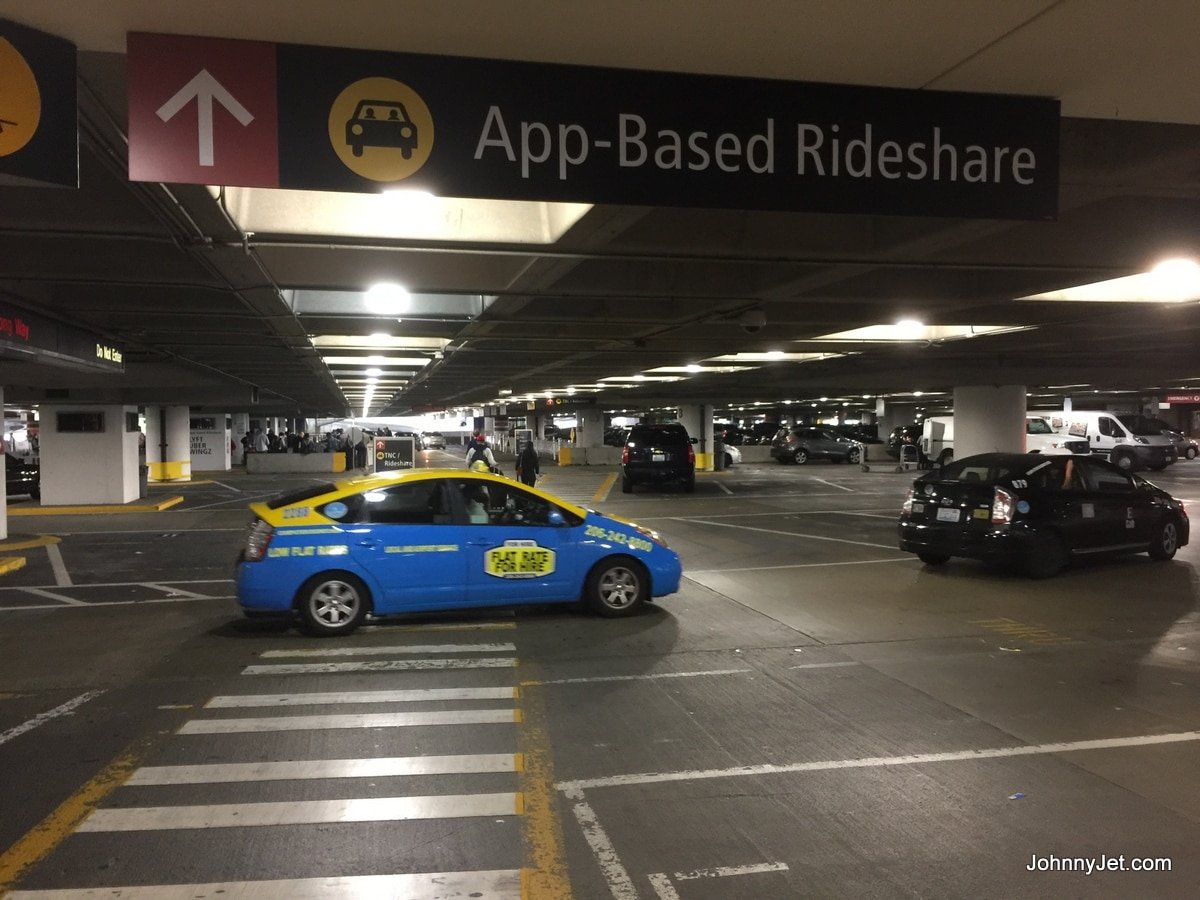 Seattle airport
Natalie and I were blown away at how well-organized SeaTac airport is when it comes to ride-sharing apps like Uber and Lyft (they also had a sign for Wingz, which I've never heard of). Once you order a car, the driver will either call or text you what row and stall they are in (think car rental lots) so there's no mass confusion or jumping out in the street, trying to see their license plate number. One of the reasons they do this is because practically all the cars look the same since they have to be a hybrid. I wish LAX was this organized since it's a freak show there. BTW: Speaking of LAX, have you noticed how the crowds are growing at the Uber and Lyft pickup spot and there's no line for taxis? Less than a year ago, it was the opposite. FYI: The 13.89-mile Uber ride from the airport to downtown Seattle took 25 minutes and cost $27.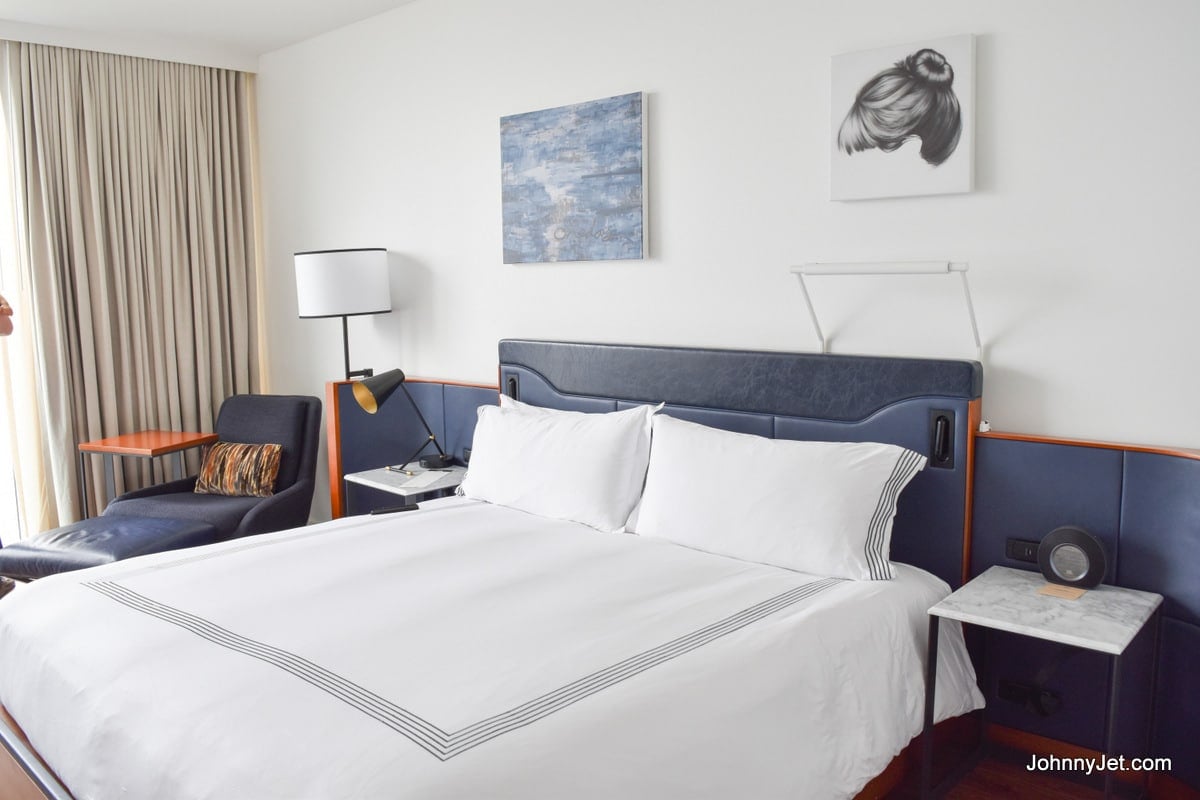 Thompson Seattle
Natalie, Jack and I stayed at the Thompson Seattle. It's a cool hotel that not too many people have heard of. Check out what I liked and what I didn't, plus plenty of photos.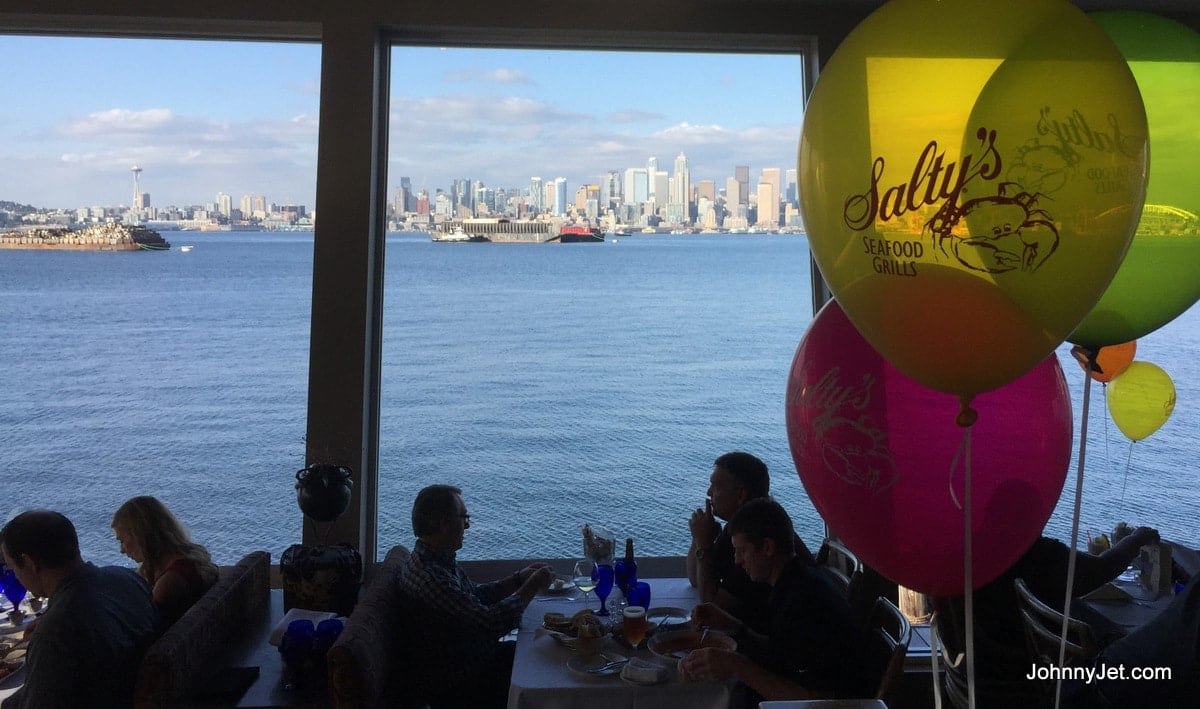 Dining
Highlights of our trip included seeing friends and colleagues and trying some restaurants. The first night we ate at Goldfinch, which is in the Four Seasons Seattle (about five blocks from the Thomson Seattle). We went early so Jack wouldn't disturb any romantic dinners and we had a fantastic meal. Our favorite meal was at Salty's on Alki in West Seattle. It's directly across the water from our hotel and the most scenic way to get there is to take the West Seattle Ferry (locals call it a water taxi). It departs from Pier 50 and while we were there, every thirty minutes. It costs $5.25 each way (buy tickets in advance but I think you can pay cash getting on). It takes just 8-10 minutes and Salty's is a few hundred yards to the left. The restaurant is known for its seafood but I had their 8-hour honey chicken and it was really good. There were lots of birthday parties happening and if you go, ask for a table against the window for amazing views of Seattle. We took an Uber back (took 12 minutes without traffic) since the last ferry departed at 7pm. Other restaurants that were close to our hotel and local friends took us too were Steelhead Diner and Matt's in the Market (third floor overlooking Pike Place).
Why TSA called in the Explosives Unit because of me
On the way back to L.A. the TSA agents ended up calling the Explosives Unit in because of us! It's a long story so I detailed it all here. If you read the comments you will see I've been catching a lot of grief over a statement that had no intention of getting so heated. It was just a perceived feeling.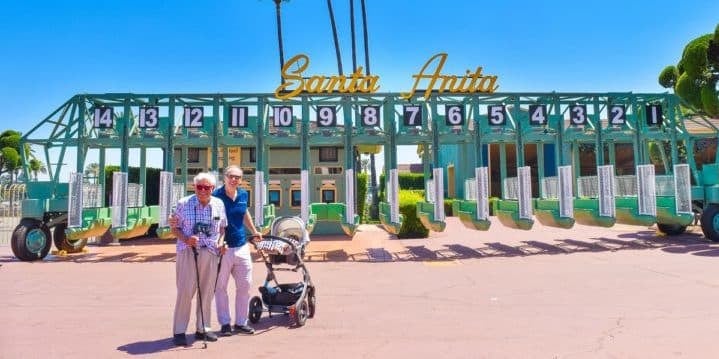 How to do Santa Anita Race track in style
For the last two weeks, my dad was begging me to take him back to the Santa Anita race track before it closes for the season. When the Santa Anita PR team offered a suite, it was too good an opportunity to turn down. Normally, I would rather be on the beach playing volleyball with my friends and family on the Fourth of July but after my skin cancer scare, I try to avoid peak hours in the sun. Besides, I knew my dad would be thrilled and my wife would be game and we weren't disappointed. Here's why.