When my friends heard that I was headed back to Las Vegas again out came the usual warning …. "Remember, what happens in Vegas stays in Vegas."
Well, not this time. While I totally get the whole secrecy thing sometimes you just have  to break the rules. The reason is simple. There is so much going on at the Mandalay Bay Resort & Casino and in Las Vegas in general that people really need to hear about it.
THEhotel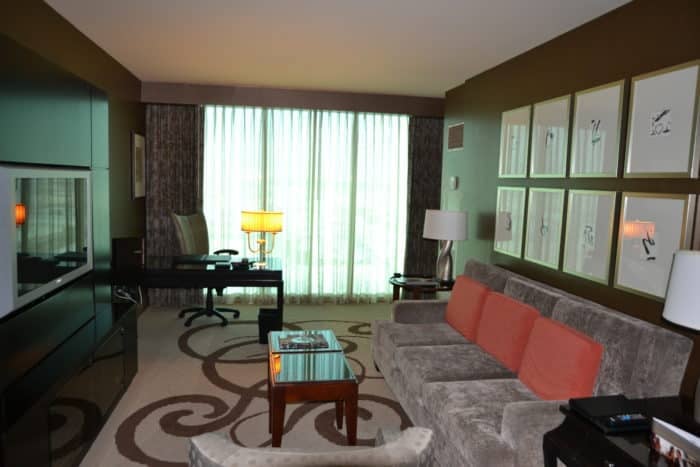 My home for the weekend at Mandalay Bay was THEhotel, a stand-alone, AAA Four-Diamond all-suite hotel featuring 1,117 higher-end accommodations. THEhotel is said to have started the trend in Las Vegas towards a more modern design look.  My accommodations were actually a two-room suite.  On one side there was a living room with a big-screen TV, bar, bathroom, and a large work desk for the business traveler.  On the other side a King-size bed, a second big screen, generous closet space, and a second bathroom.  Best of all was the view of the mountains and the sunsets every night …. and I know this may sound crazy but I was totally into the small flat-screen TV mounted on the bathroom wall.  Just saying.
The Mandalay actually offers two other hotel options: Mandalay Bay, a AAA Four Diamond award-winning hotel, with 3,211 luxurious rooms and suites; and Four Seasons Hotel, a AAA Five Diamond hotel-within-a-hotel, offering 424 rooms and suites.
The entire property itself offers an 11-acre tropical pool paradise, featuring real sand, a wave pool and the only climate-controlled, poolside gaming in the city. There is the 12,000-seat Mandalay Bay Events Center, the 1.7-million-square-foot Mandalay Bay Convention Center, the Spa Mandalay, and the BATHHOUSE Spa, the Shark Reef Aquarium, the House of Blues Concert Hall and restaurant, The Shoppes at Mandalay Place and a tremendous offering of award-winning dining by celebrity chefs and restaurateurs.
It is this last part, the dining experience, that we focused on through the weekend. If you are even a semi-serious foodie you will be in for some startling surprises in what the Mandalay has to offer.
STRIPSTEAK
Dinner on Friday night was at STRIPSTEAK, Chef Michael Mina's version of a steakhouse that offers corn-fed, all-natural meat, line-caught seafood, and fresh, seasonal produce.  We started with a tour of the resto and kitchen led by Executive Chef Doug Bell.  While I have toured a Mina-inspired kitchen before I still get a small buzz when I see how things are done in his world.  Their signature style includes cooking their meats in clarified butter heated to just under 120 degrees and a mesquite wood burning grill.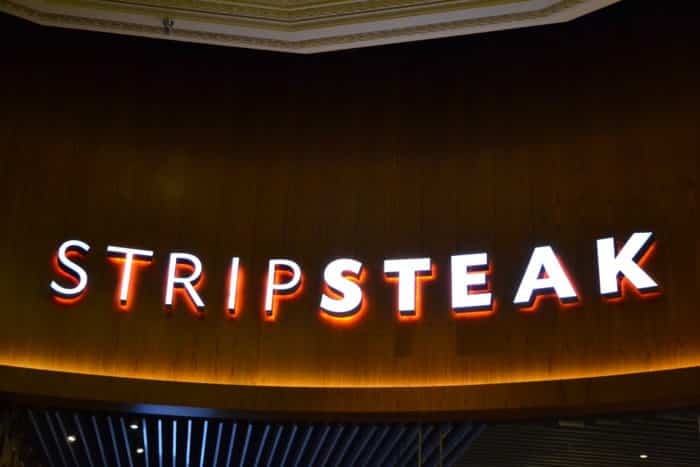 Either to arouse our appetites or to soften us up our hosts started our dining experience with a Scotch tasting to introduce us to STRIPSTEAK's extensive collection.  The presentation took us on a tour of the major Scotch producing regions to give us a better appreciation of the various styles and flavors.  First up was a smooth and balanced 10-Year Old Glenmorangie from The Highlands, followed by a fuller flavored 12-Year Old Strathisla from Speyside, followed by a triple distilled, bronze Auchentoshan Three Wood from the Lowlands and finishing with a robustly full-bodied, peat-smoke flavored 16-Year Old Lagavulin from the Isle of Islay. Well primed it was time to move on to the food offerings.
Our first course consisted of a medley of flavors including Maine Lobster Fritters, bacon-wrapped with a Meyer lemon crème fraiche; Wagyu Filet Tartare with Rocket lettuce, parmesan and capers; and, these addictive little Ahi Tuna and Hamachi Poppers with Wasabi tobiko and a ponzu dressing.  This we enjoyed with a very special 1987 Vina Tondonia White Rioja.  If you ever get the chance to try a White Rioja don't pass it up.  It was a wonderful surprise to see this not well known (or found) wine served at STRIPSTEAK.
While I knew I was going to have beef as my main course it was very difficult to make a choice when there are so many unique ways that STRIPSTEAK serves their beef.  All their beef is dry-aged in a glass locker visible to everyone in the restaurant.  Some for as long as 190 days.  The possibilities were tantalizing. Esquire Magazine had recently rated the Kansas City Strip as the best in the U.S.
After much thought I decided to go with the American Wagyu Rib Cap, cooked medium rare, and served with sides of charred asparagus and heirloom tomato salad.  I should also confess that I snuck a few spoonfuls of Truffle Mac & Cheese from the person sitting beside me – with their permission.  Complementing this was Gaja's 2009 Sito Moresco.  Elegant and opulent are words that have been used to describe this blend of Nebbiolo, Merlot, and Cabernet grapes. No truer words were ever spoken about this excellent choice of wine to pair with our meal.
To round off the evening we were served up a trio of desserts: Bittersweet Chocolate Cake with Bing cherries, Ruby Port and vanilla ice cream; Beignets with Vanilla Crème Brulee and Macallan 18-Year-Old Butterscotch Pudding; and, a Mascarpone Cheesecake with a huckleberry sauce and candied orange zest.  After all that I barely had room for the espresso doppio that washed it all down.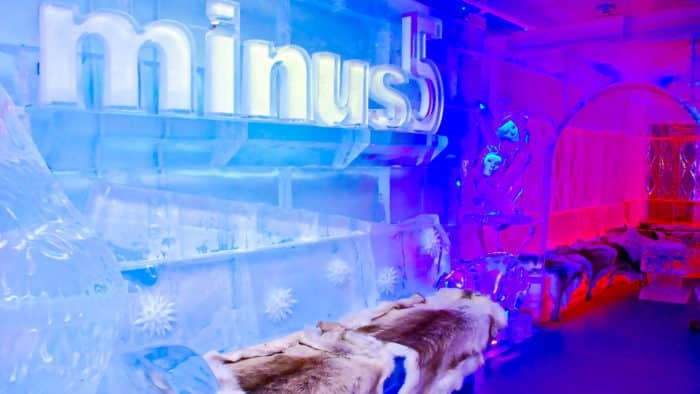 Minus 5
There's one thing about eating so much food rather late in the evening ….you get a bit tired and overheated as you work to digest it all. Our answer for that was a trip to Minus 5 – a bar lounge that stands out as the first of its kind in the United States. What makes it so unique?  Well, you have to wear warm boots, gloves, and a faux fur coat to enter the place. Are you getting the picture yet?
Patrons at Minus 5 are served their drinks in glasses made of ice, sit on couches made of ice at tables made of …. ice.  Local temperature is, you guessed it, a very cool minus five degrees Celsius. But fear not … for those of you who came to Las Vegas to avoid the cold, you can sneak out to the Minus 5 Lodge, a warm, rustic pub featuring ironwood beams, river stones, and leather seats for warming up after the lounge.
And so ended our first day in Las Vegas. Quite the experience for anyone who enjoys an exciting dining adventure.  Be sure to read about the even more delectable food adventure we had on our second day in Sin City.