The Burj Al Arab Jumeirah in Dubai, United Arab Emirates is known for its opulent luxury and unsurpassed level of service with the world's largest butler brigade and multi-level suites.
The hotel opened in 1999 to a lot of fanfare costing $1 billion to build and now standing as one of the most iconic structures in all of the UAE. Its unique structure was built to look like the sail of a ship coming out of the ocean and it's the third-tallest hotel in the world. With just 56 floors and 202 duplex suites, a large amount of the hotel is in fact used for public spaces.
The hotel is so opulent that a room reservation includes chauffeur-driven Rolls-Royce transportation (from the world's largest custom fleet, that is). All rooms are suites and guests are checked in while in their room, not the lobby. Every floor even has a private reception and a host of personal butlers! And if that's not enough, each guest is offered a 24-carat gold iPad device upon check-in. Guests do have to return them before departure since they're worth over $10,000 USD!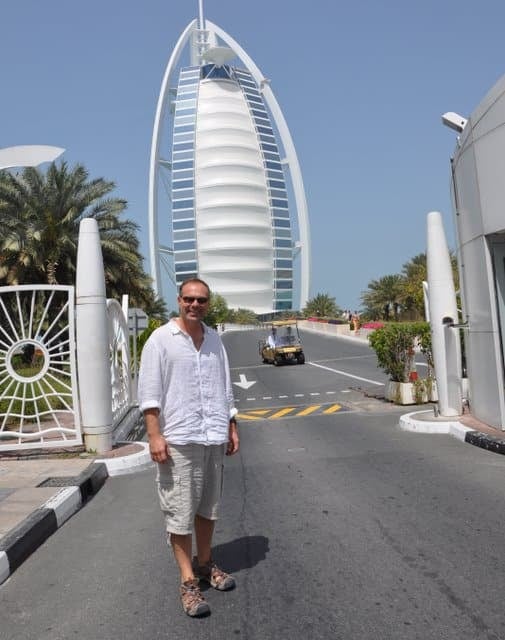 The closest I've ever been to the Burj Al Arab Jumeirah is the entrance of their artificial island. Due to the iconic and photo-worthy nature of the hotel, at the foot of the bridge is a guard shack where they charge a fee to visit (unless you're a hotel guest) or have a dinner or spa appointment. This allows for the privacy of guests paying top dollar to continue to enjoy their personal space.
But thanks to Jumeirah Hotels & Resorts, the hotel management company, and a new collaboration with Google, anyone can now experience the Burj Al Arab Jumeirah hotel without plopping down thousands of dollars for a night's stay or $50 to visit.
After you click this link, you'll be taken to a landing page that has a video loop of the hotel's rooftop helipad, which is the ultimate way guest can arrive. Once you click "Get Started," you'll see a video of what it's like to arrive either by car or helicopter. Once indoors, guests are greeted to chilled towels, Arabian dates and coffee.
The video ends there, but that's where Google's 360 kicks in. With this immersive, multi-use platform, users can—for the first time ever—enjoy and control a 360 view of seven locations within the luxurious hotel from the lobby to the helipad and everything in between. Thanks to this technology, I now feel like I've been to the Burj Al Arab.
This is a sponsored post.