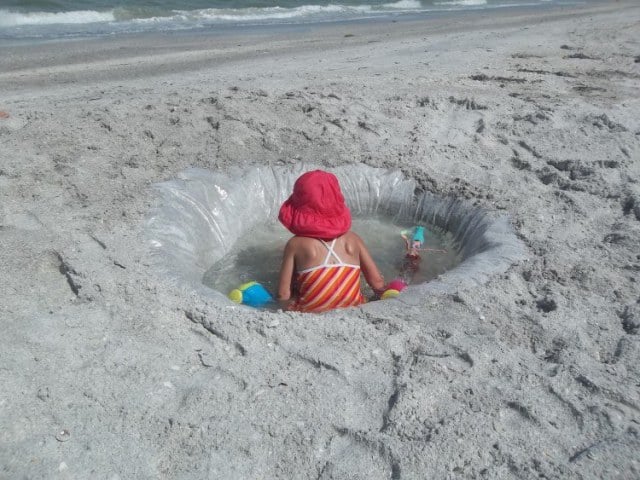 Heading to the beach for the Labor Day weekend? If you're traveling with kids to a body of water that's too rough for them because of large waves or rip currents, then check out this clever trick to make them (somewhat) happy by creating a safe kiddie pool for them. Bring a clear shower curtain liner to make a safe kiddie pool. You'll also need to bring a kids bucket and mini shovels. Then dig a hole, line it with the curtain, bury the edges, and fill it up with ocean or lake water.
And remember: Never take your eyes off your children when they are in or near water. For more information, check out these water safety tips from the Red Cross.
H/T to TipHero and In Lieu of Preschool.
___________________________________________________________
Tried this tip? Let me know in the comments!
Have your own tip? Email it to whitney@johnnyjet.com!
Want to see more tips? Click here for all 756!
Want even more travel tips? Subscribe to the Daily Travel Tip newsletter! All you have to do is sign up for the weekly newsletter by filling in your email address and checking the Daily Travel Tip box in the top-right corner of the homepage.
If you already subscribe to the newsletter, fill in your email and check the Daily Travel Tip box in the same top-right corner of the homepage and you'll receive an email with a link to update your JohnnyJet.com preferences. On that page, just click the Daily Travel Tip box and Update Profile and you'll have Johnny's best tips, straight to your inbox each day. And don't worry—it's easier than it sounds!