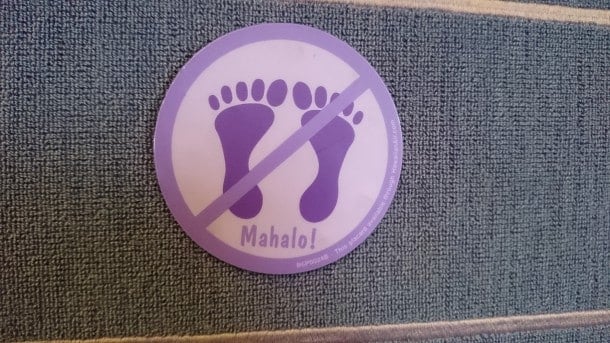 Don't Put Your Feet There
When flying in a bulkhead seat, don't put your feet on the wall in front of you—especially if you have your shoes on. And when riding a train, don't put your feet on the seat across from you. It's rude, dirty and I've seen conductors in both New York and London scold passengers.
FYI: In the photo to the right, Hawaiian Airlines shares the same message as only Hawaiian Airlines can. Check out 10 more reasons to fly Hawaiian Airlines here—and how to fly them cheaply to Hawaii (including an almost free roundtrip flight) here.
_________________________________________________________________________________
Tried this tip? Let me know in the comments!
Want to see more tips? Click here for all 131!
Want even more travel tips? Subscribe to the Daily Travel Tip newsletter! All you have to do is sign up for the weekly newsletter by filling in your email address and checking the Daily Travel Tip box in the top-right corner of the homepage.
If you already subscribe to the newsletter, fill in your email and check the Daily Travel Tip box in the same top-right corner of the homepage and you'll receive an email with a link to update your JohnnyJet.com preferences. On that page, just click the Daily Travel Tip box and Update Profile and you'll have Johnny's best tips, straight to your inbox each day. And don't worry—it's easier than it sounds!