Want to know how to travel in style, just like the pros? We check in with frequent fliers to find out how often they fly, their favorite destinations and what they never leave home without.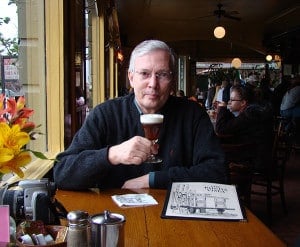 Name: Tom Reeves 
Occupation: Writer/Blogger/Man about Town
Hometown: Oakland, California
Residence: Paris, France
College: University of California – Berkeley; University of Toulouse – France; San Francisco State University
College major: Social Science, French Civilization, MBA 
Websites: discoverparis.net and parisinsights.com 
Twitter: @TomReevesParis
Facebook: Paris Insights
Pinterest: Discover Paris!
Short bio: My wife and I moved to Paris in 1992 and have never looked back—living in the City of Light is like being on vacation 365 days of the year.  I blog about Paris and have published two books about the city: Paris Insights – An Anthology and Dining Out in Paris – What You Need to Know before You Get to the City of Light. I post on Facebook every day and write a restaurant review once a week. For ten years I wrote a monthly, in-depth newsletter called Paris Insights. My new monthly newsletter is a "light" version of the old and is called Paris Panorama. My wife and I give guided walking tours of the city.
How often do you fly? Rarely. I stay in Paris as much as possible.
How many countries have you been to? Eighteen.
How many continents have you been to? Three.
Earliest travel memory: Driving cross country from Virginia to California when I was about 10. Stopping at Lake Tahoe in California for an ice-cold swim. Brrrrr!
Favorite American city: San Francisco (best city for Irish coffee—see Buena Vista Cafe, below).
Favorite international city: Paris—an endlessly fascinating city.
Country with the meanest immigration officers: I've never encountered a truly mean immigration officer, although many haven't smiled.
Favorite World Heritage Site: Banks of the Seine in Paris.
Favorite airline(s): Air France.
Favorite aircraft type: Whatever gets me there.
Aisle or window: Depends upon the length of the flight.
Best flight attendant you've ever had: The one that served me champagne when I first flew business class.
Favorite airport lounge: Paris Charles de Gaulle business/first class lounge.
Favorite U.S. airport: Whichever one I land in when I go back for a visit.
Favorite international airport: Paris Charles de Gaulle.
Favorite hotel: CitizenM in Paris—they invited me to their launch party. It was a blast!
Favorite island: Ile-de-la-Cité—this island is the historical heart of Paris.
Favorite beach: Paris Plage – open every year from the 3rd week of July to the 3rd week of August.
Favorite fancy restaurant: Le Céladon in Paris—I've only eaten there twice. It's very expensive!
Favorite hole-in-the-wall: US Hot Dogs (now closed); it stood just across the street from the Censier-Daubenton metro station in Paris. 
Favorite bar: Buena Vista Cafe in San Francisco for its splendid Irish coffee. I always order two (one after the other) and toast to the memory of Stan Delaplane, the journalist who persuaded the cafe owner in 1952 to start serving the drink. After two, I debate about whether I should order a third. 
Favorite fruit: Mango.
Favorite food: Pan-seared scallops.
Least favorite food: Kidneys, no matter how they are prepared.
Drink of choice (in the air and on the ground): Champagne, always. (Except at the Buena Vista Cafe—see above.)
Favorite travel movie(s): Aliens (the trip to planet LV-426 and all the adventures there).
Favorite travel show(s): Space Patrol (30th-century interplanetary travel; the show has been off the air since 1955; look for it on YouTube).
Favorite travel book(s): My own.
Right now I am reading: A biography about Chester Himes, an American writer of hardboiled crime fiction who lived in Paris in the 1950s and 60s.  I talk about him on my walking tour entitled "Black History in and around the Luxembourg Garden."
Top 3 favorite travel newsletters/magazines/blogs: Mary Kay Bosshart's blog Out and About in Paris; Anna Eklund-Cheong's blog Paris Haiku; Priscilla Pilon's blog Weekend in Paris.
Favorite travel website(s)—besides JohnnyJet.com, of course! Paris Convention and Visitors Bureau; Visit Paris Region.
5 things you bring on a plane: A book, a magazine, a pencil to underline words that I want to look up later, index cards for taking notes, and ChapStick for my lips. (I've been addicted to the stuff since 1950 when a kindly dentist gave me a sample—I can't seem to give it up.)
What do you always seem to forget? I can't remember.
What do you like least about travel? Having to get there.
What do you want your loved one to buy you from an airport Duty Free store? A bottle of lime-scented cologne. I'm still waiting.
Worst travel moment: Being detained by security upon entering the U.S. due to a case of mistaken identity. (There seem to be a lot of Reeves on the lam.)
What's your dream destination? I'm already there.
Best travel tip: Plan your Parisian dining experience before you get to Paris—don't wait until after you arrive to think about it. My book Dining Out in Paris – What You Need to Know before You Get to the City of Light will help. As well as essential information about French dining customs, it contains in-depth reviews of twelve of my favorite restaurants. Bonne lecture and bon appétit!