Want to know how to travel in style, just like the pros? We check in with frequent fliers to find out how often they fly, their favorite destinations and what they never leave home without.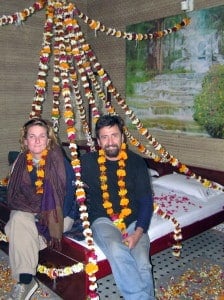 Name: Tim and Sharyn Nilsen (AKA Catch Our Travel Bug)
Occupation: Semi-retired long-term travelers, sometimes ESL Teachers, Graphic Designer (Tim), bloggers, author (Sharyn)
Hometown: Broken Hill, Australia
Residence: Currently Ho Chi Minh City, Vietnam but soon back out on the road.
College: Queensland College of Art (Tim), University of South Australia (Sharyn)
College major: Graphic Design (Tim), Chemistry & Microbiology (Sharyn)
Website: catchourtravelbug.com, hochiminhcityhighlights.com
Twitter: @catchourtrvlbug
Facebook: Catch Our Travel Bug
Pinterest: Catch Our Travel Bug
Google+: Catch Our Travel Bug, Ho Chi Minh City Highlights
Short bio: Sharyn and Tim Nilsen (AKA Catch Our Travel Bug) have been backpacking around the world on and off for 18 years and have spent over eight years on the road visiting more than 100 countries in that time. Recently, inspired by the many intrepid cycle tourists they have met around the world, they've decided to lay down their backpacks and give pedals and panniers a try. Their trial run was a 7000 km trip across Australia in 2014/2015 and they're currently gearing up for an even longer ride in Scandinavia and Eastern Europe this summer. The couple blogged many of their adventures on Travelpod.com as Timshazz before creating their own website, Catch Our Travel Bug. Sharyn recently published a short eBook, "Get Away Worry Free, Pre-Trip Tips for Long Term Travel," and has several others in the pipeline.
How often do you fly? As little as possible. We prefer going overland. We usually end up flying a couple of times a year as we start or finish a leg of a long overland journey.
How many countries have you been to? Over 100. 106 (according to our latest Matador Travel Map but there's a couple there that are debatable—e.g. Taiwan, Palestine).
How many continents have you been to? 6
Earliest travel memory: We went to Fiji together after I finished high school in 1983. It was Tim's first time out of Australia. My second. We escaped the resort and went local to eat and explore and loved it. Others in the resort thought we were so brave!
Favorite American city: Sorry, we haven't been to the USA yet. But it's on the list.
Favorite international city: Ho Chi Minh City is high on our list but Istanbul, Amsterdam, Marrakesh, and Kuala Lumpur are right up there too.
Least favorite country: It would have to be the Comoros Islands. But granted, we have only been to Grande Comore. We will give it another chance one day and try and visit the other Islands which we believe are beautiful.
Friendliest people in the world: Vietnamese or Burmese…Sorry can't decide (and of course Aussies!).
Country with the meanest immigration officers: Tajikistan.
Favorite World Heritage Site: Petra, Jordan.
Favorite airline: Air Asia.
Favorite aircraft type: Not something we think about. Helicopters and micro-lights are pretty cool.
Aisle or window: Window…We fight over it.
Favorite airport lounge: Never been that spoilt.
Favorite U.S. airport: We transited in Miami on our way to Guatemala, so I guess that's it.
Favorite international airport: Changi – Singapore.
Favorite hotel: Sakura guesthouse in Bishkek. It was where we met so many fantastic people who inspired us to take up cycle touring. We intended to be there four days and stayed 10. Sharyn named her bike after it.
Favorite travel credit card: Still investigating that one for our next trip. We are sure we can do better than our current MasterCard.
Favorite island: Madagascar.
Favorite beach: Whitehaven, Queensland, Australia.
Favorite fancy restaurant: Sorry we don't do fancy.
Favorite hole-in-the-wall: Our local Pho lady in suburban Saigon. 
Favorite bar: We usually drink in little local bars with street views but Castro's in Kowloon, Hong Kong is one of our favorites.
Favorite fruit: Pomelo (grapefruit) eaten with chili, salt and shrimp powder.
Favorite food: Vietnamese Pho (Sharyn), Mum's roast rabbit (Tim).
Least favorite food: Hot Vit Lon (duck eggs with fetus in situ!).
Drink of choice (in the air and on the ground): My next beer, preferably from a craft brewery (Tim), red wine and I'm not fussy (Sharyn).
Favorite travel movie(s): The Adventures of Priscilla, Queen of the Desert. Part of it was filmed in our hometown. A classic road trip of sorts.
Favorite travel show(s): Globe Trekker, Hairy Bikers and anything from Michael Palin.
Favorite travel book(s): "Holy Cow."
Right now I am reading: Right now I'm writing (Sharyn). No time for reading except for travel-related websites.
Top 3 favorite travel newsletters/magazines/blogs: OneStep4Ward.com, BrendansAdventures.com, NextStopWhoKnows.com, LegalNomads.com, NomadicNotes.com, and sooooo many others.
Favorite travel website(s)—besides JohnnyJet.com, of course! It totally depends on where we are headed and what we'll be doing. Our latest favorite is warmshowers.org as we'll be touring through Eastern Europe this summer and hoping to meet up with likeminded cyclists. The thousands of members are a wealth of information and support. Ask a question on their Facebook page and within minutes you have an answer.
5 things you bring on a plane: Pen, tissues, earplugs, SMECTA, a sweater.
What do you always seem to forget? To take the pen out of our carry-on luggage before we stow it. Drives us nuts.
What do you like least about travel? Haven't found anything yet…Usually ending a journey is the biggest downer.
What do you want your loved one to buy you from an airport Duty Free store? Bacardi Spice (it reminds us of flavored Madagascan Rum).
Favorite travel app(s): Just getting into the whole app thing…Google Maps? Does that count?
Most embarrassing travel moment: Stepping out of the hostel with my backpack in Brisbane, day one – minute one of a three-year adventure, tripping on the gutter and sprawling on my back like a stranded turtle. End result, one seriously sprained ankle and a very red face. It happened again a month later in Alice Springs and yet again in Norway….How I lived this long I have no idea! (Sharyn)
Worst travel moment: Tim injured his back badly in Pheriche, Nepal (over 4300 m) on our hike to Everest Base Camp. We thought he would need to be airlifted out because he literally couldn't move. Thankfully there was a Medicine Sans Frontiers doctor at the rescue center in the village who pumped him full of anti-inflammatories. Four days later we reached the top of Kalar Patar (5535 m) together and looked into the face of Everest itself. It was a close call but ended up one of our favorite adventures.
What's your dream destination? The next one!
Favorite travel charity: Medicins Sans Frontieres.
Best travel tip: SMECTA for tummy upsets. It works wonders.