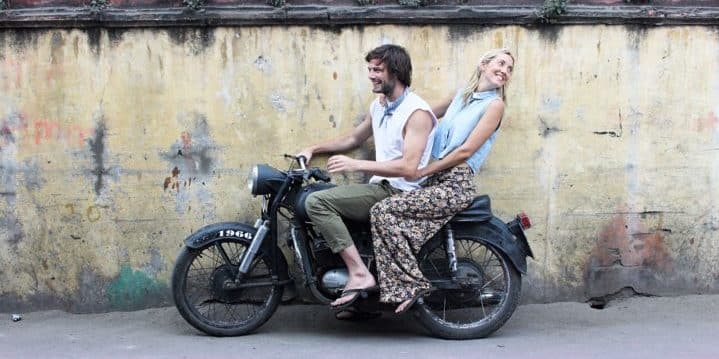 Want to know how to travel in style, just like the pros? We check in with frequent fliers to find out how often they fly, their favorite destinations and what they never leave home without.
Name: The Travel Project—Jess and Charlie
Occupation: Both advertisers by trade. Our "job" now consists of travelling the world, seeking out new and interesting local experiences.
Hometown: London
Residence: Hackney
College: Leeds University
College major: Charlie—Graphic Arts & Design | Jess—Philosophy
Website: the-travelproject.com
Instagram: the.travel.project
Short bio: The Travel Project is the world's first Instagram-powered adventure. We've torn up the guidebooks and deleted the travel apps to use nothing but Instagram's creative community to shape our travels. By connecting with like-minded creatives across the globe, we are unearthing weird and wonderful local experiences, giving us an original perspective on the places we visit.
How many countries have you been to? 48 we think…
How many continents have you been to? 6
Earliest travel memory: Walking holidays in the north of England with our parents. Being frrrrreezing cold and stopping for hot chocolates at pubs along the way (both weirdly have similar memories of walking holidays in the UK).
Favorite American city: Haven't visited enough to say just yet, but we are soon setting off on our "Secret South" trip where we will explore the USA's southern states. We are particularly excited about visiting New Orleans.
Favorite international city: Rio De Janeiro.
Least favorite country: I (Jess) had a pretty sketchy experience in Bosnia once which means I don't have the fondest memories of the country. That said, if I visited again I'm sure my feelings would be very different.
I have no desire to go to: Everywhere's worth visiting at least once.
Friendliest people in the world: India.
Country with the meanest immigration officers: U.S.
Favorite World Heritage Site: Hampi in India.
Favorite airline: Spice Jet (purely based on the name).
Aisle or window: Window every time.
Favorite airport lounge: Heathrow's are pretty good—when they're not ridiculously busy!
Favorite international airport: Not sure about favourite but we were very pleasantly surprised by how nice Delhi's airport was.
Favorite hotel: Del Aire Graff in South Africa—their Indochine restaurant is just amazing!
Favorite island: Isle of Bute.
Favorite beach: Tyrona National Park Beach, Colombia. You have to walk an hour to get there meaning you don't get too many tourists at any one time.
Favorite National Park: West Coast National Park in South Africa.
Favorite fancy restaurant: Le Manoir—so nice being in the middle of nowhere, away from every sort of stress possible.
Favorite hole-in-the-wall: Punjab Sweet House—Mumbai. The best street food ever and SO cheap.
Favorite bar: Spago @ Marina Bay Sands in Singapore—the views are out of this world.
Favorite fruit: Passion fruit.
Favorite food: Any fresh sea food—ideally cooked up on a bbq.
Least favorite food: Jellied eels.
Drink of choice (in the air and on the ground): In the air—red wine. On the ground— Bloody Mary or margarita.
Favorite travel movie(s): The Motorcycle Diaries.
Favorite travel show(s): Human Planet—David Attenborough.
Right now I am reading: George Orwell "Burmese Days." We recently visited so thought we should do some homework.
Top 3 favorite travel newsletters/magazines/blogs: Our project means we only use Instagram to guide our travels… Our top three accounts are: For aesthetic—@jordhammond. For inspiration—@natgeo. For recent obsession—@finn.
5 things you bring on a plane: Headphones. Neck pillow—since buying one we've never looked back snacks smuggled out of the airport lounge toothbrush. Passport (hopefully).
What do you always seem to forget? Our DSLR cameras (not pointing any fingers…Charlie).
What do you like least about travel? Missing friends and family.
Favorite travel app(s): Instagram.
Most embarrassing travel moment: Most recently (Jess) being locked in the loo for countdown at New Year and having to kick down the door to get out…meaning she missed it by ten minutes and left a huge hole in the door!
I'm embarrassed I haven't been to: Jess—anywhere in Scotland other than Edinburgh. Charlie—anywhere in America other than NY.
Worst travel moment: Being pretty much kidnapped by our hostel owner in Sarajevo (long story).
What's your dream destination? Japan is definitely near the top of our list.
Best travel tip: Always speak to locals and get stuck in. It makes the experience so much more interesting and 99% of the time they're over the moon to help you.