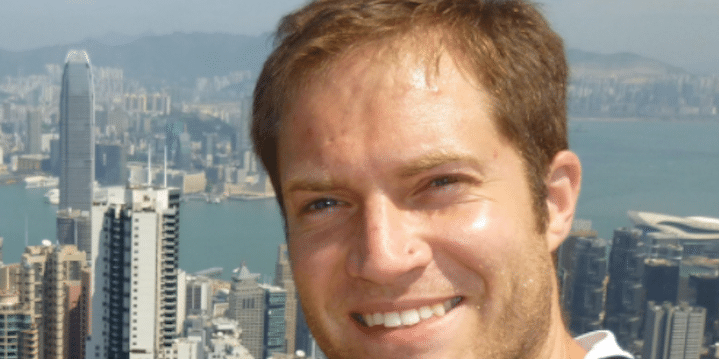 Want to know how to travel in style, just like the pros? We check in with frequent fliers to find out how often they fly, their favorite destinations and what they never leave home without.
Name: Steve Biggs
Occupation: Digital Travel Analyst
Hometown: Stevenage, UK
Residence: Hitchin, UK
College: Exeter University, UK
College major: Geography & European Studies BA
Website: biggsytravels.com
Twitter: @biggsy321
Facebook: Biggsy Travels
Instagram: biggsytravels
Short bio: I'm a part-time "travel blogger" and full-time "travel digital analyst." I try to write only about "unique experiences," ones that that nobody has written about before, or better still experiences that nobody has ever had before! They're also written by a 40-year-old man with a house and not by a fresh-faced 23-year-old backpacker. When not doing the part-time/full-time jobs I like to run marathons and cycle around on my Brompton bicycle.
How often do you fly? About five times a year.
How many countries have you been to? 50 countries.
How many continents have you been to? Five continents.
Earliest travel memory: Probably playing on the beach in Salou in the mid-1980s as my parents tanned themselves close by in the sun.
Favorite American city: New York.
Favorite international city: New York.
Least favorite country: Unfair to say.
I have no desire to go to: Saudi Arabia.
Friendliest people in the world: Vietnam.
Country with the meanest immigration officers: United States.
Favorite World Heritage Site: Great Barrier Reef.
Favorite airline: British Airways.
Favorite aircraft type: 747.
Aisle or window: Aisle.
Favorite airport lounge: I generally never go in them but the most recent was the Upper Class Lounge at Heathrow Airport, London.
Favorite U.S. airport: Singapore.
Favorite international airport: Stansted, UK.
Favorite hotel: Currently the Hotel Silky by HappyCulture in Lyon.
Favorite cruise line: Cunard.
Favorite travel credit card: Halifax Clarity.
Favorite island: Favignana, off the NW coast of Sicily. Only 37 square km with no cars allowed.
Favorite beach: Eastbourne Beach, UK.
Favorite National Park:  Lake District, UK.
Favorite fancy restaurant: The Kaspar's Seafood Bar & Grill in The Savoy, London.
Favorite hole-in-the-wall: This also means an ATM in the UK. However The Cheshire Cheese in Fleet Street, London for a pub. It's incredibly old and its labyrinth of rooms takes you back in time.
Favorite bar: The American bar in The Savoy Hotel, London. You can guess where I've been recently ☺
Favorite fruit: Honeydew watermelon.
Favorite food: Chinese.
Least favorite food: Noodles.
Drink of choice (in the air and on the ground): Gin and tonic.
Favorite travel movie(s): Does the Back to the Future trilogy count?
Favorite travel show(s): An Idiot Abroad. A UK show starring Ricky Gervais's dry-humoured sidekick Karl Pilkington.
Favorite travel book(s): "Into the Void" (Mt Everest).
Right now I am reading: Dan Brown—"The Lost Symbol."
Top 3 favorite travel newsletters/magazines/blogs: Condé Nast Traveler magazine is very inspirational. Telegraph Travel plus anything by the BBC.
Favorite travel website(s) Generally the functional ones—Booking.com and Skyscanner.net.
5 things you bring on a plane: Headphones, moisteriser, food bought at the airport, a book plus a small bag to put them all in.
What do you always seem to forget? I forget to put all the useful things I wanted to use in my actual hand luggage.
What do you like least about travel? The fact that flying is one of the most environmentally polluting things a person can do.
What do you want your loved one to buy you from an airport Duty Free store? A bar of Toblerone usually does the trick.
Favorite travel app(s): Skyscanner.
Most embarrassing travel moment: Speaking to my German housemate's family, I asked for some dead people to eat after getting the word for "dead people" mixed up with the word for "cake."

I'm embarrassed I haven't been to: South America.
Worst travel moment: Getting pick pocketed in Bangkok—but it could have been much worse. My wallet only contained a divers card and a few coins, and I wasn't being mugged.
What's your dream destination? Galapagos Islands.
Favorite travel charity: CharityMiles. You raise money for charity while walking/running/cycling.
Best travel tip:  Take a photo of your passport, luggage, travel documents and have some stored somewhere safely online…just in case.