Want to know how to travel in style, just like the pros? We check in with frequent fliers on useful resources, favorite destinations and what they never leave home without.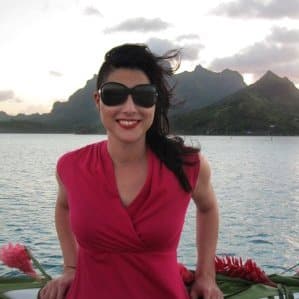 Name: Skye Mayring
Occupation: Travel Editor/Writer
Hometown: I was born in New Orleans and spent most of my childhood "hanging loose" in Honolulu.
Residence: Los Angeles
Website: TravelAgeWest.com
Twitter: @JoanJetsetter
Instagram: Instagram.com/JoanJetsetter
LinkedIn: Linkedin.com/in/skyemayring
Short Bio: Senior Editor of TravelAge West and Family Getaways magazines. I serve on the board of ASTA's Young Professionals Society and am a member of the Society of American Travel Writers, Millennials in Travel and the North American Travel
Journalists Association.
How often do you fly: It varies but approximately twice a month.
How many countries have you been to: Thirty-six and counting…
How many continents have you been to: Six. Who wants to go to Antarctica with me?
Favorite American city: Austin, Texas. I went to Austin for the first time in 2010 for the South by Southwest Music Conference and had a blast listening to bands that were playing just about everywhere they could fit—from tiny clubs and public parks to parking lots and street alleys.
Favorite international city: Paris may be a "moveable feast" and Prague's cobblestone streets at night can be heartbreakingly beautiful but, for me, there is no other city as exhilarating and undeniably alive as Berlin, Germany.
Least favorite country: Honestly, I don't dislike any of the countries I've visited. However, for me, cuisine plays a big role in experiencing and enjoying all that a destination has to offer … and I am not a fan of Chinese food.
Favorite World Heritage Site: Cambodia's Angkor Archaeological Park was a profound experience.
Favorite airline: Virgin Atlantic. The first time I flew Virgin was when I moved back to the U.S. after studying abroad in England. It happened to be an anniversary date for the airline and, when I opened the folder containing my ticket, it played the "Happy Birthday" song. Humorous, small touches like that help make the brand fun, funky and youthful.
Favorite aircraft type: A floatplane.
Aisle or window: Definitely an aisle seat. I'm mildly claustrophobic and find myself getting up frequently throughout the flight.
Favorite U.S. airport: Honolulu International Airport. It's open-air, low-stress and reminds me of our family trips home from "the Mainland."
Favorite international airport: Bora Bora Airport, which is located on its very own islet. The only way to get to your hotel is by boat.
Favorite hotel: The Ritz-Carlton, Hong Kong—the tallest hotel in the world, with jaw-dropping views of Victoria Harbour.
Favorite cruise line: Crystal Cruises. The food and service are in a class all their own. For river cruising, I love traveling with Uniworld Boutique River Cruise Collection. Have you seen the Super Ship Antoinette? It's absolutely gorgeous.
Favorite island: Without a doubt it'sBora Bora, French Polynesia. My fiancé and I are planning our wedding on Bora Bora, with a honeymoon following on Taha'a and Rangiroa.
Favorite fancy restaurant: The Bearfoot Bistro in Whistler, Canada. My father and I spent some quality time together there, and the sommelier taught me how to saber a champagne bottle, a party trick that I have performed frequently since.
Favorite hole in the wall: Cheer Up Charlies in East Austin, Texas. This dive bar tends to have a diverse mix of young people and offers unusual drinks (kombucha cocktails anyone?), good music and a conjoining "trailer park" (a collection of gourmet food trucks).
Favorite fruit: Mangos.
Favorite food: Lobster dipped in drawn butter. Greek salad. Sushi with warm rice. All manner of cheese. Anything with truffles. Chocolate mousse.
Least favorite food: As aforementioned, Chinese food. Also, people think I'm crazy for saying this, but I don't like doughnuts.
Drink of choice (In the air and on the ground): For some strange reason, I get a craving for either bloody Mary mix or the real thing when I'm in the air. Everywhere else, I'm a die-hard San Pellegrino drinker.
Favorite travel movie: "Lost in Translation."
Favorite travel show: Although it's off the air now, "No Reservations." Bourdain was the first rock-and-roll travel host, the kind of guy you want to have a beer (or a six pack) with.
Favorite travel book: This is going to seem quite odd, but I'd have to say "The Road" by Cormac McCarthy, which tells the story of a father and son traveling as a means of survival in a post-apocalyptic world.
Right now I am reading: "The Boy Kings of Texas: A Memoir" by Domingo Martinez.
Five things you bring on a plane: An iPad loaded with a new book, eye shades, a neck pillow, hand lotion and a disposable toothbrush.
What do you always seem to forget: An extra stash of business cards. I tend to hand out so many of them while I'm on the road and come short near the end of the journey.
Most embarrassing/worst travel moment: I got sick on the way home from a trip to Asia. Not only did I have to use my barf bag on the flight, but I also got sick at baggage claim. Thank goodness my travel writer friend was there to look after me.
What's your dream destination: My dream is to get together a group of friends and combine a week-long stay in Buenos Aires, Argentina, with a trip to the 2014 FIFA World Cup Brazil. Our trip will end with a few days relaxing in Iguassu Falls National Park.
Best travel tip: Keep an open mind.