Want to know how to travel in style, just like the pros? We check in with frequent fliers on useful resources, favorite destinations and what they never leave home without.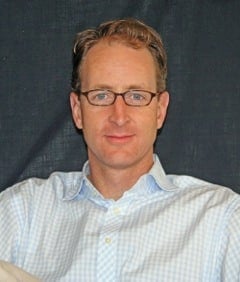 Name: Scott Armstrong
Occupation: CEO, Brenthaven
Hometown: Seattle, Washington
Residence: Seattle, Washington
Website: www.brenthaven.com
Short Bio: Scott Armstrong is a seasoned general manager with extensive experience leading specialty consumer products companies. In 2004, Scott started CKA Capital, a private equity firm seeking to invest in consumer products companies in the Pacific Northwest. This venture led to the acquisition of the Fairhaven Group Inc, dba Brenthaven. As the CEO and Owner of Brenthaven, Scott and his team have led the company to double-digit sales and profit growth.
From 2000-2004, Scott ran the merchandise division at Starbucks Coffee Company, a $200M business that includes all of the retail products found in Starbucks Cafes around the world. During his tenure at Starbucks, Scott and his team doubled the business and in 2003 achieved the best results the company had experienced in over a decade.
Prior to joining Starbucks, Scott held several key roles in the Asia-Pacific Region for Bausch and Lomb's Ray-Ban Sunglass Division. As the Regional Brand Manager based in Hong Kong, Scott directed the development and execution of regional marketing programs across twelve Asian countries. From there, he went on to lead marketing and product management for Ray-Ban Sunglasses in Australia/New Zealand.
Scott has traveled extensively and lived in several countries in Asia including China, Taiwan, Thailand and Hong Kong. From these travels, he gained a proficiency in conversational Mandarin Chinese and a global perspective on business.
Scott is actively involved in his community and served as a trustee of the Make-A-Wish Foundation from 2004-2008. He holds an MBA from New York University and a BA from the Jackson School of International Studies at the University of Washington.
How often do you fly: Usually 2 domestic trips per month and 2 int'l trips per year
How many countries have you been to:  33 but who's counting…
How many continents have you been to:  5
Favorite American city: Seattle, Washington
Favorite international city: Sydney, Australia
Least favorite country: Singapore… boring!
Favorite World Heritage Site: Frasier Island, Australia
Favorite airline: Alaska Airlines
Favorite aircraft type: Boeing Dreamliner… when they fix the battery issues, it's going to be great!
Aisle or window:  Exit Row Aisle
Favorite airport lounge: Tokyo Delta Lounge. I love the Sapporo automatic beer dispenser. Magic!
Favorite U.S. airport: Minneapolis – Great dining.
Favorite international airport: Hong Kong International Airport.
Favorite hotel: Four Seasons Haula Lai on Big Island of Hawaii
Favorite island: Koh Phi Phi, Thailand
Favorite fancy restaurant: Canlis in Seattle
Favorite hole in the wall: Bottlehouse in Seattle
Favorite fruit: Grapes
Favorite food: Hamburger Stroganoff
Least favorite food: Most leafy vegetables like Spinach
Drink of choice (In the air and on the ground): Stoli Vodka Gimlet on the Rocks
Favorite travel movie(s): Hoosiers
Favorite travel show(s): Rick Steves
Favorite travel book(s): Rick Steves books on Europe
Right now I am reading: The Absolute True Diary of A Part-Time Indian by Sherman Alexie
Top 3 favorite travel newsletters/magazines: New York Times, Travel Magazine, Travel & Leisure
Favorite travel website(s) – besides JohnnyJet.com, of course!: seatguru.com
Five things you bring on a plane: Bose Headphones, iPad, Cashmere Socks, Cured Salami and Cheese, MacBook Air
What do you always seem to forget: Sleeping Pills
What do you want your loved one to buy you from an airport duty free store? Absolutely nothing… let's stop the consumer madness… just come home.
Favorite travel iPhone app(s):
Uber
Kayak
Car Rentals
AirBnB
Most embarrassing travel moment: I was on an international flight having trouble sleeping. I drank a glass of wine but that didn't help. Then, I found an old bottle of sleeping pills in the bottom of my bag that my doctor friend had prescribed to me years prior. I took a half a pill. 3 hours later I woke up and the plane was spinning. I tried to walk to the bathroom but passed out cold about half way. I woke up in the aisle of the plane, looking up at a flight attendant asking me if I was ok. Turns out, you can't drink even a sip of alcohol on those pills.
My favorite memory from that was the flight attendant saying to me 'I'm sorry, normally I would put you in first class so you could sleep but it's all full'. At the time, I remember thinking… 'hey, this might be worth trying again on an empty flight'.
Worst travel moment: My wife and I bicycled through Europe for 3 months in 2000. We would bike about 50 miles a day and then stay in a cheap pension. We arrived in San Gimiagno on Easter and hadn't planned ahead. Every single hotel was full and we had nowhere to stay. A nice woman in a pension offered to loan us her tent for the night so we could stay in the campground. About midnight, the rains came and in less than an hour we were soaked. I had picked the worst spot possible at the bottom of a hill. We piled our clothes up underneath us to stay dry but it was useless. At 3am, we headed to the showers and stood under the hot water for several hours. Worst night of my life. Gave me a real understanding of what it must be like for homeless people trying to survive under tough conditions.
What's your dream destination: Ammanpulo has a resort on an island about 30' flight from Manila. I've heard it's amazing. Bungalows on the beach. Only accessible by plane. Paradise.
Best travel tip: It always pays to be nice to the airline personnel. They have all the power and can pull strings when they want to… but only for people they like.