Want to know how to travel in style, just like the pros? We check in with frequent fliers to find out how often they fly, their favorite destinations and what they never leave home without.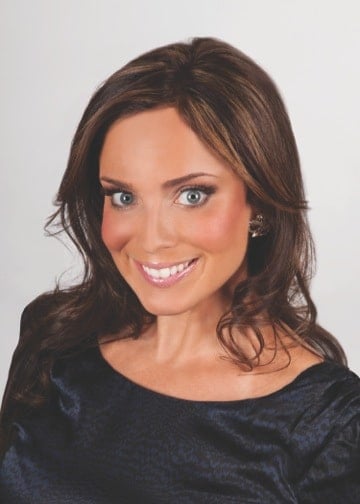 Name: Sarah Evans
Occupation: Partner, J Public Relations
Hometown: Fredericksburg, Virginia
Residence: New York, NY
Website: jpublicrelations.com;
Twitter: @glamglobetrtr, @jprpublicity
Facebook: /SETinNYC
Pinterest: /glamglobetrtr, /jprpublicity
Short Bio: Sarah Evans, J Public Relations Partner, is an influential publicist, industry expert and entrepreneur. Having led public relations campaigns for iconic hospitality brands worldwide, Sarah launched the J Public Relations New York City operation in 2009, and has since signed global brands such as Fairmont Hotels & Resorts, Y.CO, the yacht company, U.S. Hotels, and Swissôtel Hotels and Resorts.
Sarah started her career in Southern California and has spent the past decade in New York City, solidifying relationships with the countries most prestigious media outlets. With her ear to the ground to the latest city happenings and an unmatched creativity, Sarah has been tapped to relaunch luxury hospitality and lifestyle brands, successfully refreshing their message and introducing them to new markets and media.
A trendsetter with an online following, Sarah was named as one of the "Top 100 Public Relations Firms and Publicists of 2012 Who Know Press and Social Media." She is regularly cited as a spokesperson and industry expert, having been featured on Forbes, ABC and MSNBC. Her website "The Glam Globetrotter," which chronicles her travels, has been featured by publications including Bridal Guide, Rue La La and The Daily Obsession.
A graduate of East Carolina University, who currently resides in Manhattan, Sarah has visited nearly 40 countries to date.
How often do you fly: About once a month. It used to be more before I had my daughter, Stella.
How many countries have you been to: About 40
How many continents have you been to: 4
Favorite American city: New York (obviously!)
Favorite international city: Paris
Least favorite country: I don't have one. I love exploring new places.
Favorite World Heritage Site: The Grand Canyon. I visited with my Dad while driving cross-country.
Favorite airline: JetBlue all the way. My dog, Bear, likes it, too.
Favorite aircraft type: The bigger the better.
Aisle or window: Window, even numbered seat
Favorite airport lounge: British Airways, Heathrow
Favorite U.S. airport: Sarasota, Florida. It's where my parents and in-laws live. It's small, easy and we're always #1 for takeoff.
Favorite international airport: Zurich.
Favorite hotel: Plaza Athenee in Paris.
Do you unpack into the dresser/closet? Or live out of your suitcase? I unpack in the dresser and closets, even if I'm only staying for the night.
Favorite cruise line: I'm not much of a cruiser but had an unbelievable experience on Windstar.
Favorite island: Anguilla has always been at the top. However, I recently went to Baker's Bay in the Bahamas. That was pretty incredible, too.
Favorite fancy restaurant: The White Barn Inn
Favorite hole in the wall: The Dune Preserve, Anguilla
Favorite fruit: Apples
Favorite food: Lobster
Least favorite food: I think I like everything?
Drink of choice (In the air and on the ground) In the air:  Lots of bottled water.
On the ground: Extra dirty martini with blue cheese olives
Favorite travel movie(s): The Holiday
Favorite travel show(s): House Hunters International
Favorite travel book(s): Eat Pray Love
Right now I am reading: The Happiness Project; Lean In
Top 3 favorite travel newsletters/magazines/blogs: InTransit, HotelChatter and Departures
Favorite travel website(s) – besides JohnnyJet.com, of course!: Travelandleisure.com, Stay.com
Five things you bring on a plane: Lavender oil, a Pashmina that doubles as a blanket, Evian mist, a magazine (usually a tabloid) and my iPad
What do you always seem to forget: Socks for the plane – my feet are always cold!
What do you want your loved one to buy you from an airport duty free store? I'm a sucker for duty free lipgloss.
Favorite travel iPhone app(s): Uber, Hotel Tonight and the Saving Grace packing app by my client, Grace Hotels.
Most embarrassing travel moment: Arriving at LaGuardia when I'm supposed to be at JFK.
Worst travel moment: Getting stuck on a runway for 8 hours. I was pregnant and traveling with my dog. I try to forget it.
What's your dream destination: Argentina, Uruguay, Australia and the Maldives are high on my list right now.
Favorite travel charity: Make-A-Wish. That counts as travel, right? Families battling horrific situations are able to go on a trip/experience of a lifetime. What's better than that?
Best travel tip: Don't overpack.