Want to know how to travel in style, just like the pros? We check in with frequent fliers to find out how often they fly, their favorite destinations and what they never leave home without.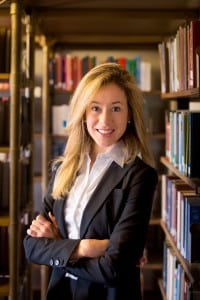 Name: Rebecca S. Robbins
Occupation: Co-Author of "Sleep for Success," and researcher and consultant spreading awareness about the importance of healthy sleep
Hometown: I grew up in Connecticut
Residence: Ithaca, NY
College: Cornell University
College major: Psychology, Health, Behavior Change
Website: sleephealthsolutions.com
Twitter: @rebeccasrobbins
Instagram: rebsrobbins
Short bio: Rebecca is a PhD candidate at Cornell University where, in her research, she develops and disseminates high-impact solutions for helping individuals, organizations and communities get healthy sleep so they can succeed in their waking lives.
How often do you fly? About twice a month.
How many countries have you been to? 20
How many continents have you been to? 4, although the best was Istanbul where you can go between Europe, Asia and back all in one day—and one city!
Earliest travel memory: Block Island as a very little girl with my family where there are no cars, just bikes. I remember feeling like I was on top of the world speeding along the pathways strapped to the back of my mother's 10-speed.
Favorite American city: San Francisco, California. Although I lived there for a summer working for Gap Inc. developing wellness interventions for employees, and certainly appreciated the city's charm and sheer beauty from my office on the embarcadero, it was not until I ran the San Francisco Marathon that I truly fell in love with the city. There are so many different neighborhoods. Each area is so unique and full of charm, steep hills that I did not appreciate at the time, but also incredible views!
Favorite international city: Petra, Jordan. It is the most amazing experience. You walk for a mile or so through an enormous crevice through huge pieces of rock then come out upon the ancient Nabatean city of Petra. Go early, so you have time to hike the mountain to the tallest point in Jordan and see the ancient ruins on the top. It is very humbling to imagine how these structures were built hundreds of years ago.
Country with the meanest immigration officers: Ironically, the British Virgin Islands. It is one of my favorite places to visit, but once I had an immigration officer who may have just woken up on the wrong side of the bed, but nonetheless gave us a tough time. At one point we were afraid we weren't going to be let in! 
Favorite World Heritage Site: This is actually a funny story. In Ephesus, Turkey I was travelling with some friends, and we went to the one of the eight wonders of the world. I was so excited to see one of the great world's greatest wonders, but we had a good laugh when it turned that all that remains is a two-foot-tall pillar.
Favorite airline(s): Virgin America for domestic, British Airways when I travel to London, and Qatar Airways or Emirates to the Middle East.
Favorite aircraft type: The kind that takes off and lands safely!
Aisle or window: I'm a big believer in getting up frequently, moving around, drinking water during flight, so it is nice to have an aisle seat and not have to worry about timing your water breaks around the nap schedule of your seatmate.
Best flight attendant you've ever had: Hands down a Virgin America flight to Seattle. We were stuck on the tarmac with delays. The head attendant got on the loudspeaker and made a joke about a late departure to "Starbucks," then asked passengers to check their wallets, purses and luggage for pennies and rewarded the person with the oldest penny a free drink. It was such a breath of fresh air to see someone having so much fun at work! Believe it or not open your wallet and there are often some oldies in there. The oldest penny was from the 1940s.
Favorite airport lounge: Qatar Airways when I fly business class. They do not mess around.
Favorite U.S. airport: I love Logan in Boston, because you can take a ferry after into the city.
Favorite international airport: Can I change that to train station? I love Charles de Gaulle in Paris. If you have not been, look it up because it's gorgeous architecture, and the departures and arrivals board is beautiful.
Favorite hotel: The Intercontinental Hotel in Amsterdam. The hotel is right on the canals, the workout room looks right out on the water, so you can watch the boats while you pound out a few miles on the treadmill! There is a chocolate fountain in the lobby, and the rooms are gorgeous, decorated with provincial French linens and wallpaper.
Favorite cruise line: Never been on a cruise.
Favorite travel credit card: Right now I hold American Express and I am fond of it.
Favorite island: Barbuda. Look it up. Seriously not to be missed. The island is about two-square-miles long and several-hundred-meters wide. Some close friends own a resort called Coco Point. You have to fly into Antigua then take a small seaplane to Barbuda. Anytime there is just too good to be true, it is simply paradise.
Favorite beach: Rainbow Island in the BVIs. It is almost impossible to see the island until you are immediately upon it. The island is completely flat and has a lovely beach on the west end. You can snorkel, lie on the white sand beaches, or sip the local cocktail called the "painkiller" at the beach bar made from pineapple juice, coconut milk, rum, and nutmeg. It's divine and dangerous all at the same time.
Favorite fancy restaurant: It is a close tie between one of the restaurants at Burge Al Arab in Dubai. You are seated underwater in a wall-to-wall aquarium. The seafood—as you might expect—is the best! My other favorite is the restaurant at Pebble Beach. I sat in Arnold Palmer's chair!
Favorite bar: The bar at The Four Seasons Restaurant in New York City.
Favorite fruit: I'm a vegetarian so that is like asking me to pick among my children. I love them all! (But especially mango or kiwi.)
Favorite food: A really good salad.
Least favorite food: Again, I'm a vegetarian so I just don't eat meat. My funniest experience at a restaurant was in Doha, Qatar. It was Afghani food, and I told the restaurant owner that I was a vegetarian so "no meat." He brought me out broiled liver and said "no meat!" I guess to him organs did not count as meat.
Drink of choice (in the air and on the ground): Red wine if it's a long trip, otherwise just water—still or sparkling—I love it all.
Favorite travel movie(s): Out of Africa. If you have not seen it, stop what you're doing and watch it right now. Robert Redford the early years. Enough said.
Favorite travel book(s): When travelling for vacation I always do some research on the best travel book for that area. I don't have a favorite brand or publisher, because things change so quickly! Best to buy the book that is most recent for the given region, and that is well recommended. For instance, I picked up a book several years ago before a trip to Ghana that was not a big name publisher, but written by someone who lived in Ghana for several years. They recommended the pancakes in an otherwise nondescript village. Sure enough, we stop on the way between one of the seaside villages and Accra the nation's capital and sure enough, we find the famous pancake man and had the best pancakes of my life.
Right now I am reading: "The Magic of Thinking Big."
Top 3 favorite travel newsletters/magazines/blogs: While academic research is my career, my extracurricular research is always Vogue for fun reading, especially anything by Jeffrey Steingarten, or the Financial Times or The Wall Street Journal for serious reading.
Favorite travel website: JohnnyJet.com, of course!
5 things you bring on a plane: Bose quiet comfort earphones, White + Warren travel wrap, a big bag filled with journal articles and papers to edit, really good hand cream, and my Chanel "Boy" lipstick—named after Coco Chanel's love, it's so romantic I don't leave home without it.
What do you always seem to forget? Chargers. I'm always losing my iPhone cable or wall plug. After this many times you'd think I'd find a way to keep track but I don't.
What do you like least about travel? I adore children, but not when they're screaming for 14 hours on a flight from Korea to John F. Kennedy.
What do you want your loved one to buy you from an airport Duty Free store? Going to be honest with you, I would love an Hermes scarf each trip, but sometimes it's the little things that mean the most like a magnet or a packet of tea.
Favorite travel app(s): I do not have one. I like to be low tech on the road, especially when I travel internationally. Just good friends and a great camera.
Most embarrassing travel moment: La Guardia was under construction. Terminals were extra crowded and gates had two sometimes three flights assigned to them. You showed your boarding pass, then followed the tram out to the tarmac, where handmade signs directed you through a sea of orange cones to your plan. It was dark and I was on my way back from Europe, sleep deprived, and I accidentally got on a flight to Alabama instead of Ithaca. Thankfully someone on the Alabama flight had the same seat that I had been assigned on the flight to Ithaca. We compared tickets and I realized the error and thankfully recovered to the correct plane before take off! 
Worst travel moment: Driving 1.5 hours in a snowstorm to Syracuse to catch a flight to NYC and realizing I missed the boarding time by 30 seconds—it was the worst! That drive back to Ithaca was no fun.
What's your dream destination? Bali or Thailand both sound so exotic. I adore yoga so I have a dream of rolling out my mat and practicing when the sun rises!
Favorite travel charity: I did not know these existed! I will have to look into it.
Best travel tip: Since I study sleep, I have much to say on the topic! My best tip for international travellers is to beat jet lag by preparing for your time change several weeks in advance. Start changing your bedtime 15 minutes a few nights before you take off in the direction of the time change. Going east? Pull your bedtime earlier. Going west? Push your bedtime back. Most importantly, when you arrive, stay active. Keep up your regular exercise habits. Also, use blue light exposure to help you adjust quickly to the local time. For instance, in the morning go outside as soon as possible and walk in the sunlight and try to take a walk or sit outside in the afternoon. Sun exposure is the best way to accelerate adjustment to a new time zone. Finally, avoid a "red eye" or overnight flight at all costs. These flights are often the cheapest, so it is tempting, but you pay the price by struggling to get to sleep and losing a day at your destination.