Want to know how to travel in style, just like the pros? We check in with frequent fliers to find out how often they fly, their favorite destinations and what they never leave home without.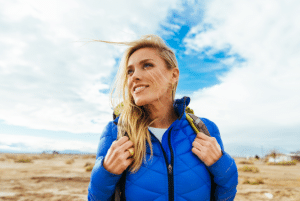 Name: Rachel Rudwall
Occupation: On-Camera Travel Host & TV Producer
Hometown: Dayton, OH
Residence: Los Angeles, CA
College major: B.A. International Studies, B.A. Spanish
Website: rachelroams.com 
Twitter: @rachelroams & @how2travelers
Facebook: Rachel Roams & How 2 Travelers 
YouTube: How 2 Travelers
Instagram: rachelroams
Short bio: As an on-camera host, Emmy-nominated TV producer, photographer and writer, Rachel Rudwall regularly drops herself into far-flung locales to relate their stories to outsiders. Rachel has had countless global adventures, ranging from work as host for TravelChannel.com and digital series How 2 Travelers to producer on top-rated shows like Ice Road Truckers and Ax Men. Due to her extensive travel experience, Rachel has been a featured travel expert and explorer in content for Expedia, American Airlines, Heineken, Vagabondish, Four Seasons Hotels & Resorts, Yahoo Finance, NowThis News, and more.
How often do you fly? Depends on the month! Typically anywhere from 2-8 times.
How many countries have you been to? 40+
How many continents have you been to? 6. All of 'em except Antarctica!
Favorite American city: Los Angeles or Portland, OR.
Favorite international city: Tough question, as I'm fascinated by many of the cities I've visited! Some favorites: Kyoto, Edinburgh, Istanbul, Chiang Mai, Berlin, Budapest.
Least favorite country: India.
Country with the meanest immigration officers: USA—specifically JFK & LAX airports!
Favorite World Heritage Site: Another tough question! I have too many…NATURAL: Great Barrier Reef, Australia; Thingvellir National Park, Iceland; Ha Long Bay, Vietnam; Redwood National Park, USA. MAN-MADE: Angkor Wat, Cambodia; Cesky Krumlov, Czech Republic; Santiago de Compostela, Spain; temples of Mount Koya, Japan.
Favorite aircraft type: Piper Super Cub—the first plane I had a chance to fly myself! Thankfully for all involved, the pilot still landed the thing.
Aisle or window: Window.
Favorite U.S. airport: SEA or PDX. I'm a fan of airports that are not only easy to get around, but also have great local food options.
Favorite international airport: Hong Kong International (HKG). MAN, I love the giant food court and free Wi-Fi.
Favorite hotel: JW Marriott Khao Lak, Thailand.
Favorite travel credit card: CapitalOne Venture or Chase Sapphire. I save tons of money when traveling overseas because neither card charges international transaction fees.
Favorite island: Iceland. Adventure, adventure, and more adventure!
Favorite beach: Anywhere along California's Big Sur coastline.
Favorite fancy restaurant: N/Naka. Exquisite, perfectly balanced, perfectly executed omakase Japanese menu in a hidden restaurant on a side street of L.A.
Favorite hole-in-the-wall: Rincon Criollo, a tiny Caribbean place in Culver City, CA, that has perfected the garlic-drenched chicken+pork+rice+beans+plantains game.
Favorite fruit: Avocado or coconut.
Favorite food: Indian food! Specifically Chicken Saag, ("white girl") spicy, with garlic naan. Gets me every time.
Least favorite food: Iceland's putrefied Greenland shark. Tastes like acetone-infused stinky cheese, with a texture like rubber.
Drink of choice (in the air and on the ground): Depends on the hour of day! AM: coffee. PM: extra dry Belvedere martini, up with olives, please.
Favorite travel movie(s): The Motorcycle Diaries. Monsieur Ibrahim. And, although Half the Sky isn't specifically travel-focused, it's an incredibly powerful documentary that tells the story of women's struggles around the world.
Favorite travel show(s): Globe Trekker was my original travel show love, teaching me that exploring the world and telling its stories is a legitimate career path! Also: Planet Earth. DUH.
Favorite travel book(s): "Travels," by Michael Crichton—an adventurous, hysterical look at the globe through the eyes of not only a tremendous writer, but also a fumbling adventurer.
Right now I am reading: "Reading Lolita in Tehran," as well as "Game of Thrones" (Books 4 & 5 concurrently. NERD.).
Top 3 favorite travel newsletters/magazines/blogs: National Geographic, Outside Magazine, Sunset Magazine.
Favorite travel website(s) – besides JohnnyJet.com, of course!: Well, besides JohnnyJet.com, I'd have to say: Atlas Obscura, Kayak's "EXPLORE" section, and AFAR.
5 things you bring on a plane: Ear plugs, eye mask, socks, a jacket for when the temperature drops at 35,000 feet, and Ambien for those long-haul flights.
What do you always seem to forget? Nothing, usually! I've always got my travel essentials stashed in the same spot awaiting their next adventure.
What do you like least about travel? Being so far from the people I love.
What do you want your loved one to buy you from an airport Duty Free store? Toblerone chocolate. Every time.
Favorite travel app(s): TripIt, SeatGuru, GateGuru, Instagram, SitOrSquat, Google Translate.
Worst travel moment: Getting lost in the Czech countryside in a cab whose fare kept going up, and up, and up…only to arrive at my designated "train station" and realize the track was incomplete. Whoopsie, adventure!
What's your dream destination? Burma, Bhutan, Papua New Guinea.
Favorite travel charity: While it's not exactly travel-centric, the Somaly Mam Foundation as well as any of the other international charities portrayed in Half the Sky are doing tremendous work for women's rights and education around the world.
Best travel tip: Learn how to say "please" and "thank you "in the native language wherever you travel. You'll be greeted with open arms.