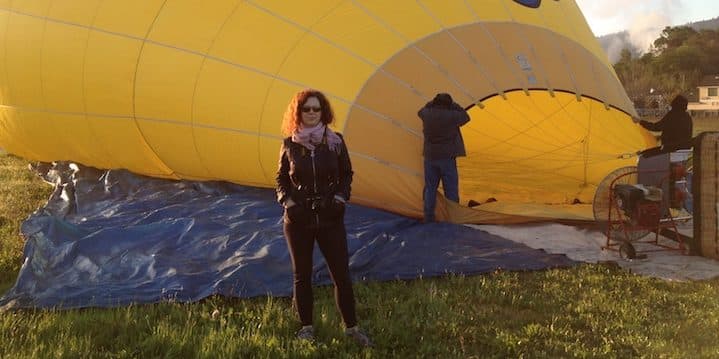 Want to know how to travel in style, just like the pros? We check in with frequent fliers to find out how often they fly, their favorite destinations and what they never leave home without.
Name: Penny Sadler
Occupation: Wine and travel blogger, makeup artist, stylist and photography buff
Hometown: Dallas
Residence: Currently, Dallas
Website: adventuresofacarryon.com
Twitter: @PennySadler
Facebook: Adventures of a Carry-on
Instagram: adventuresofacarryon
Pinterest: Adventures of a Carry-on Travel
Short bio: Penny Sadler is a professional makeup artist by day who began a quest to find beauty and adventure through travel and wine in 2010. She's picked grapes in Italy, explored a 2000 years old wine cave in France, and is on a mission to visit every major wine region in California. Penny is a WSET certified wino who's always ready to share a glass and a good conversation.
How often do you fly? It varies a lot from year to year but on average, about four times per year.
How many countries have you been to? I'm a slow traveler and I work full time, so my goal is not to try to go to as many places as possible, but to have a rich and rewarding experience. That said, I've been to nine countries.
Earliest travel memory: Road trips with my family between Texas and California. It's mostly desert from Dallas to Los Angeles and I remember as a teenager I found it all pretty bleak. Now of course I can find something interesting no matter where I am.
Favorite American city: San Francisco.
Favorite international city: Rome.
Least favorite country: I haven't traveled enough to have a least favorite country. Ask me in fifteen years.
I have no desire to go to: I can't think of any place I wouldn't go. I recently traveled to Lodi, California. I didn't expect to like it, but I did. Lesson learned.
Friendliest people in the world: I find San Francisco the friendliest large city in America. Everyone who visits Dallas tells me the people are very friendly. Since I live here, I guess I don't notice as much.
Favorite World Heritage Site: I've been to quite a few but not sure if I have a favorite. A standout is the Alhambra in Granada, Spain.
Favorite airline: Whichever airline treats me the nicest. So far Delta wins for overall coming to the rescue of a damsel in distress. I'm also a big fan of Southwest Airlines for the friendliest policies towards flight changes.
Aisle or window: Definitely window.
Favorite U.S. airport: San Francisco.
Favorite international airport: I love shopping at Heathrow but hate traveling there from the US.
Favorite hotel: Viking River Cruises—the rooms are incredibly well designed and comfortable. And I love the moving hotel idea without the hassle of actually packing and changing rooms.
Favorite cruise line: I've only been on two ocean going cruises and one was a luxury liner, Oceania. They win.
Favorite travel credit card: Chase Sapphire.
Favorite island: Virgin Gorda.
Favorite beach: Almost any beach in the Caribbean.
Favorite National Park: I'm sorry to say I've not been to many national parks but I'd rate Big Bend pretty spectacular.
Favorite fancy restaurant: Julia at La Posada de Santa Fe. Todd Hall is the executive chef and somehow knows what you're going to like in advance. His food and wine pairings are spot-on.
Favorite hole-in-the-wall: El Rey Del Grill in Dallas.
Favorite bar: I love the little bars in Italy where you can stop in for everything from a coffee or panini to an apertivo no matter the time. It's a very different concept of what a bar is in the US.
Favorite fruit: Lemon sorbetto but only in Italy.
Favorite food: Cheese, pasta, seafood.
Least favorite food: I am not a fan of stinky cheese.
Drink of choice (in the air and on the ground): Water and wine, of course.
Favorite travel movie(s): Any movie that inspires me to book an airline ticket.
Favorite travel show(s): I don't really watch television but I love PBS series like Downton Abbey.
Favorite travel book(s): "Without Reservations"
Right now I am reading: "The Dream Lover"
Top 3 favorite travel newsletters/magazines/blogs: Johnny Jet, of course. I also love Conde Nast and Afar.
5 things you bring on a plane: Ear planes, eye mask, hand lotion, reading material, and a journal.
What do you like least about travel? Changing time zones; it messes up my blood sugar.
What do you want your loved one to buy you from an airport Duty Free store? Most anything would be lovely but I especially like something that's particular to the area where they've been traveling.
Favorite travel app(s): I'm app deficient. I do see a change in my future.
I'm embarrassed I haven't been to: I haven't been to London since 1994.
Worst travel moment: Long story but I had to wait outside on the porch of the apartment where I was staying in Rome for a couple of hours (the host was out on the town). It was after midnight and I was afraid I was going to get arrested. Not to mention I was exhausted and obviously could not fall asleep there.
What's your dream destination? Africa for sure.
Best travel tip: Always carry on your luggage, of course. Though I admit, it's not always possible.