Want to know how to travel in style, just like the pros? We check in with frequent fliers to find out how often they fly, their favorite destinations and what they never leave home without.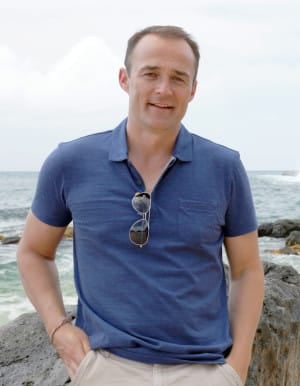 Name: Nick Watt
Occupation: Journalist, TV host
Hometown: Middle of Nowhere, Scotland
Residence: Santa Monica, California
College: St Andrews University, Scotland
College major: Masters in Modern History (specialising in post-war US foreign policy) 
Website: Don't have one
Twitter: @nickwattabc. I take more than I give.
Facebook: Never got into it
Pinterest: Yea, didn't get into this yet either
Google+: I'll be honest, I don't get it…
Instagram: This seems cool, but again, just never got around to it…
YouTube: OK, this is getting embarrassing.
Short bio: I was born in Scotland and raised all over the world. I've worked at ABC News since 1997, first as a tape librarian, then as a producer and as a reporter. I've been everywhere from the Arctic to Nauru in the Western Pacific. Apart from travel I love my wife, my family, cricket, rugby, and beer (in that order).
How often do you fly? A lot. Kind of depends what I'm up to. Usually every week, even if it's a quick hop to Vegas or San Francisco. While shooting "Watt's World" we would be on the road for three or four weeks taping in maybe six different locations.
How many countries have you been to? Around 90. Not sure.
How many continents have you been to? Every one except Antartica. And I have no real desire to go to Antarctica. I'm an Arctic man.
Earliest travel memory: When I was six my sister and I would fly from Malaysia, where my parents lived, back to Scotland where we went to school. It was fantastic freedom. I ate a lot of candy. And left a lot of pairs of pajamas in those cool 1970s "trouser presses" in hotel rooms on layovers.
Favorite American city: Los Angeles to live, New York to visit.
Favorite international city: Kabul and Rome, I think. A lot of people rave about Paris as the greatest European city. I think Rome has a much better vibe: Hairy-chested men riding Vespas, lovely little restaurants, effortless glamor oozing from older ladies, and a wonderful, Southern European outlook on life. And Kabul just after the fall of the Taliban was the most magical, mystical place and time I've ever experienced.
Least favorite country: Don't really have one. But I imagine I'd have issues with North Korea.
I have no desire to go to: An office.
Friendliest people in the world: Americans.
Country with the meanest immigration officers: Tajikistan and America. Every time I land in the US I get taken away for secondary questioning. They're not necessarily mean. It's just a pain. I was once refused entry at Newark. An immigration officer turned on the TV in the little holding room we were kept in before deportation. He told me and the two Cuban guys who were with me, "This is The Simpsons. American culture."
Favorite World Heritage Site: Yosemite. Sure the man-made sites are amazing. But I love a bit of nature.
Favorite airline: Singapore Airlines. Reminds me of my childhood when air travel was still glamorous. I remember all the flight attendants as beautiful and the pilots as super cool. But I've always found it odd that pilots wear those quasi-military outfits. I'd like to set up maybe a drain cleaning business and dress myself and all my employees in shirts with epaulettes.
Favorite aircraft type: Twin Otter, because they tend to fly in lovely or exciting places. Last one I took was from St Maarten to Saba. I've also flown on them in the Arctic, where they land on the ice pack with a bump.
Aisle or window: Aisle for short flights. Window for long-haul. I wear a hoodie. I never recline. And I sleep like a baby. And I don't mean screaming and wetting myself.
Favorite airport lounge: Don't have one. I usually fly coach.
Favorite U.S. airport: Tulsa, Okla., because that's where I first saw Americans walking around nonchalantly wearing cowboy hats and I thought that was the coolest thing in the world. I also really like the new international terminal at LAX.
Favorite international airport: Saba in the Caribbean. The shortest commercial runway in the world and an immigration/customs/check-in process that takes about 90 seconds.
Favorite hotel: I'll be honest, I actually don't really like hotels. I don't like all the fussing. I like to stay in a cottage or an apartment.
Favorite cruise line: I've never been on a cruise. Although when I was a kid we used to sail around the Greek and Turkish islands every summer in an old fishing boat, which was fantastic. We lived in Turkey at the time, so it wasn't a schlep to get to the port.
Favorite travel credit card: I have a few different Visa cards in US Dollars and British Pounds. Is that what you mean?
Favorite island: Iona off the west coast of Scotland and Robben Island off Cape Town. Iona because it's beautiful and Robben Island because no place on earth has ever made me feel so much.
Favorite beach: Muizenberg in Cape Town. My wife was born in South Africa and when we were "courting" we went to Cape Town a bunch of times and it was magical.
Favorite fancy restaurant: It's not too fancy, but I love Hereford Road in London. They're not afraid of a little offal.
Favorite hole-in-the-wall: There's a shwarma stand just around the corner from the Intercontinental Hotel in Amman, Jordan, that is heaven. As I said, I don't love hotel fussing, so whenever I stayed in Amman (which was very often on my way in and out of Iraq) I'd eat shwarma on the sidewalk.
Favorite bar: The Holly Bush in Hampstead, London. Ancient, pokey and just so English. There are a few places like it. But I just happen to have been in London last week and met up with a bunch of old friends at the Holly Bush.
Favorite fruit: Mango. Sliced in a grid and turned inside out so it looks like a porcupine.
Favorite food: Curry. And I can't find what I would call a decent curry in America.
Least favorite food: Dill. Although I like dill pickles.
Drink of choice (in the air and on the ground): Bloody Mary in the air. Order one on a plane and I guarantee someone else within ear shot will copy you. Spreads like a yawn. On the ground, I'll be honest, I pretty much drink everything except Sauvignon Blanc. I know nothing about wine, apart from that I dislike Sauvignon Blanc.
Favorite travel movie(s): Planes, Trains and Automobiles.
Favorite travel show(s): Big Crazy Family Adventure, Idiot Abroad, and anything involving Anthony Bourdain or Michael Palin.
Favorite travel book(s): "The Road to Oxiana" by Robert Byron. I read it while hiking from Tehran to the Caspian Sea. And I realize that makes me sound like a pretentious ***.
Right now I am reading: "The Children Act" by Ian McEwan.
Top 3 favorite travel newsletters/magazines/blogs: I love all inflight magazines. I love the little tidbits and I love the adverts. The adverts really give you a sense of the country that operates the airline and the clientele of the airline.
Favorite travel website(s)—besides JohnnyJet.com, of course! I like TripAdvisor and prefer writing good reviews over bad. The Guardian newspaper publishes a lot of good travel writing. Whenever I'm planning a trip I type the country name into The Guardian and The New York Times and get a mix of news, politics, travel, food and sports about the place.
5 things you bring on a plane: A hoodie, ear plugs, a book, a pen (for sudoku and crossword puzzles), The New Yorker.
What do you always seem to forget? Pajamas.
What do you like least about travel? I miss my wife and kids.
What do you want your loved one to buy you from an airport Duty Free store? Laphroig Scotch whisky.
Favorite travel app(s): Again, going back to the social media stuff above, I don't really have one. Does Waze count? I live in LA and use it a lot. Although I think in certain parts of town I'm now better than Waze.
Most embarrassing travel moment: Coming home from a skiing holiday aged about 15 with a new earring. My mom picked me up from the airport and pulled the earring out of my ear right there in the arrivals hall while other people were enjoying emotional reunions.
I'm embarrassed but I haven't been to: Mexico. Growing up in Asia, Africa and Europe, the Americas always seemed so far away. Now that I live in California I have no excuse, except that I know I'll be hauled away at the land crossing for secondary questioning and I imagine that might be quite a long line.
Worst travel moment: Projectile vomiting so bad in Iraq that I popped a hernia in my chest.
What's your dream destination? Greenland, Bolivia, Ethiopia.
Favorite travel charity: Change for Good. Such a simple and effective idea.
Best travel tip: Ear plugs at night. And don't be afraid to get totally lost during the day.