Want to know how to travel in style, just like the pros? We check in with frequent fliers to find out how often they fly, their favorite destinations and what they never leave home without.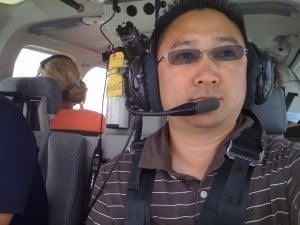 Name: Nathan Kam
Occupation: Vice President, Travel & Tourism at McNeil Wilson Communications, a part of Anthology Marketing Group
Hometown: Kailua-Kona, Hawaii
Residence: Pearl City, Hawaii
Website: Kam Family Blog
Twitter: @nathankam
Facebook: Nathan Kam
Short Bio: Hawaii public relations executive with more than 12 years of experience in travel and hospitality. At McNeil Wilson, I manage a talented team that designs and executes the North America public relations programs for the Hawaii Visitors and Convention Bureau (HVCB) and Big Island Visitors Bureau (BIVB) accounts and am never satisfied with the status quo. I'm passionate about travel, food, gardening, golf, music, technology, connecting people, and being the best husband and father I can be.
How often do you fly: Not as much as I used to. Maybe 20 times a year now. With two young children, I'm fortunate to have a team that enjoys being on the road for business.
Favorite American city: Tough one, but probably New York City. It's a complete 180 of what Hawaii is all about in terms of intensity and landscape. I also love to eat, so being in a city with so many great restaurants excites me, as does the opportunity to see shows, take in a sporting event, or even just stroll through a museum.
Favorite World Heritage Site: I'm biased here, but Hawaii Volcanoes National Park on Hawaii, the Big Island Island always takes my breath away. Being raised on Hawaii Island, I've been fortunate to witness the volcano goddess Pele's work up close. It's an awe-inspiring feeling that I experience every single time I visit the park. Halemaumau Crater, Chain of Craters Road, all the way down to the sea arches at the end of the road to where you can see the lava flowing down the pali. Just incredible to see Mother Nature in the raw like that.
Favorite airline: The one that gets me and my bags to my destination on time. Due to the nature of my job, I'm usually on the flight that's offering the best fares and most direct service…and that could be any given airline at any given time. I'm not picky.
Favorite aircraft type: Anything with double aisles.
Aisle or window: Aisle. I like the freedom to get up and move about the cabin if necessary without inconveniencing anyone.
Favorite U.S. airport: Anyone that offers free WiFi and a descent selection of restaurants.
Favorite hotel: I'm really not picky when it comes to hotels, but they must be in a good location and clean. Free Wifi is a bonus!
Favorite island: The Hawaiian Islands…but you probably knew I was going to say that. Honestly, I've not had the chance to travel to any other island destination outside the Aloha State. Growing up on Hawaii, the Big Island, then moving to Oahu in 1995 was like night and day. Laid back to a big city feel. Then to go from Oahu to Kauai, Maui, Molokai, and Lanai, each island offers a different experience. Living in Hawaii and traveling interisland is unique and fun.
Favorite fancy restaurant: Alinea in Chicago. Chefs Grant Achatz and Dave Beran are doing some of the most innovative and interesting food today. I had the chance to do a 20+ course tasting. It lasted 5+ hours. It was something I'll never, ever forget.
Favorite hole in the wall: The dining room at Manago Hotel on Hawaii, the Big Island. It's a place trapped in time. Nothing fancy about the menu, just solid local food. It's all about the nostalgia and history.
Favorite fruit: Mangos. I absolutely love mangos!
Favorite food: Without a doubt, PORK! Roasted, pulled, crispy, fried, sous vide, out of an imu…you name it…I'm eating it!
Least favorite food: Anything that's not cooked with love and passion. And anything that's not seasoned well.
Drink of choice (In the air and on the ground): In the air, orange juice and water. On the ground, nothing like a cold beer!
Favorite travel movie(s): I enjoy watching documentaries when I travel. A few that I've recently enjoyed include Helvetica, One Last Thing (Steve Jobs documentary), and Page One: Inside the New York Times.
Favorite travel show(s): Anthony Bourdain's No Reservations.
Five things you bring on a plane: Headphones for my iPhone, travel pillow, a jacket, beef jerky and my laptop.
What do you always seem to forget: My business cards. But, in today's world of technology and social media, not really a big deal anymore.
Favorite travel iPhone app(s): I like having card games like solitaire and blackjack to kill time. My latest addiction is LogosQuiz where you see a portion of a logo and name the brand. Maybe it's the marketing person in me. ;-)
What's your dream destination: Scotland. As an avid golfer, would be a dream come true to play at the home of golf.
Best travel tip: I think Bobby McFerrin said it best "don't worry, be happy." You're probably in an amazing place, doing amazing things, and hopefully experiencing it with amazing people. Learn something new, try something different, and don't let the insignificant things keep you from having fun.