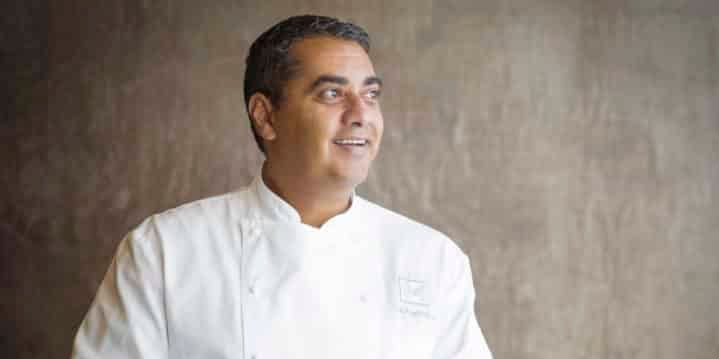 Want to know how to travel in style, just like the pros? We check in with frequent fliers to find out how often they fly, their favorite destinations and what they never leave home without.
Name: Michael Mina
Occupation: Chef and Founder of the MINA Group
Hometown: Cairo, Egypt
Residence: San Francisco, CA
College: The Culinary Institute of America
College major: Culinary Arts
Website: michaelmina.net
Twitter: @ChefMichaelMina
Facebook: Chef Michael Mina
Instagram: chefmichaelmina
Pinterest: Chef Michael Mina
Short bio: With multiple accolades including "Chef of the Year" by Bon Appétit and San Francisco Magazine, "Restaurateur of the Year" by International Food and Beverage Forum, and a 2013 inductee in James Beard Foundation's "Who's Who of Food & Beverage," Chef Michael Mina's journey is one of accomplishment, significance and passion.
Born in Cairo, Egypt, and raised in Ellensburg, Washington, Mina fostered a love for food at a very young age. His experience has spanned the culinary spectrum, from starting his first job at the age of 15 as a chef garde manger in a small, French restaurant in his hometown, to his first momentous opportunity to aid in the creation and design of an upscale seafood restaurant in San Francisco (now known as AQUA), to opening his third award-winning STRIPSTEAK restaurant in the heart of Hawaii.
Mina continues to awe the culinary world with the passion he instills in all his ventures, leading to the founding of MINA Group with partner Andre Agassi in 2002. Mina has opened over 30 concept restaurants, a lounge and a market including MICHAEL MINA, CLOCK BAR, RN74, BOURBON STEAK, ARCADIA, STONEHILL TAVERN, STRIPSTEAK, WIT & WISDOM, PUB 1842, THE HANDLE BAR, MICHAEL MINA 74, PABU, THE RAMEN BAR, BOURBON STEAK & PUB, LOCALE MARKET and FARMTABLE KITCHEN. In addition, Mina recently launched the Michael Mina Wine Club as a way to bring many of the wines featured in his restaurants into the guest's home.
How often do you fly? On average, two times a week.
How many countries have you been to? 15+
How many continents have you been to? 5
Earliest travel memory: Maybe not my earliest but my most impressionable memory: the day after I moved up to San Francisco we had the Northridge earthquake. It was a life-changing experience but did not diminish my love for this great city!
Favorite American city: Honolulu. I've been traveling to Hawaii for years and have fallen in love with its culture. It's the only place my family and I vacation to. We love the culture. We love the people.
Favorite international city: Dubai.
Friendliest people in the world: Hawaii has some of the friendliest people in the world. There's so much aloha spirit and warm hospitality found throughout the Islands.
Favorite World Heritage Site: Noto in Sicily.
Favorite airline: Virgin America.
Favorite aircraft type: Any wide-body jet.
Aisle or window: Aisle.
Favorite airport lounge: Emirates lounge in Dubai is pretty incredible!
Favorite U.S. airport: Terminal 2 at SFO.
Favorite international airport: Its a tie between Dubai International Airport and Heathrow.
Favorite hotel: The last time I traveled to Oahu was when we were opening up STRIPSTEAK Waikiki and I stayed at the Moana Surfrider, A Westin Resort & Spa. It's a beautiful beachfront property with rich history.
Favorite cruise line: Crystal Cruises.
Favorite travel credit card: Virgin America Visa.
Favorite island: I love island-hopping throughout Hawaii. My family vacations on Oahu for its cosmopolitan flair, then ventures to Maui for relaxation and family-time.
Favorite beach: Lanikai Beach on Oahu.
Favorite National Park: Yellowstone.
Favorite fancy restaurant: Le Bernardin.
Favorite hole-in-the-wall: John Barleycorn (now closed).
Favorite airport restaurant: One Flew South (in Atlanta).
Favorite bar: Angel's Share in NYC.
Favorite fruit: Mango.
Favorite food: My mother's Lafa.
Least favorite food: Messy sandwiches.
Drink of choice (in the air and on the ground): In the air, Bailey's on the rocks. On the ground, Grey Goose and soda.
Favorite travel movie(s): Chris Rock concert videos.
Favorite travel show(s): House of Cards.
Favorite travel book(s): "A Moveable Feast" by Don George.
Right now I am reading: The Zahav cookbook.
Top 3 favorite travel newsletters/magazines/blogs: Travel + Leisure, Sunset and Conde Nast Traveler.
5 things you bring on a plane: iPad, Beats headphones, charger, eye mask, and comfy socks.
What do you always seem to forget? My passport!
What do you like least about travel? Layovers, I avoid them at all costs.
What do you want your loved one to buy you from an airport Duty Free store? Roasted nuts—particularly pistachios.
Favorite travel app(s): Kayak.
Most embarrassing travel moment: I once packed beef demi-glace in my luggage and it exploded and got on a ton of other passengers' luggage.
I'm embarrassed I haven't been to: Australia.
Worst travel moment: Any of the many times I've been delayed.
What's your dream destination? Ko Olina, Hawaii.
Favorite travel charity: The Culinary Arts Program at Kapiolani Community College.
Best travel tip: Don't be afraid to get a travel guide in unexplored countries—that makes the experience so much more special and you see so much more!