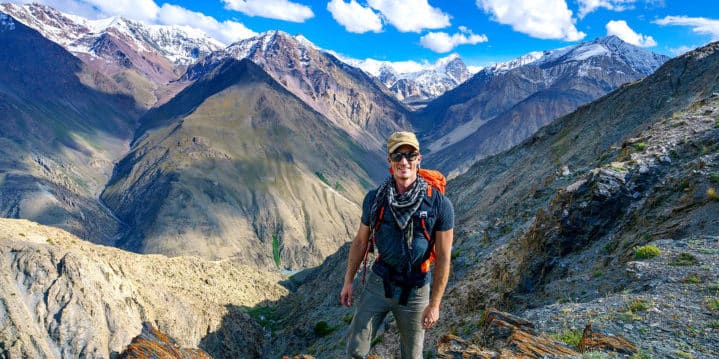 Want to know how to travel in style, just like the pros? We check in with frequent fliers to find out how often they fly, their favorite destinations and what they never leave home without.
Name: Matthew Karsten
Occupation: Travel Blogger & Photographer
Hometown: Campton, NH
Residence: Playa del Carmen, Mexico
College: Montana State University
College major: Finance
Website: expertvagabond.com
Twitter: @expertvagabond
Facebook: Expert Vagabond
Instagram: expertvagabond
Google+: Matthew Karsten
YouTube: Expert Vagabond
Short bio: Matthew Karsten is a professional travel blogger and photographer who quit his unfulfilling day job in Miami to travel the world indefinitely. Since then he's been exploring unusual & beautiful locations around the planet for the past six years, sharing his adventures from places like Afghanistan and Greenland. Hoping to inspire others to travel somewhere new.
How often do you fly? About once a month.
How many countries have you been to? 33
How many continents have you been to? 4
Earliest travel memory: College exchange program in Hawaii.
Favorite American city: Boston.
Favorite international city: Madrid.
Least favorite country: Honduras.
I have no desire to go to: I'd like to visit everywhere once!
Friendliest people in the world: Fiji.
Favorite World Heritage Site: Darien National Park.
Favorite airline: Emirates.
Aisle or window: Aisle (long legs).
Favorite airport lounge: Turkish Airways Lounge in Istanbul.
Favorite U.S. airport: Hartsfield-Jackson Atlanta International.
Favorite international airport: Singapore Changi Airport.
Favorite travel credit card:  Capital One VentureOne Card.
Favorite island: Greenland.
Favorite beach: Jeffreys Bay, South Africa.
Favorite bar: Montana Ale Works.
Favorite fruit: Banana.
Favorite food: Tacos.
Least favorite food: Breakfast cereal.
Drink of choice (in the air and on the ground): Michelada.
Favorite travel movie(s): Motorcycle Diaries.
Favorite travel show(s): Departures.
Favorite travel book(s): "Vagabonding" by Rolf Potts.
Right now I am reading: "The Carpet Wars" by Christopher Kremer.
Top 3 favorite travel newsletters/magazines/blogs: Roads & Kingdoms, Maptia and Uncornered Market.
Favorite travel website(s)—besides JohnnyJet.com, of course! WikiTravel.org, Google Flights, AtlasObscura.com.
5 things you bring on a plane: Earplugs, eye mask, laptop, headphones, Kindle.
What do you always seem to forget? Charging cables!
What do you like least about travel? Long lines at airports.
What do you want your loved one to buy you from an airport Duty Free store? Chocolate.
Favorite travel app(s): Google Maps.
Most embarrassing travel moment: When a whole bus full of Guatemalans laughed when I forced the driver to stop so I could urgently pee on the side of the road…
I'm embarrassed I haven't been to: Paris.
Worst travel moment: Getting my laptop stolen at a bar.
What's your dream destination? Antarctica.
Best travel tip: Relax. Practice patience. Things will go wrong when you travel. Freaking out makes it worse.