Want to know how to travel in style, just like the pros? We check in with frequent fliers to find out how often they fly, their favorite destinations and what they never leave home without.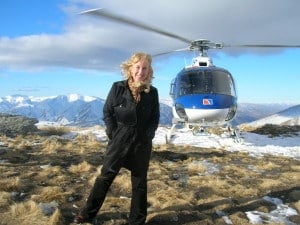 Name: Laurie Stringer
Occupation: Air New Zealand flight attendant; Harpist; Domestic goddess
Hometown: Too many to list…but I'm usually in San Luis Obispo, California when back in the USA
Residence: Christchurch, New Zealand
College: University of Missouri-Columbia
College major: Education and Music
Email: lauriestringer@hotmail.com
Instagram: lauriestringer
Short bio: I've had the awesome privilege to live and travel all over the globe with my family. My Dad was a scientist and worked on the Apollo Moon mission. I'm a teacher, harpist, singer, domestic goddess and seeker of wisdom and adventure. My jobs have included embassy and military work in Asia and the Middle East, homeschooling my beautiful kids, and studying world cultures and religion. I've been a frequent flyer on many airlines and loved it so much I decided to become a flight attendant. After a series of events involving devastating earthquakes in my home of Christchurch, and a wish granted by the Air New Zealand Fairy (yes…she is real! ), AND marrying my wonderful New Zealand husband, I am now a proud Air New Zealander.
How often do you fly? 2-4 international flights per week.
How many countries have you been to? Lots!
How many continents have you been to? Hoping to make it to Africa and Antarctica later this year and my list will be complete.
Earliest travel memory: Early 60s airplane flight when everyone dressed up—best dress, little purse, and shiny patent leather shoes.
Favorite American city: San Luis Obispo, California.
Favorite international city: Christchurch, New Zealand.
Least favorite country: You can find wonderful people and amazing adventures in every country.
Country with the meanest immigration officers: A friendly smile and a bit of patience goes along way ;-).
Favorite World Heritage Site: Arlington National Cemetery.
Favorite airline: Air New Zealand, of course ;-).
Favorite aircraft type: Boeing Dreamliner 787-9 I had the opportunity to be a part of the Air New Zealand team that traveled to the Boeing plant in Seattle to view the first 787-9 Dreamliner. What a beauty! Air New Zealand will take delivery of the world's first 787-9 in August 2014.
Aisle or window: Flight deck…occasional perk of the job!
Favorite airport lounge: Air New Zealand International Koru Lounge, Christchurch and Auckland, New Zealand.
Favorite U.S. airport: LAX.
Favorite international airport: Christchurch, New Zealand.
Favorite travel credit card: Air New Zealand One Smart.
Favorite island: South Island, New Zealand.
Favorite beach: Wharakiki Beach, New Zealand—wild and windswept.
Favorite fancy restaurant: A picnic on any beach.
Favorite hole-in-the-wall: Fergburger, Queenstown New Zealand.
Favorite fruit: Ice cold watermelon.
Favorite food: Wood-fired pizza.
Least favorite food: Creamed corn.
Drink of choice (in the air and on the ground): In the air: water with lemon; on the ground: Snapple Diet Peach Iced Tea.
Favorite airline safety videos: Air New Zealand's!
Favorite travel book(s): Anything by Lonely Planet.
Right now I am reading: The Essential C.S. Lewis; Good Poems (Garrison Keillor); Captivating (Stasi Eldredge); Things that Matter (Charles Krauthammer).
Top 3 favorite travel newsletters/magazines/blogs: The Flying Social Network, Lonely Planet, Air New Zealand Fairy.
Favorite travel website(s)—besides JohnnyJet.com, of course! AirNewZealand.com, Kayak, FoxNews.com/travel.
5 things you bring on a plane: A real book; bottle of water; warm sweater; comfy socks; snacks.
What do you always seem to forget? So far, so good.
What do you like least about travel? I like to have 2 days to unpack and unwind after a long trip, so not having that extra bit of downtime is definitely my least favorite thing.
Favorite travel app(s): Air New Zealand Mobile App; Google Maps; Skype; Facetime.
What's your dream destination? Israel and Greece.
Favorite travel charity: Koru Care—an Air New Zealand organization providing special flights and adventures for special kids.
Best travel tips: Pack light and always bring a positive attitude and sense of adventure.
Pack layers to adapt to weather, good walking shoes, and for the gals—a little black dress—it goes with everything. Just add a scarf and heels or a jacket and sneakers and you're ready for anything!
Drink plenty of water—You'll feel better during and after the flight.
Bring small amounts of basic over-the-counter medicines and Band-Aids just in case.
Sharing-the-armrest: I fold an extra airline blanket over the armrest. Makes it wider and softer and easy to share with your neighbor. I always mention this to my fellow traveler first and so far everyone has appreciated this little tip.
Dental floss: Great for making a clothes line, securing packages, tying between branches to drape with a towel or pashmina for instant shade, cut cheese, sew a ripped backpack, tie your hair back, temporary shoelace, etc. I've also heard you can use it to tie your kids to you while travelling so they don't get lost, but have not tried this!
Flight attendants love smiles, happy travelers, and fancy chocolates!