Want to know how to travel in style, just like the pros? We check in with frequent fliers to find out how often they fly, their favorite destinations and what they never leave home without.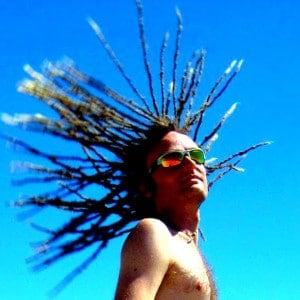 Name: Laurence Norah
Occupation: Travel photographer, writer and blogger
Hometown: I have no idea
Residence: Dordogne region, France
Website: findingtheuniverse.com
Twitter: @lozula 
Facebook: /findingtheuniverse

Google+: laurencenorah
Instagram: lozula
YouTube: /lnorah
Bio: I'm a travel photographer and writer, on a slow journey to visit as much of the world as possible. I started my most recent travels in 2009, with a year of journeying around the Australian outback by four wheel drive, and continued on from there. I love walking, photography, experiencing new things, and having fun. I share it all on my blog, Finding the Universe.
How often do you fly? 6-10 times a year
How many countries have you been to? 35
How many continents have you been to? 6
Favorite American city: New York.
Favorite international city: Venice.
Least favorite country: I've not found it yet. 
Favorite World Heritage Site: Tongariro National Park, New Zealand.
Favorite airline: Qatar.
Favorite aircraft type: De Havilland Twin Otter DH-101.
Aisle or window: Window. There is no feeling quite like the wonder of seeing the world from ten miles up. Until my astronaut application is approved.
Favorite airport lounge: I tend to slum it ;)
Favorite U.S. airport: Miami. It was easy to navigate.
Favorite international airport: Singapore.
Favorite hotel: Cousine Island Lodge, Cousine Island, Seychelles.
Do you unpack into the dresser/closet? Or live out of your suitcase? Suitcase.
Favorite cruise line: I've never tried cruising. I'm up for finding one though.
Favorite island: Bird Island, Seychelles.
Favorite beach: Anse Intendance, Seychelles.
Favorite fancy restaurant: Vine Bridge, Poznan. It's the smallest restaurant in Poland with only two tables. And you can get them to serve you in the middle of the bridge if you ask nicely.
Favorite hole-in-the-wall: Any street food vendor, pretty much anywhere.
Favorite fruit: Mango.
Favorite food: Sticky toffee pudding, with custard.
Least favorite food: Brussel sprouts.
Drink of choice (in the air and on the ground): Beer. Not lager. There needs to be some flavour.
Favorite travel movie(s): Across the Universe. Although it's not really about travel, more about a journey. Like most movies I guess.
Favorite travel show(s): The Longest Way Round. Or down.
Favorite travel book(s): "The Hitchhiker's Guide to the Galaxy."
Right now I am reading: I'm re-reading "The Rise of Endymion" by Dan Simmons, one of my favourite science fiction novels.
Top 3 favorite travel newsletters/magazines/blogs: Escape Artistes, National Geographic Traveller, Legal Nomads.
Favorite travel website(s)—besides JohnnyJet.com, of course! WikiVoyage. It's not always up to date, but it can be a handy reference in a pinch.
5 things you bring on a plane: Phone/entertainment device loaded with entertainment. Water. Decent in ear headphones to block sound. Girlfriend, who usually brings enough snack food to survive Armageddon. Passport, so they let me off at the other end.
What do you always seem to forget? To refill my water bottle after security.
What do you like least about travel? Security checkpoints at airports.
What do you want your loved one to buy you from an airport duty-free store? Coffee. Or chocolate coated coffee beans.
Favorite travel app(s): Google Maps, Google Translate, Angry Birds.
Most embarrassing travel moment: The time I had a taxi driver take me and some recently met fellow travelers to a hostel that he told me was closed because I thought he was trying to scam me into going somewhere else. It was very closed and mostly fallen down. He kindly took me somewhere open afterwards.
Worst travel moment: Waking up in York train station instead of Leeds train station at 2 am on the last train. That was an expensive taxi ride back to the hotel.
What's your dream destination: Right now, Iceland. I want to see those Northern Lights!
Favorite travel charity: Wateraid.
Best travel tip: Abandon the plan and go with the flow.