Want to know how to travel in style, just like the pros? We check in with frequent fliers to find out how often they fly, their favorite destinations and what they never leave home without.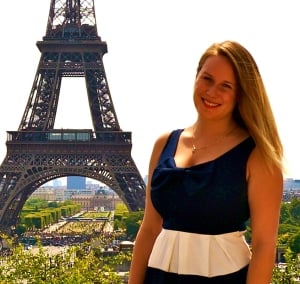 Name: Lauren Salisbury
Occupation: Social Media & Marketing Manager, Outward Bound Costa Rica; Blogger, SomethingInHerRamblings.com
Hometown: San Jose, California
Residence: Tres Rios, Costa Rica
College: University of Maryland
College major: Journalism 
Website: SomethingInHerRamblings.com
Twitter: @LaurenSalisbury
Facebook: Something In Her Ramblings
Short bio: Lauren Salisbury is the founder of Something In Her Ramblings, a travel blog aimed at inspiring women and solo travelers to explore the open road. A California native, she has found the best way to get to know a region of the world is to live there, and with that in mind has worked in four countries including the United States, Australia, Spain and Costa Rica, where she is currently based in the rainforest.
How often do you fly? This past year, around 30 flights.
How many countries have you been to? I just recently moved to Costa Rica, bringing my country count to 34!
How many continents have you been to? 4
Favorite American city: San Francisco.
Favorite international city: Paris. The city is cliché for a reason.
Favorite World Heritage Site: Uluru-Kata Tjuta National Park.
Favorite airline(s): For travel in the United States I always try to fly with Southwest. They are super flexible with lat-minute changes and you can check two bags for free!
Aisle or window: Aisle—especially on longer flights so I can easily get up and move around.
Best flight attendant you've ever had: On a Royal Air Maroc flight from Madrid to Marrakech I met a great flight attendant named Adil who spent nearly half the flight giving me the insider's scoop on his home city.
Favorite U.S. airport: Minneapolis-St. Paul International Airport. It's close enough to downtown and the Mall of America so you can pop out and sightsee on a long layover.
Favorite international airport: London Heathrow. There is so much to explore here I never get bored on a layover.
Favorite hotel: Riad AnaYela in Marrakech, Morocco.
Favorite cruise line: More product knowledge is needed for an answer :)
Favorite island: Maui.
Favorite beach: Manly Beach, Sydney.
Favorite fancy restaurant: El Burro in Campbell, California. The best Mexican I've had anywhere (even in Mexico).
Favorite hole-in-the-wall: El Tigre in Madrid serves heaping plates of tapas with every drink.
Favorite bar: Cowboy's Orlando.
Favorite fruit: Pineapple.
Favorite food: Mexican.
Least favorite food: Jamón. Sorry Spain, I said it. I don't like ham! 
Drink of choice (in the air and on the ground): Guinness (if there is an airline that serves this it will be my new favorite).
Favorite travel movie(s): Lost in Translation.
Favorite travel show(s): The Amazing Race.
Favorite travel book(s): "Wild."
Right now I am reading: "This Side of Paradise."
5 things you bring on a plane: My journal, a pen, extra layers, headphones and Bun Bun, my plush rabbit who travels with me and doubles as a pillow.
What do you like least about travel? The night before I leave for a big trip I am always worried I'll forget something important.
What do you want your loved one to buy you from an airport Duty Free store? If anyone heads to the Reykjavík airport please pick up some of the Blue Lagoon skin care products!
Favorite travel app(s): Too many to name. The iPhone has made travel so much easier!
Most embarrassing travel moment: My two front teeth are partially covered in bonding as the result of a bike accident while learning to ride a bike at age 8. When I was 16 I travelled to the UK with my family. On day two of the trip I smashed into a wall in our hotel room and knocked the bonding off my front teeth. I had to travel around with cracked teeth for the remainder of the trip.
What's your dream destination? Rio. Rio. Rio. After watching the World Cup Rio de Janeiro is at the top of my list. I'm also hungry to visit Greece and India.
Best travel tip:  Be open. For me the best travel moments involve the people I meet on the road, so don't be afraid to try new things and talk to people you normally wouldn't interact with in your every day life.