Want to know how to travel in style, just like the pros? We check in with frequent fliers to find out how often they fly, their favorite destinations and what they never leave home without.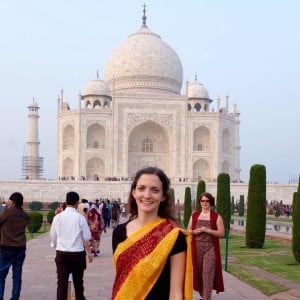 Name: Lauren Marinigh
Occupation: Social Media Marketing Professional, Writer & Blogger
Hometown: Orillia, Ontario, Canada
Residence: Toronto, Ontario, Canada
College: Sheridan College in Oakville, Ontario, Canada
College major: Advanced Diploma in Advertising, and Post-Graduate Certificate in Corporate Communications
Website: twirltheglobe.com
Twitter: @twirltheglobe
Facebook: Twirl The Globe
Pinterest: Twirl The Globe
Google+: Lauren Marinigh
Instagram: twirltheglobe
Short bio: I'm a Canadian born girl who dreams about travel constantly. I work in Toronto and have developed my career as a marketing, social media professional and writer. My writing has always steered toward professional/marketing related topics but my real passion is travel. I've had a travel blog since 2009 but it wasn't until the beginning of 2015 that I really started to put more effort behind it and in June 2015, Twirl The Globe was born. I want to show people that you don't have to give up your career and life back home to travel and see the world!
How many countries have you been to? Around 18 if I'm counting correctly!
How many continents have you been to? I've been to 3—Europe, North America & Asia.
Favorite American city: I know this may be the stereotypical answer, but I love New York City! The city is so alive and vibrant, and there really is something for everyone.
Favorite international city: This is a tough one as I feel like every city is unique and wonderful in its own way! I have always loved Barcelona though, and recently I had a layover in London, England, and although I was there for less than 24 hours, I loved it!
Least favorite country: I don't necessarily have a least favourite country because I haven't seen every part of every country I've been to, but I really didn't like Hanoi, Vietnam when I visited it. The people were cold and genuinely hated tourists (or so it seemed). I would still love to go back to Vietnam though and see more of the country, I don't think you can judge an entire country on one bad experience in one city.
I have no desire to go to: Essentially any country or place that the only thing to do is sit on a beach all day. I'm not an all-inclusive resort kind of girl, unless there's opportunities for you to get off the resort and really see a country/place.
Friendliest people in the world: I'd have to say Thai, Khmer or Mexican.
Favorite World Heritage Site: Angkor Wat or Taj Mahal.
Favorite airline: I can't say I have one. I often fly Air Canada because they usually have the best deals, but I'm pretty open to flying any airline as long as it gets me to where I need to go!
Aisle or window: On long-haul or red-eye flights, an aisle because I hate climbing over people if I have to use the restroom or want to stretch my legs, but on short flights I love the window!
Favorite hotel: I almost always go for hostels when traveling as they're inexpensive and a way to support locally owned businesses. One of my favourite hostels I've stayed in was Mad Monkey in Siem Reap, Cambodia.
Favorite island: Despite how touristy it was, I loved Koh Phi Phi in Thailand.
Favorite beach: Maya Bay in Thailand, except not during regular hours when it's swarmed by tourists. I did this great overnight tour to Maya Bay and we had a chance to be on the beach when no one else was there!
Favorite fancy restaurant: I'm a budget traveler, so I don't eat at fancy restaurants when I travel or even normally! One meal in a fancy restaurant can equal an amazing experience traveling!
Favorite hole-in-the-wall: Bamboo Bee in Chiang Mai, Thailand—best Thai food I had on my whole trip.
Favorite fruit: Probably pineapple :)
Favorite food: I love Italian food (because my family is Italian) or Indian.
Least favorite food: I will eat almost anything—except maybe insects.
Drink of choice (in the air and on the ground): White wine!
Favorite travel show(s): Departures (and it's made by Canadians!).
Favorite travel book(s): "Lost Girls."
Right now I am reading: "A House In The Sky."
Top 3 favorite travel newsletters/magazines/blogs: In no order, I love World of Wanderlust (blog), Lonely Planet (magazine), and G Adventures (blog & newsletter).

Favorite travel website(s)—besides JohnnyJet.com, of course! I often use HostelWorld, Skyscanner, and basically every blog out there (that I can find on Google or Pinterest) when I'm doing research for a trip!
5 things you bring on a plane: Water (they never give you enough), a journal, headphones, cosmetic case (with necessities like face wipes, contact lens solution, etc.), and a sweater (you never know how cold it'll be).
What do you always seem to forget? I'm pretty organized so there isn't something I ALWAYS forget.
What do you like least about travel? Sometimes the journey to get there can be exhausting, mainly if you're on a long-haul flight(s). Recently to get home from India, I took five planes in two days—it can get exhausting!
Favorite travel app(s): Hopper, Skyscanner, HostelWorld, Kayak.
I'm embarrassed but I haven't been to: I'm embarrassed I haven't seen more of Canada. People don't realize how big Canada really is, so often it's cheaper for me to travel overseas than it is for me to fly within my own country.
Worst travel moment: My flight was canceled coming home from Milwaukee and there was no airline representative to be found. I made an impulse decision to hop on an 18-hour bus ride to avoid being stranded!
What's your dream destination? This is tough because I just went to India & Nepal which was a dream for me, and I'm still coming off a high from that. I would love to go to New Zealand, and do Chile, Argentina and Brazil sometime in the near future though.
Favorite travel charity: Not a charity, but a not-for-profit organization, Planeterra that is run by G Adventures. I think I like it so much because I recently traveled with G Adventures and saw it in action in Nepal. It's one thing for organizations to say they do all these amazing things, but it's another thing to actually see the impact they're making.

Best travel tip: Don't overplan. Sometimes the best days of travel are when you wander around and get lost.