Want to know how to travel in style, just like the pros? We check in with frequent fliers to find out how often they fly, their favorite destinations and what they never leave home without.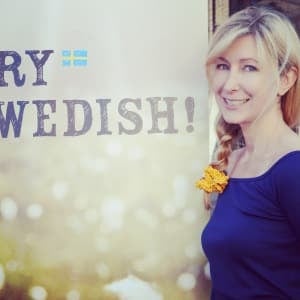 Name: Kristin Francis 
Occupation: Managing Editor for Souvenir Finder (and recovering attorney)
Hometown: Connecticut
Residence: New York, NY
College: Georgetown University, Vanderbilt Law School
College major: Political Science and History
Website: souvenirfinder.com
Twitter: @souvenirfinder 
Facebook: Souvenirfinder.com
Pinterest: Souvenir Finder
Instagram: SouvenirFinder
Short bio: I started my website Souvenir Finder because I love to travel and scope out local shops along the way—and no one else was writing about them. Finding local shops when traveling was getting harder and harder–every high street from New York to London to Seoul was starting to look depressingly similar. Small, independent shops that I once loved were shuttered on return visits, replaced by chain stores. I felt like the world was turning into one giant online mall.
It's sad that the word "souvenir" has gotten such a bad rap, with its modern day association with magnets and ashtrays. I am trying to reclaim the original meaning of the word, from the French—je me souviens, I remember. Because to me, a souvenir is the best way to remember a destination—you can wrap your hands around it, see, touch and feel those intrinsic qualities that are hard to describe through words or photos.
How often do you fly? 1-2 times/month.
How many countries have you been to? 30+
How many continents have you been to? 3
Earliest travel memory: At seven, I traveled with my family on a month-long trip through Poland. Riding on the strength of the dollar, my normally frugal family splurged on a fancy resort in the mountain village of Zakapone. With my parents' full approval, I ordered my favorite dish every night, prepared tableside—steak tartar, topped off with a raw egg. Yes, my parents encouraged me to eat raw beef and egg and I somehow lived through it.
Favorite American city: New York.
Favorite international city: Kyoto for the ancient streets and excellent artisan shops, Vienna for its devotion to keeping traditions alive and London for everything else.
Least favorite country: None yet. 
Country with the meanest immigration officers: Meanest? Can't think of any. How about most charming? Sweden. 
Favorite World Heritage Site: At fifteen I signed myself up for a home stay summer program in France. But my dream of eating baguettes under the Eiffel tower was shattered when I was placed not in my requested city of Paris, but in the "large industrial city" of Lyon (as described by the program brochure). I arrived at the airport, a glum teen, determined to be miserable all summer.
My host family welcomed me anyway and drove me to their storybook mountain chalet overlooking the historic city. We spent the summer shopping Lyon's local markets, trying the stinkiest cheeses imaginable and noshing on duck a l'orange at the bistros. When we weren't exploring Lyon's hidden alleyways, we drove through the nearby countryside, stopping every so often to pull the boules set out of the trunk and have an impromptu match along the roadside. My stay in Lyon inspired a lifetime of not only travel, but also getting beyond the tourist sites and connecting with a local culture.
Favorite airline: British Airways
Aisle or window: Window, please.
Favorite airport lounge: The Concorde room.
Favorite U.S. airport: SEA (Seattle).
Favorite international airport: ICN (Seoul).
Favorite hotel: Four Seasons Hualalai.
Favorite cruise line: Cunard, Queen Mary 2, Queens' Grill suites. The QM2 retains the spirit of an ocean liner instead of a cruise ship—I love how even the menus reflect that, serving up classics like beef wellington and bananas foster. In the Grills dining room they even encourage you to order off the menu and play "stump the chef." When we heard many of the actual cooks were from the Phillipines, we had them prep an incredible Phillipine feast of their favorite dishes one night.
Favorite travel credit card: SPG Starwood Amex.
Favorite island: Kauai.
Favorite beach: North Beach in Chatham, Cape Cod.
Favorite fancy restaurant: R.S.V.P.*—a seasonal byob run by a French couple who bring out amazing course after course, with the clubby feel of a private dinner party. Low key celebs and film producers hold court here.
Favorite hole-in-the-wall: R.S.V.P.*—the décor is "cozy shed," but completely charming.
*I can't tell you the location, because they hate publicity and I'll never get a table again.
Favorite bar: King Cole Bar in the St. Regis, New York, NY.
Favorite fruit: Strawberries.
Favorite food: Lobster rolls, frisée aux lardons, tacos, and mint chocolate chip gelato. 
Least favorite food: Overly sweet, buttercream cupcakes. It's time to stop this trend. 
Drink of choice (in the air and on the ground): Champagne at take off.
Favorite travel movie(s): Before Sunrise, Lost in Translation, Secret Life of Walter Mitty, Skyfall, Encounters at the End of the World, Last Holiday, A Room with a View and The Great Beauty.
Favorite travel show(s): These aren't travel shows so much as shows that inspire me to travel: Les Revenants (for the French Alps, not the zombies), Downton Abbey, Wallander (original Swedish version)
Favorite travel book(s): Travel Essay is my favorite genre, and I do read a lot, so excuse the long list: "The Sex Lives of Cannibals" (Troost), "The Lost City of Z: A Tale of Deadly Obsession in the Amazon" (Grann), "Mukiwa, A White Boy in Africa" (Godwin); "The Geography of Bliss" (Weiner); "Malaria Dreams: An African Adventure" (Stevens); "The Art of Travel" (De Botton); "Down and Out in Paris and London" (Orwell).
Right now I am reading: "Headhunters on my Doorstep" (Troost).
Top 3 favorite travel newsletters/magazines/blogs: Monocle, New York Times Travel section, Goop.
5 things you bring on a plane: iPad stocked with magazines, eye mask, oversize cashmere sweater, warm socks, apples.
What do you always seem to forget? Mini extension cord (never enough outlets!).
What do you like least about travel? Leaving my chihuahua behind (I pester my mom for frequent proof of life updates).
What do you want your loved one to buy you from an airport Duty Free store? Tokyo Bananas from NRT.
Favorite travel app(s): Hopstop, TripIt.
Most embarrassing travel moment: When looking for a cheese shop entrance on a farm in Val D'Orcia, accidentally trying to enter the cheesemonger's private home and encountering their giant dog at the door. 
Worst travel moment: Getting scammed by a rental car agency in Rome. But it did teach me to stop getting worked up over things like that—it's only money, it's never worth the exasperation.
What's your dream destination? Antarctica—penguins and icebergs at the end of the earth.
Favorite travel charity: Wings of Rescue. Run by pilots, this volunteer organization flies dogs from overcrowded shelters to new homes.
Best travel tip: For inexpensive souvenirs while traveling abroad, hit a local supermarket. Not only can you find great buys and learn interesting things about the culture (who knew the Swedes were so obsessed with candy?), but it's also a great way to interact with locals going about their everyday lives. I've gotten tips from locals on which mustard to buy in Austria (tarragon), and how to make a great gulasch in Budapest.