Want to know how to travel in style, just like the pros? We check in with frequent fliers to find out how often they fly, their favorite destinations and what they never leave home without.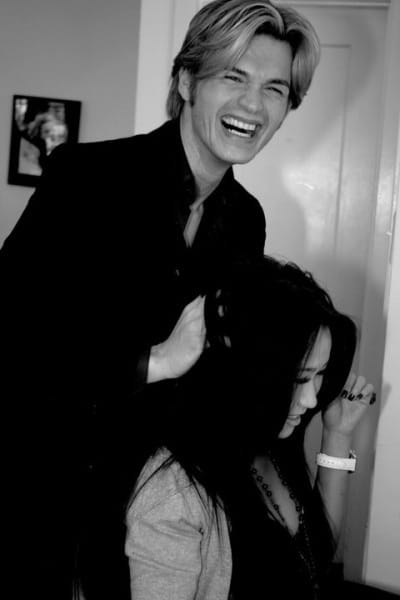 Name: Kim Vō
Occupation: Celebrity colorist and "Best Blonder in the Business"
Hometown: Saigon, Vietnam
Residence: Los Angeles
Website: www.kimvo.com
Twitter: @mrkimvo
Facebook: KimVofanpage
YouTube: KimVoproducts
Short Bio: Kim Vo, master-colorist to A-list Hollywood, has a unique and innovative vision of beauty. Rooted in his Vietnamese-French childhood, his artistry with hair and beauty jump-started in New York and developed in Beverly Hills.
In 2000, he opened B2V with a roster of celebrity clients, including Britney Spears, Goldie Hawn, Kate Hudson and Pamela Anderson. He pioneered many now in-vogue techniques used by colorists everywhere, like "American Tailoring," and hair "dusting."
Today, Kim Vo is a celebrity himself. Through hundreds of magazine articles and TV shows, such as "Extreme Makeover" on ABC, "Daily 10" on E!® Entertainment and his new hit show "Shear Genius" on Bravo®, Kim Vo has become the hair, beauty and style expert to a global audience of millions.
Now, Kim Vo will bring his expertise to millions on a more personal level. He has state of-the-art salons at the Palms® Resort Casino in Las Vegas, the Montage® Hotels in Beverly Hills and Laguna Beach, CA that are dedicated to the most luxurious and individualized experience. And for millions more, Kim Vo is launching the Kim Vo® product line to bring the product home and to fine salons.
How often do you fly: I fly every other week.
How many countries have you been to: Many from Asia to Europe and back!
How many continents have you been to: Too many to count.
Favorite American city: Los Angeles, it's where I live and love.
Favorite international city: Paris, the city of love and fashion.
Least favorite country: Honestly none, I am a curious soul and I love to explore.
Favorite World Heritage Site: Ha Long Bay, Vietnam.
Favorite airline: Virgin (perfect lighting for color).
Favorite aircraft type: A 747, lucky numbers!
Aisle or window: Window if I'm not drinking and aisle if I am going to indulge.
Favorite airport lounge: Frankfurt, Germany.
Favorite U.S. airport: LAX, simply because I am always there.
Favorite international airport: Frankfurt, Germany.
Favorite hotel: Montage Beverly Hills.
Favorite cruise line: Crystal Cruises.
Favorite island: Panarea.
Favorite fancy restaurant: Scarpetta at Montage Beverly Hills.
Favorite hole in the wall: 9021PHO, it's my Vietnamese Beverly Hills hole-in-the-wall.
Favorite fruit: Lychee.
Favorite food: Vietnamese.
Least favorite food: None.
Drink of choice (In the air and on the ground) Lychee martinis.
Favorite travel movie(s): Sci Fi.
Favorite travel show(s): Weird reality (Taboo).
Favorite travel book(s): The Hunger Games
.
Right now I am reading: Us Weekly
, lol!
Top 3 favorite travel newsletters/magazines: Condé Nast Traveler, Travel + Leisure, Departures.
Favorite travel website(s) – besides JohnnyJet.com, of course!: NationalGeographic.com
Five things you bring on a plane: My iPad, socks, hand wipes, a magazine, Bose headphones.
What do you always seem to forget: Chapstick.
What do you want your loved one to buy you from an airport duty free store? Vodka and coffee.
Favorite travel iPhone app(s): Google translator.
Most embarrassing travel moment: Running into people when I still had a little sleepy face.
Worst travel moment: Christmas, missing my connecting flight and spending Christmas at the airport.
What's your dream destination: Maldives.
Best travel tip:  Hydrate! Also, bring a mini mirror, a brush, and a mint.