Want to know how to travel in style, just like the pros? We check in with frequent fliers to find out how often they fly, their favorite destinations and what they never leave home without.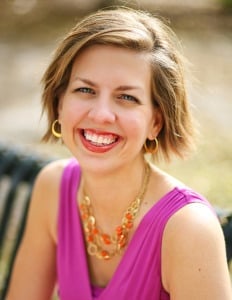 Name: Kim Button
Occupation: Freelance Journalist, TV Correspondent, Author and Blogger
Hometown: Asheville, NC
Residence: Orlando, Florida
College: Furman University
College major: Science and Business Communications
Website: kimbutton.com; getgreenbewell.com; kimandcarrie.com
Twitter: @kimberlybutton; @kimandcarrie
Facebook: Get Green Be Well; Kim and Carrie
Pinterest: Get Green Be Well; Kim & Carrie
Instagram: @kimberly_button
YouTube: Get Green Be Well; Kim and Carrie
Short bio: Kimberly Button writes about travel, green living and the Orlando area for national magazines including National Geographic Traveler, American Airlines, AAA, and many more. She is a TV correspondent for national and regional television programs, including FOX News. Button is the author of two books and two travel apps, including an Orlando Green Travel app and Fun For Disney World Lines app. She is the founder of GetGreenBeWell.com, which offers sane, fun ways to live a more non-toxic life; as well as KimandCarrie.com, where she joins forces with her sister to cover travel and lifestyle topics on the well-traveled route from Florida to North Carolina.
How often do you fly? On average, once a month.
How many countries have you been to? 19
How many continents have you been to? 3
Earliest travel memory: Taking a cruise in second grade.
Favorite American city: Anything in western North Carolina.
Favorite international city: There's no way to choose just one!
Least favorite country: Mexico.
Country with the meanest immigration officers: Mexico.
Favorite World Heritage Site: Plitvice Lakes in Croatia.
Favorite airline(s): Virgin America and Virgin Atlantic.
Favorite aircraft type: One that works properly.
Aisle or window: Aisle.
Best flight attendant you've ever had: I can't remember his name, but it was US Air. The gentleman had such a unique charm and personality, he was instantly able to put everyone at ease, diffuse tensions quickly, and snuck me some extra snacks for the road, which is always much appreciated.
Favorite airport lounge: Iberia Lounge in Madrid, Spain.
Favorite U.S. airport: Asheville, NC and Charlottesville, VA.
Favorite international airport: Zurich, Switzerland. Cows moo in the subway and the sleep pods are much appreciated!
Favorite hotel: Sunset Key, Key West, Florida.
Favorite cruise line: Viking River and Viking Ocean; Princess Cruise Lines.
Favorite travel credit card: Capital One for no foreign transaction fees.
Favorite island: Key West.
Favorite beach: An uncrowded one.
Favorite fancy restaurant: Victoria and Albert's at Walt Disney World. Seems surprising, but if you've ever been there, you'd KNOW!! Nine-course meals and impeccable service with no hint of Disney characters anywhere.
Favorite hole-in-the-wall: Pepe's in Key West.
Favorite bar: The Courtesy in Orlando—by far the best craft cocktails and most personable staff I've seen.
Favorite fruit: Strawberries and cherries.
Favorite food: Chocolate. 
Least favorite food: Soy.
Drink of choice (in the air and on the ground): Troy and Sons Moonshine.
Favorite travel movie(s): National Lampoon's Vacation; Roman Holiday.
Favorite travel show(s): Rick Steves' Europe.
Favorite travel book(s): Agatha Christie's "Murder on the Orient Express," Rick Steves' guidebooks,
Right now I am reading: Nothing :(
Favorite travel website(s)—besides JohnnyJet.com, of course! Sherman's Travel.
5 things you bring on a plane: Bottled water, my camera, a magazine, iPhone, travel documents printed out.
What do you always seem to forget? Toothbrush.
What do you like least about travel? The way that airlines and airports treat you. It has made transportation unbearable unless you're uber-rich or play the airline loyalty game (in which case you need to be on a company's dime), which is useless anyways.
What do you want your loved one to buy you from an airport Duty Free store? Chocolate.
Favorite travel app(s): Duolingo is great for teaching a language in a fun way.
Most embarrassing travel moment: Booked the wrong dates at a hotel. The management came to the room asking when we were leaving. We thought we had another day on the reservation.
Worst travel moment: Nine-hour delay in Frankfurt, Germany airport because United had held an international flight to accommodate late passengers, and we ended up missing our connection. Missed an entire day in Venice thanks to United Airlines, who wouldn't even let us in their lounge for the day.
What's your dream destination? Iceland, Norway or Denmark.
Favorite travel charity: Give Kids the World.
Best travel tip: Don't plan everything right down to the minute and be spontaneous sometimes. When you just enjoy and relax, that's when the real fun happens!