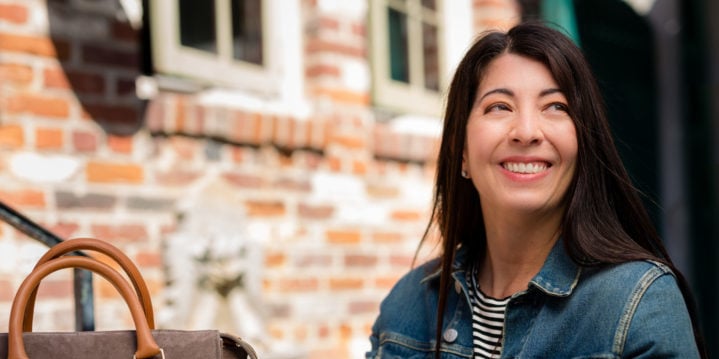 Want to know how to travel in style, just like the pros? We check in with frequent fliers to find out how often they fly, their favorite destinations and what they never leave home without.
Name: Katie Dillon
Occupation: Founder of La Jolla Mom 
Hometown: Huntington Beach, CA
Residence: La Jolla, CA
College: UC San Diego
College major: Economics
Website: lajollamom.com
Twitter: @lajollamom
Facebook: La Jolla Mom
Instagram: lajollamom
Pinterest: La Jolla Mom | Luxury Travel & Lifestyle 
YouTube: La Jolla Mom
Short bio: Katie writes a luxury travel site called La Jolla Mom that is named after her seaside community in San Diego. Before settling in La Jolla, she and her husband spent seven years as expats in London and then Hong Kong where their daughter was born. Nice hotel and in-flight experiences have always been in the Dillon family's routine. Today, La Jolla Mom helps readers plan vacations to San Diego, Hong Kong, Shanghai, Singapore, Beijing, London, and other major cities worldwide. Katie is also the San Diego editor for USA TODAY/10Best, never fully unpacked, and a mom to a rescued pitbull named Scooby.
How often do you fly? 12-15 trips per year.
How many countries have you been to? I've never been a country counter because I like to go back to the same places, particularly in Asia. The number is probably around 25.
How many continents have you been to? 4 
Earliest travel memory: Road tripping with my parents to their place on the Rio Hardy river in Mexico (back when crossing the border was no big deal).
Favorite American city: San Diego (really).
Favorite international city: Hong Kong.
Least favorite country: I don't really have one yet.
I have no desire to go to: Anywhere that doesn't have hotel brands that I like (hotels make or break vacations for me).
Friendliest people in the world: Not sure, we seem to find them nearly everywhere.
Country with the meanest immigration officers: I plead the 5th.
Favorite World Heritage Site: Delphi.
Favorite airline: Cathay Pacific.
Favorite aircraft type: I really liked the upper deck on 747s but now basically any plane with a lie-flat seat.
Aisle or window: Window.
Favorite airport lounge: Cathay Pacific The Wing, First lounge at HKG for the champagne bar and massive food options.
Favorite U.S. airport: San Diego (as long as I'm not flying out of Terminal 1) because it's so easy to get in and out of.
Favorite international airport: Hong Kong because there is seriously so much to do. It's a pleasure to arrive early (especially after checking your bags at the Airport Express train station).
Favorite hotel: Four Seasons Hotel Hong Kong also for sentimental reasons because we lived in their apartments for almost four years. We are very loyal to Four Seasons and Mandarin Oriental though.
Favorite cruise line: My family isn't well-suited to cruising on a number of levels, but I took an epic Christmas markets river cruise on Uniworld along the Main River and would do it again.
Favorite travel credit card: It's a tie between the Chase Sapphire Reserve and American Express Platinum. Both sets of rewards and benefits in handy in various situations. I really like Centurion lounges but they've been WAY too crowded lately.
Favorite island: Singapore.
Favorite beach: La Jolla Shores (pretty sand, water sports, kayaking, surfing, seasonal and harmless leopard sharks…what more can you ask for?).
Favorite National Park: Yosemite.
Favorite fancy restaurant: Le Jules Verne in the Eiffel Tower for, of course, the Michelin-starred food but also the magnificent views and ability to skip the lines to the viewing decks.
Favorite hole-in-the-wall: An epic tacos al pastor place my husband found in Mexico City that I don't know the name of. Mammy Pancake in Hong Kong for egg waffles.
Favorite airport restaurant: We're creatures of habit so head straight to the lounge.
Favorite bar: Captain's Bar at Mandarin Oriental, Hong Kong. It was across the street from my husband's office so I have tons of fond memories with friends over martinis and Indian snacks here. It's been an HK institution for over 50 years now.
Favorite fruit: Lychee.
Favorite food: Comfort Japanese food like katsu.
Least favorite food: I am not a fan of chicken feet.
Drink of choice (in the air and on the ground): Wine or champagne on the ground and in the air.
Favorite travel movie(s): Does Raider's of the Lost Ark count?
Favorite travel show(s): Anthony Bourdain: Parts Unknown was appointment TV for my family and I'm crushed by his passing.
Favorite travel podcast(s): I need to add podcasts to my routine.
Favorite travel book(s): I still like reading guidebooks before heading on a trip especially if they are food-centric like "Food Lover's Guide to Paris" by Patricia Wells. I flip through it before every trip to Paris.
Right now I am reading: It's not travel-related but I just started "Untangled" which I'm told is a must-read for parents of tween/teen girls.
Top 3 favorite travel newsletters/magazines/blogs: Sunset, Travel + Leisure, San Diego Magazine.
Favorite travel website(s)—besides JohnnyJet.com, of course! The Points Guy, CNTraveler, Goop.
5 things you bring on a plane: Gum, noise-canceling earbuds, a pen, vitamins, laptop.
What do you always seem to forget? Shoes. I never pack the right shoes. Or, I forget to leave enough space in my suitcase for souvenirs and then closing it to get home is a major struggle.
What do you like least about travel? My daughter doesn't miss school anymore to travel so we are on the road during peak season. The thing that's awful about that is summer in San Diego is pretty epic so we miss a lot of beach days.
What do you want your loved one to buy you from an airport Duty Free store? Any regional candy like the Narita airport-exclusive Kit Kat flavors (the lines for them are worth the wait).
Favorite travel app(s): Luxe City Guides.
Most embarrassing travel moment: I must have mentally blocked most of them out because nothing comes to mind.
I'm embarrassed I haven't been to: Africa.
Worst travel moment: When I heard from fellow expat friends that flying with babies is "easier" on red-eyes, I decided to give it a go. I flew alone with my daughter from LAX to HKG (we were still living in Hong Kong at the time) and she screamed pretty much the entire 16 hours in business class. She was out of her routine. She's always been great on airplanes except for this one flight. Lesson learned.
What's your dream destination? Maldives. 
Favorite travel charity: FLYTE.
Best travel tip: Traveling only during summer and school holidays is definitely doable but I would suggest getting in the habit of planning at least a year in advance if possible to lock-in mileage tickets and lower pricing. Hotel rates seem to always rise closer to the date, in my experience. Same with airfare. Set yourself Google calendar reminders if you have to (it works for me).