Want to know how to travel in style, just like the pros? We check in with frequent fliers to find out how often they fly, their favorite destinations and what they never leave home without.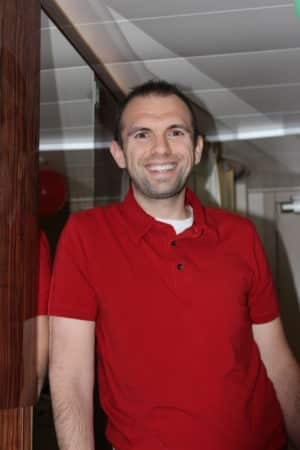 Name: John Perri—John the Wanderer
Occupation: Finance and Accounting Professional
Hometown: Lansing, MN
Residence: Minneapolis, MN
College: University of Michigan
College major: Accounting and Finance
Website: John the Wanderer blog
Twitter: @jperri
Facebook: John the Wanderer
Instagram: john_thewanderer
Pinterest: John the Wanderer
Short bio: Hi, I am John the Wanderer. I'm married to an amazing woman and we live in the Twin Cities. I love to travel the world and share the experiences via my blog. I work in accounting and finance for a healthcare company. In my spare time, I love to explore the great cities of the world. I believing in going on a lot of shorter trips rather than a couple long ones. On my blog you will find reviews of airlines, hotels and other travel experiences. In addition, I frequently cover news and events that are relevant to travel. The blog has a miles and points focus and I believe that it is important to travel the world and experience more.
How often do you fly? I travel about once or twice a month. Sometimes for work, but mostly for fun. I enjoy going to large cities and walking around and exploring. I also am a foodie and I love to check out great restaurants in the cities that I visit.
How many countries have you been to? I generally don't count the countries that I visit. I often will return to places that I enjoy. But I have been to places all around the world. Some of my favorite places to visit are Barcelona, Cape Town, Hong Kong, and New York.
How many continents have you been to? I've been to Africa, Asia, Europe, North America, and South America.
Earliest travel memory: Ever since I was a child, I have loved anything to do with travel. I remember as a child I would get travel brochures and would plan elaborate trips for my family. I would research the destination and pick the right place to stay and what to do there. My parents would be amazed at all the work I would do and it made our vacations amazing.
Favorite American city: New York City—My wife and I love visiting and going to our favorite spot in Little Italy called Amici II.
Favorite international city: Cape Town, South Africa.
Least favorite country: China due to the pollution in the air and having to deal with the Great Firewall. I do; however, love Hong Kong as it has the feel of New York!
I have no desire to go to: I am more of a city-guy so I generally don't like visiting the countryside or smaller communities.
Friendliest people in the world: I think people in the Caribbean countries. They give everything to tourism and they are so friendly and welcoming into their world.
Country with the meanest immigration officers: I generally do not run into issues with immigration. If I had to pick one area, it would be China as you have to have a visa and go through hoops in order to visit the country.
Favorite World Heritage Site: I love visiting Barcelona and seeing the Gaudi work as well as the church that has been under construction for decades—La Sagrada Familia.
Favorite airline: American Airlines.
Favorite aircraft type: 777-300 (77W).
Aisle or window: Aisle seat because I like to be able to get up and walk around the plane during the trips.
Favorite airport lounge: Cathay Pacific's the Wing in Hong Kong. From the tableside menu to the sparkling wine room and amazing shower suites it is an incredible lounge.
Favorite U.S. airport: Los Angeles—LAX due to the great plane-spotting opportunities and awesome lounges in the international terminal.
Favorite international airport: Hong Kong—with all the great lounges and the ease of transit it is an amazing airport.
Favorite hotel: Hyatt—I love Hyatt properties. My favorite is Hyatt Zilara Cancun as it is an amazing all-inclusive resort with premium food and drink options as well as the fact that it is redeemable for points! I also love Hyatt's in international locations such as Hong Kong or Shanghai as they offer incredible views and amazing lounges.
Favorite cruise line: Royal Caribbean.
Favorite travel credit card: Chase Sapphire Preferred.
Favorite island: Maui.
Favorite beach: Barceloneta Beach in Barcelona as it is am amazing beach right in the city and it attracts people from all over the world.
Favorite fancy restaurant: Capital Grille.
Favorite hole-in-the-wall: The Rainbow Drive in in Honolulu, Hawaii.
Favorite bar: I like the bar at Asia de Cuba in New York City as it offers an awesome view of the community table and serves excellent drinks.
Favorite fruit: Pineapple.
Favorite food: Indian and Middle Eastern food.
Least favorite food: I like a little of everything.
Drink of choice (in the air and on the ground): I don't drink much. In the air I will get a vodka cranberry or a beer. On the ground I like vodka, soda water and lime juice.
Favorite travel movie(s): Up in the Air.
Favorite travel show(s): Diners, Drive Ins and Dives.
Favorite travel book(s): I'll read anything but haven't found a great travel book recently.
Right now I am reading: A book for my church.
Top 3 favorite travel newsletters/magazines/blogs: Fare Deal Alert, The Flight Deal and Secret Flying.
Favorite travel website(s)—besides JohnnyJet.com, of course! Angelina Travels, Bald Thoughts, First2Board, One Mile At A Time.
5 things you bring on a plane: iPad, MacBook Air, Bose Headphones, iPhone, roller board suitcase.
What do you always seem to forget? Sunglasses.
What do you like least about travel? Only getting to experience certain cities for a brief amount of time.
What do you want your loved one to buy you from an airport Duty Free store? Nothing. I generally don't shop at Duty Free stores.
Favorite travel app(s): TripIt, Google Flights, Uber.
Most embarrassing travel moment: One time when I was a bit stressed after a flight on a CRJ, I ended up grabbing someone else's bag and had to work with the airline to get the bag back to the owner.
I'm embarrassed I haven't been to: A lot of the middle states in the US or the "flyover states" as they call them.
Worst travel moment: When I visited Rio, my ATM card got caught in a skimming scam at the airport and I didn't have any cash to take a taxi from the airport to the hotel. I had to buy an expensive one that accepted credit cards and then had to deal with the bank and getting a new card etc. from the city as well as when I returned home.
What's your dream destination? I would love to take my wife to the Maldives one day and spend time relaxing on the beach. Maybe even get an over-water villa for a night or two.
Favorite travel charity: GoEatGive.
Best travel tip: I believe in the mentality of chasing the fare not the destination. I check Fare Deal Alert, the Flight Deal and Secret Flying daily. When I see a great deal, I pull it up on Google Flights and see what type of routing I can get. If it is more complicated I use ITA but generally Google Flights is awesome. When I find a deal that works, I buy it right away and make use of the free 24-hour cancellation policy or 24-hour hold policies and use that time to confirm I can actually go. Often a great deal will dictate me visiting a city I would not otherwise visit. The webpages mentioned feature deals that often only last for a short while, so I check them regularly. You can subscribe to them via Twitter or RSS to stay up to date.