Want to know how to travel in style, just like the pros? We check in with frequent fliers to find out how often they fly, their favorite destinations and what they never leave home without.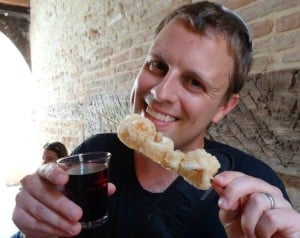 Name: Jeremy Jones
Occupation: Travel Writer
Hometown: Dayton, Ohio
Residence: Dayton, Ohio (currently seeking a new home base)
College: University of Dayton
College major: Chemical Engineering
Website: Living the Dream
Twitter: @livingdreamrtw
Facebook: Living the Dream
Pinterest: Living the Dream
Google+: Jeremy Jones
Instagram: livingthedreamrtw
Short bio: Jeremy Jones is the owner of the travel blog Living the Dream, a long-term travel resource that helps get travelers out exploring the world for months or years on end. Since founding the site in 2008 he has been on two long-term trips around the world and visited 67 countries on five continents.
How often do you fly? When I'm off on a longer trip (several months in duration) I'll fly anywhere from 2-3 times per month to once every 2-3 months depending on where we're heading. It isn't uncommon for me to go half a year without flying, then have six flights within a few weeks.
How many countries have you been to? As of now I've been to 66 countries and island territories. (Full list.)
How many continents have you been to? Five! Only missing Australia and Antarctica, but I hope to change that soon.
Earliest travel memory: My first vivid travel memory was probably a cruise to the Bahamas we took at the last second when visiting family in Florida. It was just a 3-day cruise so we only had one day in Bahamas but it was a different experience that has always stuck out.
Favorite American city: It is funny, I've been to so many international cities and so few cities in the US that I really don't have one. I do love Pittsburgh, but I am a bit partial since I lived there for a few years and got to see every corner of the city.
Favorite international city: Lauterbrunnen, Switzerland. It is a small village in the Alps with beautiful mountains, waterfalls, and lots of hiking. I've been twice and am looking forward to a third trip. I know this may not fit the distinction of "city" so if you're looking for a larger urban environment, then I'll go with Budapest!
Least favorite country: Hmm, let's go with Albania. We got locked in our hotel there and had a bit of an altercation with the maid as we were trying to leave. Apparently the "24/7 front desk" meant "whenever we feel like it" and they locked the guests in until they paid. As you can imagine, this poses a bit of a problem when you have a scheduled bus ticket and there was no front desk staff to take our money! (Full story here.)
Friendliest people in the world: Japanese, hands down. I've never had so many strangers help me with directions without my asking than I did during my four weeks there! (Oh yeah, none of them spoke English, either.)
Country with the meanest immigration officers: England. Talk about a group of people that don't want you visiting their country.
Favorite World Heritage Site: It is hard to pick one, but let's go with Rapa Nui (Easter Island). (Some of my favorite HDR photos here.)
Favorite airline: I need to fly more before picking, but Air Mauritius was great because of the business class upgrade we unexpectedly received!
Favorite aircraft type: Anything as long as it involves me not being in economy class.
Aisle or window: Window.
Favorite airport lounge: We had a great time at the lounge in Sao Paulo, Brazil, because they had free frozen cocktail pouches. Nothing beats killing time with a bunch of incredibly potent drinks!
Favorite U.S. airport: I like the small and obscure airports because they're always a breeze to get through. No layover traffic, infrequent delays, and overall a smooth experience.
Favorite international airport: This may be a bit obscure, but Mauritius had an incredible airport that just opened a few months before we visited. It is a gorgeous design, absolutely massive for the number of passengers that pass through, and even includes a lot of green engineering to reduce their environmental impact. Bonus perk, seeing this one also means that you're in Mauritius—hooray!
Favorite hotel: We like staying in boutique hotels when we travel, so most of the places we find ourselves in are a bit obscure. Bon Azur apartments in Mauritius was fantastic (with a stellar beach view). iBed Koh Samui and Hotel Rendezvous in Hanoi had some of the best dorm rooms I've ever seen in my life. La Barraca Suites in Bariloche, Argentina, had one of the best host families ever, a great view, and a wonderful ambiance for a B&B.
Favorite cruise line: I've been on three cruises, they've all been with Carnival, and none of them have been anything impressive to write home about (other than the itinerary).
Favorite travel credit card: (Editor's Note: This card is no longer available) I like my Citi Hilton card since it gives automatic gold status. Yay upgraded rooms and lounge access!
Favorite island: Mauritius.
Favorite beach: Accra Beach in Barbados is home to my favorite palm tree (located just outside of the main beach), so I'll go with that one. (Image.)
Favorite fancy restaurant: I wouldn't call the restaurant fancy, but the dinner certainly felt like it was. La Oliva in Granada, Spain, is technically a small olive oil shop, but the owner and his assistant put on a 17-course dinner for a few customers at night. You need to call in advance to make a booking, but the experience is divine as all of the courses contain olive oil in some fashion. From gazpacho soup to chocolate gelato drizzled with orange infused olive oil topped with sea salt, the dinner was decadent and paired with amazing Spanish wines. The best part? At the end the host showed us his "kitchen" which was simply a camper stove with two burners. Best meal ever.
Favorite hole-in-the-wall:  A stall called "Bun Bo Nam Bo" in Hanoi, Vietnam. It is located at 67 Hang Dieu Street in the Old Quarter (yes I have it memorized even though I was only there for 4 days). There is only one thing on the menu, Bun Bo Nam Bo, so all you have to do is go on, order one bowl and a pepsi (about $3-4 total) and enjoy.
Favorite bar: Any with a happy hour special and a bottle of tequila on the wall.
Favorite fruit: Local and in season anything.
Favorite food: Okonomiyaki from Japan has a special place in my heart. 
Least favorite food: I'm starting to detest anything processed, but if we're going to stick to the travel theme then I will have to say that Turkish doner kebab was foul to the point of being inedible. Give me a Greek gyro full of pig! 
Drink of choice (in the air and on the ground): Anything with the local liquor, I'm not picky.
Favorite travel movie(s): I don't have a preference, but always like it when movies actually treat a destination as a destination. It bothers me when I see places claiming to be somewhere and I know it isn't!
Favorite travel show(s): Anything with Anthony Bourdain. I also watch The Amazing Race from time to time and not-so-secretly wish we would get picked to go on the show.
Favorite travel book(s): "The Alchemist" always is inspiring!
Right now I am reading: "The Wildest Dream – The Biography of George Mallory."
Top 3 favorite travel newsletters/magazines/blogs: I'm really bad, but I don't read many! The problem of working on my own means that I have very limited time to do much else. So when I do have time I'd rather watch a movie or read a book.
Favorite travel website(s)—besides JohnnyJet.com, of course! I use Wikitravel religiously. One of my favorite planning websites.
5 things you bring on a plane: iPod (now my smart phone since I finally upgraded), headphones, travel pillow, a bottle of something to drink (non-alcoholic), and my backpack—of course.
What do you always seem to forget? To call my bank more than 24 hours in advance to tell them I'm traveling internationally.
What do you like least about travel? Buying toiletries on the road and doing laundry. Yuck.
What do you want your loved one to buy you from an airport Duty Free store? Whatever top-shelf liquor has the best discount. Preferably a local variety.
Favorite travel app(s): I have so many downloaded but I don't use any of them. I'm a sucker for social media and that is about it.
Most embarrassing travel moment: Having to leave the Taj Mahal after being there for just 30 minutes to get to a toilet. Oh, India.
Worst travel moment: Probably that same time in India! I was pretty sick for a few days and then the next 4 weeks I never quite got my appetite back for Indian food, which was a shame because it is delicious.
What's your dream destination? It is a tie between an Antarctica expedition that hits South Georgia and the Falklands and a trek in Bhutan.
Favorite travel charity: I like the One Drop Foundation and Heifer International.
Best travel tip:  The mental hurdle of deciding to go is the hardest part. Just do it!