Want to know how to travel in style, just like the pros? We check in with frequent fliers to find out how often they fly, their favorite destinations and what they never leave home without.
Name: Jeremy Branham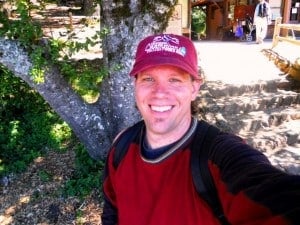 Occupation: Travel blogger – Budget Travel Adventures, Business Analyst 40 hours a week
Hometown: Columbia, SC
Residence: Sacramento, CA
Website: BudgetTravelAdventures.com
Twitter: @budgettravelsac
Facebook: Budget Travel Adventures
Pinterest: Jeremy's Pinterest
YouTube: Jeremy Branham 
Short Bio: Travel blogger and writer who explores the world with stories, tips, and destinations from a budget travel, sports, and adventure travel perspective.
How often do you fly:  5 – 10 times a year (I still like to drive to places too!)
How many countries have you been to:  17
How many continents have you been to:  2
Favorite American city:  South Lake Tahoe, CA (does that count?  If not, Annapolis, MD)
Favorite international city:  Lisbon, Portugal
Least favorite country:  None – I can always find something about a place I like
Favorite World Heritage Site: Plitvice Lakes National Park, Croatia
Favorite airline:  Alaska Airlines
Favorite aircraft type:  747
Aisle or window:   Window (I need to sleep and don't use the bathroom often)
Favorite airport lounge:  Hold on – airports have lounges?!?!
Favorite U.S. airport:  Sea-Tac (comfort/style), Hartsfield/ATL (exploring, exercising)
Favorite international airport:  Schiphol (Amsterdam)
Favorite island:  Kauai
Favorite fancy restaurant:  The Beach House Restaurant, Kauai
Favorite hole in the wall:  The Gunpowder Cellar (or Püssirohukelder) in Tartu, Estonia
Favorite fruit:  banana
Favorite food:  Thai and almost anything with chicken
Least favorite food: liver
Drink of choice (In the air and on the ground): water or Pepsi
Favorite travel movie(s): I have one but I cannot share for fear of losing my man card J
Favorite travel show(s): Rick Steves (I love his approach to travel and the educational part of his shows)
Favorite travel book(s): while they aren't just about travel, any book by Paulo Coelho
Five things you bring on a plane:  ear plugs, neck pillow, iPod, laptop, something to read.  On most trips I sleep but I work or read as well
What do you always seem to forget:  my organization skills – I plan and pack very well.  I just have to double check where everything is once I leave home.  Also, a built-in GPS for my brain – I am directionally challenged.
Most embarrassing/worst travel moment: a nude beach in Portugal – and not for the reasons most people think.  I wandered upon it while hiking the cliffs above Salema.  I walked down to this beach and realized what it was.  The nudity didn't bother me but I realized how white I really am once I got on a beach with tan naked people.
What's your dream destination:  Tough one – so many places I still want to explore.  I do a series called the College Football Travel Tour so there are lots of campuses and towns I want to see.  A dream destination abroad?  3 months backpacking in Slovenia.
Favorite travel website(s) – besides JohnnyJet.com, of course!:   I read so many websites that are awesome I can't pick one.  Lots of great ones for different purposes – destinations, stories, types of travel.
Best travel tip: Travel is not about going to a destination far away.  Travel is an attitude and a state of mind.  You don't have to go far from home to have some amazing travel experiences.