Want to know how to travel in style, just like the pros? We check in with frequent fliers to find out how often they fly, their favorite destinations and what they never leave home without.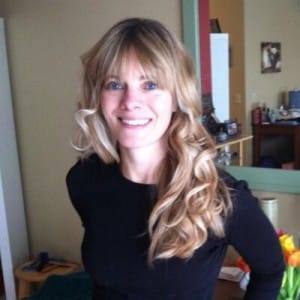 Name: Jennifer Buege
Occupation: Deputy Editor, Delta Sky magazine
Hometown: West Allis, WI
Residence: Minneapolis, MN
College: University Wisconsin—Madison (undergrad) and University of Michigan—Ann Arbor (law school)
College major: Journalism
Twitter: @foodgurl
Pinterest: Jennifer Buege
Instagram: jlbuege
Short bio: Food and travel have always been my passions. I spent the first 15 years of my career in the food world, working for magazines and websites, before switching over to travel writing and editing for Delta Sky magazine.
How often do you fly? 10x/year—but I hope that will grow.
How many countries have you been to? 35
How many continents have you been to? 5
Earliest travel memory: Camping with my family at Disney World.
Favorite American city: NYC (mainland). Vieques (non-contiguous).
Favorite international city: Paris, Paris, Paris.
Least favorite country: So far, mainland China's the one place that I feel kind of meh about.
Country with the meanest immigration officers: Fortunately, I've never had a problem.
Favorite World Heritage Site: Bwindi Impenetrable National Park in Uganda.
Favorite airline: Delta, of course!
Favorite aircraft type: One with a large enough business class section that an upgrade is more than a remote possibility.
Aisle or window: Window if I want to sleep, otherwise an aisle.
Favorite airport lounge: London Heathrow business class lounge.
Favorite international airport: Narita. I always go to the same little sushi restaurant and stop in the store next door for treats.
Favorite hotel: Hix Island House on Vieques, Puerto Rico.
Favorite cruise line: I've never cruised!
Favorite island: Vieques.
Favorite beach: Any of the beaches in Cancun because when I'm on them, it means it's Christmastime and I'm with my family.
Favorite fancy restaurant: I love Babbo in NYC because I scored a reservation there just in time for my 40th birthday and had a fabulous dinner.
Favorite hole-in-the-wall: There's this fantastic divey place in Milwaukee (it's located in a pool hall) that serves killer Mexican food…name escapes me at the moment.
Favorite bar: Currently, Brasserie Zentral in Minneapolis. They have an amazing Garden Gimlet made with dill aquavit that I can't get enough of.
Favorite fruit: Mangosteen. 
Favorite food: Chocolate.
Least favorite food: Offal.
Drink of choice (in the air and on the ground): Gin + tonic made with Death's Door gin or the Garden Gimlet (see above).
Favorite travel movie(s): Out of Africa.
Favorite travel show(s): Anthony Bourdain's Parts Unknown.
Favorite travel book(s): "Out of Africa."
Right now I am reading: The "Game of Thrones" series.
Top 3 favorite travel newsletters/magazines/blogs: I love David Lebovitz's blog about Paris. I just discovered Shannon O'Donnell's blog alittleadrift.com, where she writes about her travels around the world is a very fun and open style. For magazines, I'm digging Afar.
Favorite travel website(s)—besides JohnnyJet.com, of course! I'm pretty obsessed with ITA Matrix right now, trying to see which possible routing options get me the most miles.
5 things you bring on a plane: iPad, scrunchy travel pillow, stack of magazines I need to catch up on, sleep mask, camera.
What do you always seem to forget? Water bottle.
What do you like least about travel? Random airline schedule changes that screw up a perfectly designed itinerary.
What do you want your loved one to buy you from an airport Duty Free store? A nice bottle of gin. Or chocolates. It's a toss-up.
Favorite travel app(s): TripIt, Kayak.
Most embarrassing travel moment: I must have blocked them out because nothing's coming to mind.
Worst travel moment: Flying from Kota Kinabalu in Borneo to the tip of the island (Lahad Datu) to start a mountain biking trip. After almost reaching our destination, we had to return to Kota Kinabalu because of bad weather and take a lurching bus on twisty, turning roads back to Lahad Datu. My stomach still hasn't forgiven me.
What's your dream destination? So hard to narrow it down to just one. Cuba?
Best travel tip: Keep an open mind—you never know where it'll take you.