Want to know how to travel in style, just like the pros? We check in with frequent fliers to find out how often they fly, their favorite destinations and what they never leave home without.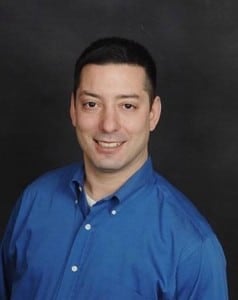 Name: Jason Steele
Occupation: Freelance travel writer and credit card expert
Hometown: Denver, Colorado
Residence: Denver, Colorado
College: University of Delaware
College major: History
Website: JasonSteele.com
Twitter: @SteeleStreet
Facebook: Jason Steele
Google+: Jason Steele
Short bio: I am on my third career after being in computers for many years, working as a commercial pilot, and finally becoming a freelance writer specializing in credit cards and travel. I currently serve as the Senior Points and Miles Correspondent for The Points Guy, and I write for several other online outlets.
How often do you fly? On average, about once a month.
How many countries have you been to? 25
How many continents have you been to? 5
Earliest travel memory: I was born in Buffalo, New York, and we used to visit my grandparents in southern Florida. I remember how the natural grass felt like plastic and there were bugs around, even in the winter. I just couldn't believe how warm it was there when Buffalo was covered in snow.
Favorite American city: I would have to say Washington, D.C. I just can't get enough of all the museums, and it is a great city to get around by train. Their new bike share program makes it even easier to take very short trips where the train doesn't make sense, and there is always something fun or special going on there.
Favorite international city: Cape Town, South Africa just blew me away. The sites, the scenery, the history, the food, and the people are all amazing. And nearby you can see penguins on the beach, look for great white sharks, and see baboons running around.
Least favorite country: I would have to say Jordan. I spent a day there trying to see Petra, but the entire site is a big tourist trap and it hasn't been kept up well. There are ton of beggars there too. The drive from Eilat, Israel is through a beautiful desert where they filmed Lawrence of Arabia, but we were told that the movie is banned in Jordan.
Friendliest people in the world: If I had to pick a country, I would say that South Africa has to have the friendliest people in the world. There is a new spirit of optimism since the end of Apartheid.
Country with the meanest immigration officers: The United States really takes the cake, especially if you don't enter through a major international airport. Land border crossing are bad, and as a pilot, I have had some just horrific encounters with border patrol at smaller general aviation airports. You can try as a hard as you can to comply with every possible regulation, and you are still treated like a hardened criminal.
Favorite World Heritage Site: The Old City and the Western Wall in Jerusalem, Israel are just amazing.
Favorite airline: I love Lufthansa, especially in business or first class. They also treat children very well.
Favorite aircraft type: I used to own a Grumman Cheetah that I flew as far as Alaska and the Bahamas. That was more fun than being a commercial airliner.
Aisle or window: Window!
Favorite airport lounge: Lufthansa's first class lounge/terminal in Frankfurt. I love the ride on the tarmac to the aircraft.
Favorite U.S. airport: Atlanta has to take the cake. It is the busiest airport in the world, and is far more efficient than other airports its size. I has great connections around the world, but also a nice train system to downtown. I grew up in Atlanta and remember when it opened in the 70s, and it has steadily grown and improved since. It is truly a marvel.
Favorite international airport: Tel-Aviv's Ben Gurion has a new terminal built in the last 10 years that uses classic Jerusalem stones to mix the modern and the ancient, just like the country it serves. It is also the only place I know where people regularly applaud and even cry when they land.
Favorite hotel: Giraffe Manor in Nairobi Kenya is like something out of a child's fantasy, with giraffes poking their heads in the windows!
Favorite cruise line: I have never been on a real cruise, so I'll pick the Staten Island ferry. You can't beat the view or the price, free!
Favorite travel credit card: The Starwood Preferred Guest Card from American Express.
Favorite island: Fernando de Narhonha is a small island off the coast of Brazil that my wife and I visited on our honeymoon. Often called the Galapagos of the Atlantic, it is overflowing with wildlife and beauty. 
Favorite beach: Sanchos Bay on Fernando de Narhonha is pristine and often completely empty. What more do you want?
Favorite fancy restaurant: Frasca Food and Wine in Boulder, Colorado. It is one of the best Italian restaurants in the United States, and a lot more convenient than going to Italy.
Favorite hole-in-the-wall: Enzo's End pizza in Denver. Unbelievably good pizza adjoining a dive bar. They do mostly takeout, but they have a few tables. The owner, Charlie is a great world traveler to talk to as well.
Favorite bar: Wyncoop in downtown Denver.
Favorite fruit: Lingonberries.
Favorite food: French onion soup.
Least favorite food: Broccoli.
Drink of choice (in the air and on the ground): Beer, preferably a microbrew from Colorado.
Favorite travel movie(s): Airplane! "They bought their tickets, they knew what they were getting into. I say, let'em crash!"
Favorite travel show(s): Man vs. Food was a pretty cool travel show, despite the eating contest at the end.
Favorite travel book(s): "Congo" by Michael Crichton. This book, which bears little resemblance to the movie, is part travel adventure and part science fiction. It was written 35 years ago, but still seems to resonate to me today.
Right now I am reading: "Behind The Lines" by my friend Jeffrey Miller. It is about how Americans saved millions of Belgians from starvation during the First World War.
Top 3 favorite travel newsletters/magazines/blogs: View From The Wing, One Mile at a Time, and The Points Guy.
Favorite travel website(s)—besides JohnnyJet.com, of course! Mommy Points, Frequent Miler, Miles To Memories.
5 things you bring on a plane: Tablet, noise-canceling headphones, carry-on bag, and anything I must have at my destination should my checked bag not arrive.
What do you always seem to forget? I always seem to always forget sunscreen.
What do you like least about travel? People who reach the front of a long line at the airport, and only then begin the long search for their boarding pass, ID, etc.
What do you want your loved one to buy you from an airport Duty Free store? Chocolate.
Favorite travel app(s): Flightaware.
Most embarrassing travel moment: Telling someone to meet me at the airport in Europe on my departure date, not realizing that I was arriving the next day.
Worst travel moment: After Varig involuntarily rerouted my wife and I during our honeymoon, they cancelled out the rest of our itinerary in our computers. We spent hours trying to get them to straighten it out, rather than enjoying ourselves.
What's your dream destination? I can't wait to visit Iceland.
Favorite travel charity: Wheels and Wells for Africa is a very small non-profit started by my father to provide clean water to remote villages in Uganda. He also has donated bicycles to people who have had no means of transportation.
Best travel tip: Always have a plan B. That means pack as if your checked luggage will be lost, and know what you are going to do if your flight is cancelled. The tip is part practical, and part psychological, as anticipating a problem makes dealing with it so much less stressful.