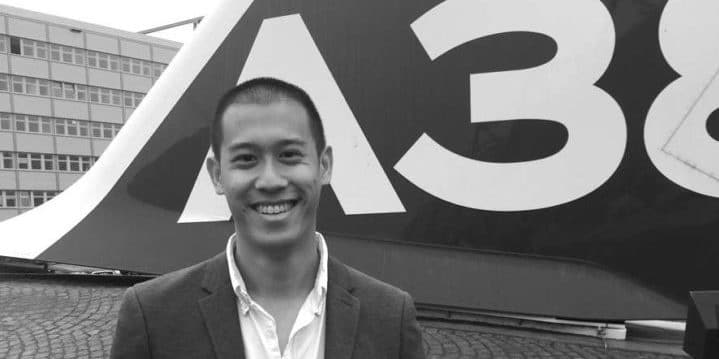 Want to know how to travel in style, just like the pros? We check in with frequent fliers to find out how often they fly, their favorite destinations and what they never leave home without.
Name: Jason Chua
Occupation: Project Executive, Transpose—a project from A3 by Airbus Group
Hometown: Chicago, Illinois
Residence: San Jose, Calif.
College: Stanford
College major: I studied engineering and product design in undergrad, and earned a master's in mechanical engineering.
Website: flytranspose.com
Twitter: @chuafunky and @flytranspose
Short bio: Jason Chua is the Project Executive of Transpose. He previously lectured at the Stanford d.school, where he co-founded the maker-ed initiative SparkTruck, led the MAKEwithMOTO research pilot at Motorola, and developed a variety of physical and digital retail experiences for Google. Most recently, Jason headed consumer experience and marketing at Knit Health, a startup focusing on pediatric health feedback through Internet-enabled passive biometrics. Jason completed his undergraduate and graduate degrees in product design and mechanical engineering at Stanford University, and spends his free time absorbing trivia from design blogs, academic journals, and library books.
How often do you fly? I'm in the air about twice a month. One international and one domestic. These are mostly for business, but I am an avid traveller myself. Right now, I'm collaborating with Airbus colleagues in Hamburg and meeting with potential partners in New York and Washington, D.C. That's why I dedicated my current work to moving commercial flight forward—there is just so much potential for airlines, manufacturers and suppliers to offer more to their passengers and stand out in a really competitive space.
Earliest travel memory: My earliest travel memory has to be flying to the Philippines to visit family and getting pancake syrup literally everywhere as I tried to eat my French toast. It was a bit of a sticky situation.
Favorite city: San Francisco—it's beautiful, and there's such a spirit of collaboration there.
Aisle or window: Window if less than two hours, aisle if longer.
Favorite airport: Frankfurt: it's well designed and I like the lounges.
Drink of choice (in the air and on the ground): Negroni on the ground, Campari soda in the air.
Favorite travel movie, book or show(s): In the first episode of Louie, there's a bit about the miracle of flight that captures the consumer attitude towards flying pretty well. 
Right now I am reading: "The Box: How the Shipping Container Made the World Smaller and the World Economy Bigger" by Marc Levinson.
5 things you bring on a plane: Earplugs, hoodie, laptop, phone charger, noise-cancelling headphones.
What do you always seem to forget? A belt.
What do you want your loved one to buy you from an airport Duty Free store? Japanese whisky.
Favorite travel app(s): Seatguru, a great resource that shares aircraft seat maps, flight information and even offers a way to search for flight deals.
Most embarrassing travel moment: I once missed a morning flight, then forgot my laptop on my rescheduled flight later that day. I eventually got the machine back, though.
I'm embarrassed I haven't been to: Brazil. It's such a popular destination, but I haven't yet made it down there.