Want to know how to travel in style, just like the pros? We check in with frequent fliers to find out how often they fly, their favorite destinations and what they never leave home without.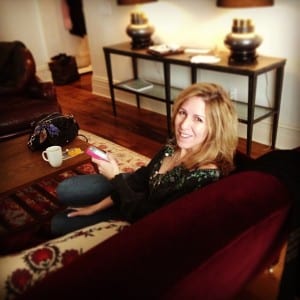 Name:  Janine Ellman Cifelli
 Occupation:  President and CEO of Janine Cifelli Representation
 Hometown:  Albany, NY
 Residence: Toms River, NJ
 Website: JanineCifelli.com
 Twitter: JanineCifelli
 Facebook: Janine Cifelli Representation; Janine Cifelli
 Short Bio: Effervescent. Knowledgeable. And highly selective in the properties she represents, Janine Cifelli has, over the past 25 years, carved a niche in the small exclusive hotel and resort market. Her expertise managing sales, marketing, reservations and PR/media relations for world-renowned properties like Palazzo Sasso, Necker Island and Ulusaba Game Reserve led her to steward her own namesake representation company in 2007. Today her exclusive portfolio – spanning from the Americas to Asia – includes the most exquisite boutique hotels and private islands in the world.
How often do you fly: 1-3 times a month
How many countries have you been to: I honestly stopped counting around 75 – so more than 75, less than 200. I've been very blessed.
How many continents have you been to: 6 – every one but Antarctica
Favorite American city: Edgartown, MA
Favorite international city: Florence Italy
Least favorite country: Don't have one
Favorite World Heritage Site: My newest favorite is Torres del Paine National Park – I spent time there recently and it's truly magnificent.
Favorite airline: Air New Zealand
Favorite aircraft type: Dreamliner – just kidding.
Aisle or window: Aisle by day; window by night. Long-haul flights will find stretching in the back.
Favorite airport lounge: Virgin Altantic
Favorite international airport: Heathrow
Favorite hotel:  That's like asking me to choose my favorite child.
Favorite island: Salt Cay, Turks and Caicos. I plan to retire there.
Favorite fancy restaurant: Daniel
Favorite hole in the wall: Chumley's, NYC
Favorite fruit: Blueberries – you can't live in Jersey blueberry country and not LOVE the blueberries.
Favorite food: Sushi
Drink of choice (In the air and on the ground): red wine. I know I should say water and I do drink a lot of water inflight, but I'm also married to an Italian. Red wine.
Favorite travel book(s): Rick Steves'
Right now I am reading: Steve Jobs' bio
Favorite travel website(s) – besides JohnnyJet.com, of course! Nope – it's just JohnnyJet for me.
Five things you bring on a plane: headset, iPad, travel pillow, charger, water
What do you always seem to forget: My toothbrush. I have quite the international collection, as result.
What do you want your loved one to buy you from an airport duty free store? I'm usually the one doing the shopping, and it's chocolate.
Most embarrassing travel moment:  Going to NZ on my first trip to see Otahuna (one of my clients) and arriving at JFK with my daughter's passport, not mine. Yes, I AM a world-traveler…
Worst travel moment: Having an upper-class ticket on Virgin and being downgraded while already sitting in my seat.
What's your dream destination: Antarctica – since I've never seen it.
Favorite travel charity: The Jersey shore towns of Seaside and Ortley – hard-hit by Hurricane Sandy – are very close to home, geographically and emotionally so I've been involved in the relief efforts there. Three-months post-storm, the situation is still very devastating, with many (who have homes) still without power and unable to return.