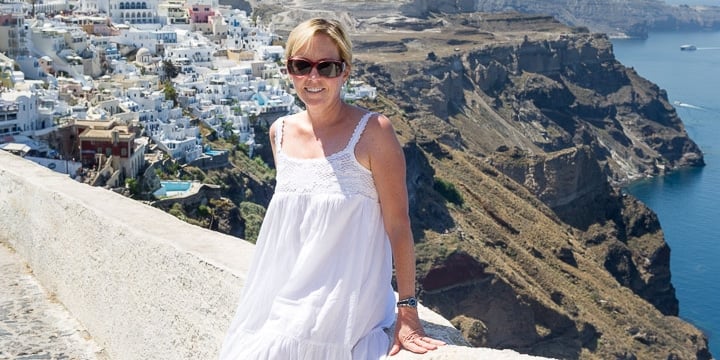 Want to know how to travel in style, just like the pros? We check in with frequent fliers to find out how often they fly, their favorite destinations and what they never leave home without.
Name: Gwen Pratesi
Occupation: Author and co-producer of PratesiLiving.com and freelance travel journalist
Hometown: Philadelphia, PA
Residence: Atlanta, GA
College: University of Richmond
College major: English/Sociology
Website: PratesiLiving.com
Twitter: @PratesiLiving
Facebook: Gwen Pratesi and Pratesi Living
Instagram: pratesiliving
Pinterest: Pratesi Living
YouTube: Pratesi Living
Short bio: Gwen Pratesi is a James Beard Foundation Award finalist in Journalism and an award-winning travel writer along with her husband (Roger) and partner at PratesiLiving.com. She coauthored "Southern Heat" with Chef Anthony Lamas, contributes bimonthly to the travel section at U.S. News & World Report, is a Travel Expert for SheKnows.com, and freelance journalist for other publications. She enjoys traveling as often as possible and then sharing the stories of the most sought-after destinations, highly regarded chefs, restaurateurs, farmers, wine and spirits producers, and culinary artisans in the world.
How often do you fly? Two times a month on average, but sometimes it's more frequent.
How many countries have you been to? 35
How many continents have you been to? 3
Earliest travel memory: We used to travel to Ocean City, NJ quite often when I was a little girl. I grew up in Philadelphia, so it was a quick trip to the beach. That's probably where my love of the beach and ocean came from.
Favorite American city: Boston. My husband and I lived there for years. We even met there. We'd move back in a heartbeat if they could warm things up a bit in the winter and ditch all the snow.
Favorite international city: Barcelona.
Least favorite country: I don't have one.
I have no desire to go to: Certain parts of the Middle East and Asia.
Friendliest people in the world: Nevisians. Most of the Caribbean islands have very friendly people, but the local folks in Nevis were especially nice.
Country with the meanest immigration officers: I haven't encountered any yet and I hope it stays that way.
Favorite World Heritage Site: Sintra in Portugal.
Favorite airline: Delta—We live in Atlanta.
Favorite aircraft type: Boeing 777.
Aisle or window: Window.
Favorite airport lounge: The new Delta Sky Club in Hartsfield-Jackson Atlanta International Airport's Concourse B.
Favorite U.S. airport: Atlanta—We can get to almost anywhere in the world from here.
Favorite international airport: Heathrow.
Favorite hotel: Any Four Seasons.
Favorite cruise line: Celebrity for larger ships and Silversea for more intimate ships.
Favorite travel credit card: American Express with Delta SkyMiles.
Favorite island: Nevis.
Favorite beach: Any of the beaches on Anguilla.
Favorite National Park: Grand Canyon.
Favorite fancy restaurant: The Fearrington House Restaurant—Pittsboro, NC.
Favorite hole-in-the-wall: Any pub with a great burger and fries and cold beer.
Favorite bar: The King Cole Bar—The St. Regis New York.
Favorite fruit: Bananas.
Favorite food: A well-prepared steak or a really spicy green Thai curry with chicken.
Least favorite food: Fast food.
Drink of choice (in the air and on the ground): Dry white wine and mineral water with lime.
Favorite travel movie(s): Old chick flicks like Pretty Woman, Love Actually and Bridget Jones' Diary or the newer film, The Hundred-Foot Journey.
Favorite travel show(s): Anthony Bourdain's No Reservations.

Favorite travel book(s): "Eat, Pray, Love" by Elizabeth Gilbert. The movie is great for travel, too.
Right now I am reading: More travel magazines and online sites than books.
Top 3 favorite travel newsletters/magazines/blogs: Condé Nast Traveler, Travel + Leisure and U.S. News & World Report.
Favorite travel website(s)—besides JohnnyJet.com, of course! ☺ TripAdvisor.com, Expedia.com and Travelzoo.com.
5 things you bring on a plane: Lip balm, eye cream, Avène Thermal Spring Water spray, sweater or wrap, and my iPhone.
What do you always seem to forget? A razor.
What do you like least about travel? Long flights spent in economy class.
What do you want your loved one to buy you from an airport Duty Free store? A bottle of fine Champagne or a whiskey we can't get at home.
Favorite travel app(s): TripAdvisor, Uber, Delta, and Instagram for inspiration.
Most embarrassing travel moment: Getting nervous about an eight-minute flight in a seven-seater prop plane in the Caribbean.
I'm embarrassed I haven't been to: Hawaii.
Worst travel moment: When my husband's wallet was stolen by a cab driver in Vienna. He picked us up at the hotel and dropped us at the restaurant, so he knew how to find us. This guy wracked up over $25,000 in charges, including cab storage garage fees.
What's your dream destination? A South African safari.
Favorite travel charity: African Wildlife Foundation.
Best travel tip: Stay off of your mobile devices as much as possible. Live in and enjoy the moment – the people, the food, the smells, the surroundings, and the experience. Take it all in. That's the best part about travel.