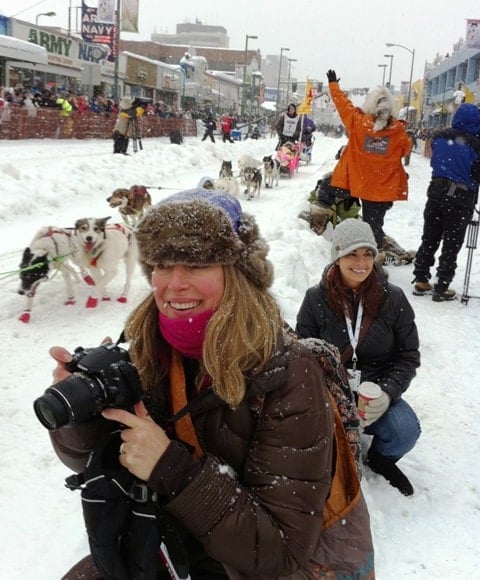 Want to know how to travel in style, just like the pros? We check in with frequent fliers to find out how often they fly, their favorite destinations and what they never leave home without.
Name:   GeorgieJet
Occupation:   Travel writer, photographer, painter
Hometown:   Rowayton, Connecticut
Residence:   Rowayton and Warren, Vermont
Website: Georgettepaintings.com, JohnnyJet.com
Twitter: @GeorgieJet
YouTube: GeorgieJet
Short Bio:
Hi, I am Georgette, a writer and artist based in Connecticut and Vermont. I am also Johnny Jet's older sister, who quite possibly ignited his first spark of interest in traveling to exotic places, when at the impressionable age of 14, he saw my two-week trip to Australia last four years! Whether skiing in the mountains, snorkeling in the tropics, or exploring faraway cities, I am always game for traveling and the privilege of writing for my baby brother's website JohnnyJet.com. Of course, coming home to my husband Cam, our dog Baci, and my cat Ace – is great, too! Visit my website at www.georgettepaintings.com.
How often do you fly: 24-36 times annually
How many countries have you been to:  34
How many continents have you been to:  5
Favorite American city:  San Francisco
Favorite international city:  Florence
Least favorite country:  Have not found one yet!
Favorite World Heritage Site: Uluru – Ayer's Rock, Australia
Favorite airline:  Thai Airways
Favorite aircraft type: WWII Beaver
Aisle or window:  Window
Favorite airport lounge:  Auckland New Zealand, Air New Zealand
Favorite U.S. airport:  Burlington, Vermont
Favorite international airport:  BKK  Suvarnabhumi Bangkok
Favorite hotel:  Four Seasons Hotel in Santa Barbara
Favorite cruise line:  Mary Day in Camden Maine (sailboat)
Favorite island:  St. Bart's and Petite St. Vincent
Favorite fancy restaurant: Le Bernadin in NYC
Favorite hole in the wall:  Talkeetna Roadhouse, Talkeetna, Alaska
Favorite fruit:  Mango
Favorite food:  Thai
Least favorite food:  Liver
Favorite travel movie(s): Wizard of OZ
Favorite travel show(s): Hot Spots and Anthony Bourdain
Favorite travel book(s): A Trip to the Beach, Lonely Planet
Five things you bring on a plane:  Earplugs, Eyemask, Earphones, notebook, pen
What do you always seem to forget:  Camera charger
Favorite travel iPhone app(s):  Alaska App, Mad River Guide, Metro North
Most embarrassing/worst travel moment: Camera batteries died on a Winter in Yellowstone trip, couldn't photograph wolves (it was -35 and wolves weren't happy either!)
What's your dream destination:  Hiking Machu Pichu, African safari
Favorite travel website(s) – besides JohnnyJet.com, of course!:   JohnnyJet.com, caroundtheworld,
Best travel tip: Pack light in a suitcase you love!