Want to know how to travel in style, just like the pros? We check in with frequent fliers to find out how often they fly, their favorite destinations and what they never leave home without.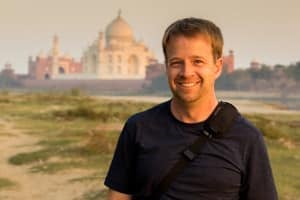 Name: Eric Stoen
Occupation: Travel writer and photographer
Hometown: Colorado Springs, Colorado
College: Pepperdine
College major: Political Science
Website: travelbabbo.com
Twitter: @TravelBabbo
Facebook: Travel Babbo
Pinterest: Travel Babbo
Instagram: travelbabbo
Short bio: I'm passionate about the benefits of family travel and let each of my three kids (6, 8 and 10) choose any destination in the world every year for a one-on-one trip with me. We also travel as a family during school breaks. My kids have been to 35 countries on six continents and that will be up to seven next month. In 2012 I won Conde Nast Traveler's Photo of the Year award. I've lived in Norway, Italy, Germany, and the US.
How often do you fly? I average six flights a month.
How many countries have you been to? 78
How many continents have you been to? 7
Earliest travel memory: Traveling to Paris and southern France at seven.
Favorite American city: New York City.
Favorite international city: Florence. I've spent well over a year of my life there, all trips combined.
I have no desire to go to: Russia.
Friendliest people in the world: Zimbabwe and the Philippines.
Favorite World Heritage Site: All of them.
Favorite airline: United. Not the world's best airline, but it's the best for me. Loyalty has its privileges.
Favorite aircraft type: 747. I love being on the upper deck.
Aisle or window: Aisle, but then I'll always lean over the window seat to take pictures.
Favorite airport lounge: LAX International Terminal Star Alliance Lounge.
Favorite U.S. airport: Santa Barbara. Small airports are so much easier.
Favorite hotel: The Peninsula Bangkok.
Favorite cruise line: Disney (hey, I have kids!).
Favorite island: Palawan, Philippines (ok, that's 1000+ islands).
Favorite hole-in-the-wall: Not totally a hole-in-the-wall, but my favorite restaurant in the world is Dimitris Ammoudi Taverna on Santorini. Hard to get to but worth it.
Favorite fruit: Mangos.
Favorite food: Pain au Chocolat. But only in France.
Least favorite food: Pickles.
Drink of choice (in the air and on the ground): In the air, only water. On the ground, red wine.
Favorite travel movie(s): The Secret Life of Walter Mitty, Lost in Translation.
Favorite travel show(s): The Amazing Race. It's the only television show I watch.
Favorite travel book(s): "The Way of Wanderlust" by Don George.
Right now I am reading: The newest Daniel Silva.
Top 3 favorite travel newsletters/magazines/blogs: I still love print magazines: AFAR; NatGeo Traveler; Outside.
Favorite travel website(s)—besides JohnnyJet.com, of course! Wendyperrin.com, lonelyplanet.com, afar.com.
5 things you bring on a plane: Bose headphones, laptop, Kindle. That's it.
What do you always seem to forget? The kids' swimming goggles. We have two dozen pairs at this point.
What do you like least about travel? When I don't get TSA PreCheck clearance.
Favorite travel app(s): United Airlines, TripAdvisor.
I'm embarrassed but I haven't been to: Cartagena.
Worst travel moment: Getting incredibly sick on the four-day hike to Machu Picchu and then being stuck in Lima for a week, still sick, because of 9/11.
What's your dream destination? A National Geographic around-the-world trip on a private jet.
Favorite travel charity: Learning AFAR.
Best travel tip: Take your kids everywhere!