Want to know how to travel in style, just like the pros? We check in with frequent fliers to find out how often they fly, their favorite destinations, and what they never leave home without.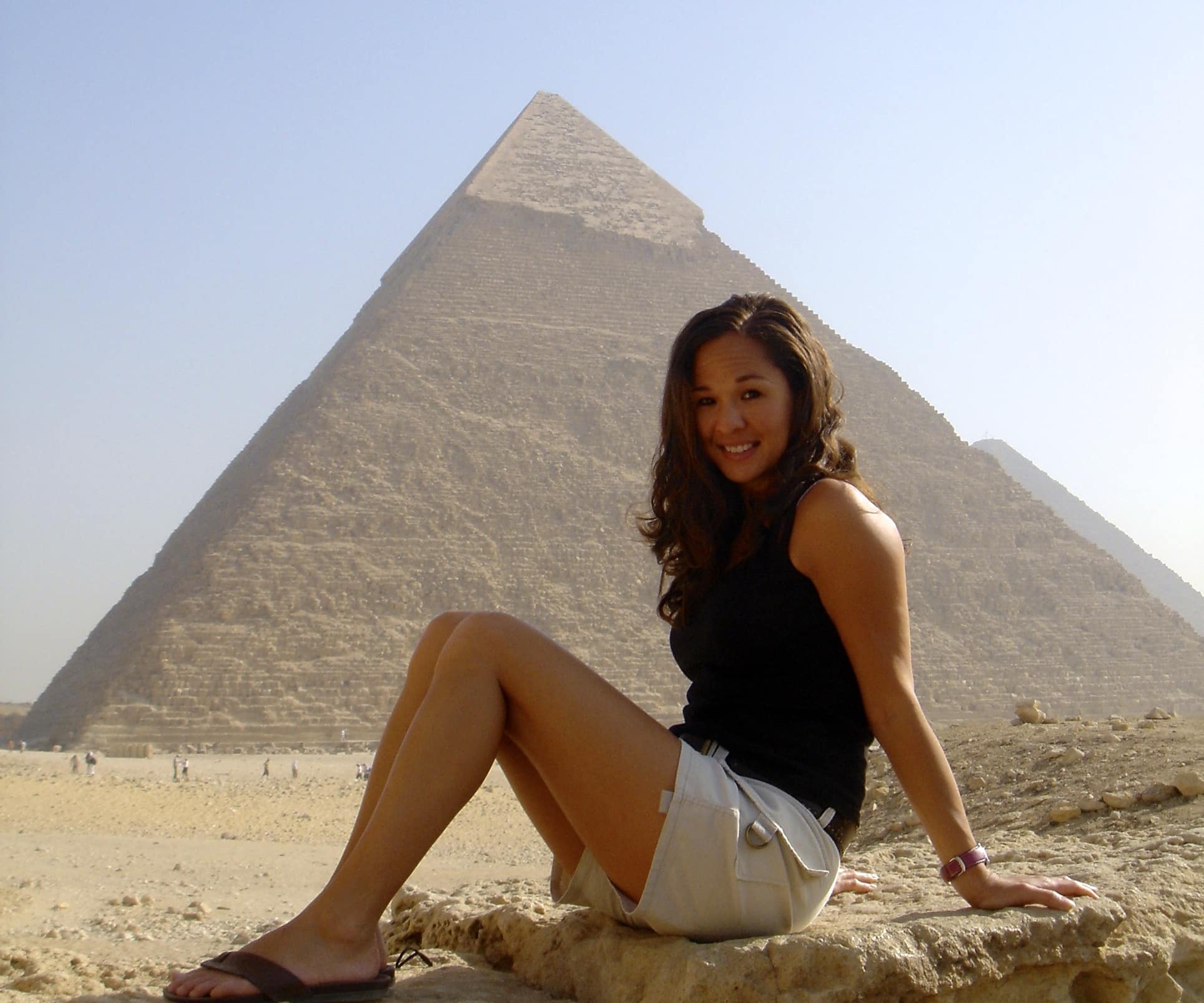 Name: Emele Cox Freiberg
Occupation: Travel and Tourism Public Relations specialist in Hawaii and backpacker/blogger of TheMissadventures.com 
Hometown: Kailua, Hawaii
College: University of Hawaii at Manoa
College major: Journalism
Website: themissadventures.com
Twitter: @Emele_kailua
Short bio: I am a publicist at McNeil Wilson Communications in Honolulu, Hawaii. Throughout my years in the travel industry, I have worked with hundreds of journalists who have inspired me to set off to see this amazing world we live in. My trusty sidekick Mihae and I strapped on our backpacks and started off our adventure by volunteering at an orphanage in Tanzania. After that, we were hooked and wanted to see more and more. We created TheMissadventures.com so our friends and family can follow our journeys.
Languages spoken: Just English for now but I am studying German and my goal is to be fluent.
How many countries have you been to? 30+
How many continents have you been to? Six.
Favorite American city: Portland.
Favorite international city: Heidelberg, Germany.
Least favorite country: It would be unfair to hold it against the entire country of Brazil, but the chaos of Rio de Janeiro really stressed me out.
Country with the meanest immigration officers: None. Even the grumpiest immigration officer brightens up when they look at my passport and learn that I am from Hawaii. An officer in Frankfurt recently asked me, "If you live in Hawaii, why are you HERE?"
Favorite World Heritage Site: The architecture of the Great Pyramids and Stonehenge are mind-boggling.
Favorite airline: Lufthansa.
Favorite U.S. airport: SFO.
Favorite international airport: Malpensa Airport in Milan. It has better shopping than any mall I've ever been to.
Favorite hotel: Westins are great for business. I loved the cave hotels of Cappadocia Turkey, but I am a backpacker and prefer hostels or guesthouses. My favorites are Alegria's and La Brisa Loca in Colombia, and Frenz Resort in Boracay, Philippines. 
Favorite island: The beauty of the Hawaiian Islands amaze me, especially Kauai, but Zanzibar, a little island off of East Africa, will always have a special place in my heart.
Favorite beach: I prefer not to say, but it is on my home island of Oahu.
Favorite fancy restaurant: Long Pura Indonesian Cuisine in Amsterdam was the best meal I've ever had. I hugged my hotel concierge for recommending this restaurant.
Favorite hole-in-the-wall: Any hole-in-the-wall in Thailand is unbelievable. The food is so good there that you can't wait to be hungry again.
Favorite bar: Leopold's in Bombay, India.
Favorite food: I love street food.
Favorite fruit: Hawaiian Candy Apple Bananas.
Least favorite food: Balut (a Filipino delicacy consisting of a partially developed duck or chicken boiled in its own egg). Nothing tastes worse, except maybe Vegemite. 
Craziest thing you've eaten: In Cambodia, I ate a beating cobra heart. I chased it down with a shot of the snake's blood.
Favorite travel movie(s): The Beach and Sideways.
Favorite travel book(s): "Shantaram" by Gregory David Roberts. When I read the book, I was traveling in the same city the story was set, so it was a 3-D experience for me. I could see the sites described in the book, smell what the author smelled, taste the foods he enjoyed, and hear similar sounds.
Right now I am reading: "Hawaii" by James Michener.
Favorite travel website(s)—besides JohnnyJet.com, of course! NomadicMatt.com, kayak.com.
5 things you bring on a plane: A sleeping mask, water, pashmina, healthy snacks and my iPod so I can listen to the sound of rain to block out all noise. 
What do you like least about travel? It is hard when you make friends with amazing people from around the world and then you have to say goodbye and your friendship is instantly reduced to an occasional "like" on Facebook.
What do you want your loved one to buy you from an airport Duty Free store? HP Sauce, lemon curd and tea from London.
Most embarrassing travel moment: I tend to attract thieves, I frequently have things stolen from me. 
Worst travel moment: Food poisoning from a cooking class in India. We were traveling across the country and I was so sick that I seriously asked my friend to leave me on the side of the road to die.
What's your dream destination? I want to visit every country in Africa. In my opinion, one has not truly traveled until they have experienced this wild continent.
Favorite travel charity: United Nations World Food Programme and Heifer International.
Best travel tip: Try to take away something from the different cultures and people you experience. I was once walking through a village alone in Africa and came across a man sitting in front of his mud hut. I said hello and asked him what he is doing. "Just sitting," he replied. It was such an odd answer to me because in Western society with so much technology and entertainment, we never take the time to sit back and observe the world around us. To this day, I try to take the time to just sit.