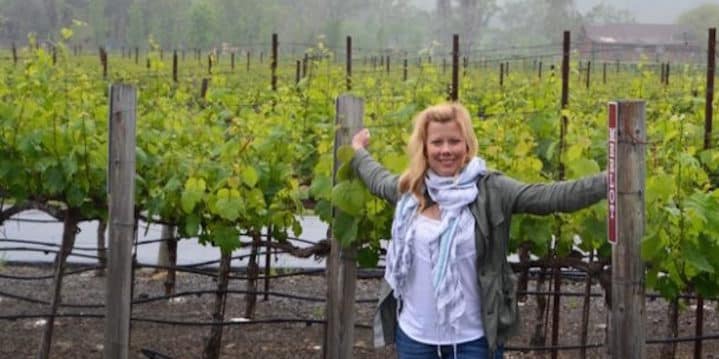 Want to know how to travel in style, just like the pros? We check in with frequent fliers to find out how often they fly, their favorite destinations and what they never leave home without.
Name: Elaine Schoch
Occupation: Wife, Mother, Child Chauffer, Traveler, Blogger, Photographer, Social Media Consultant, Wine Judge
Hometown: Grapevine, TX
Residence: Denver, Colorado
College: University of North Texas
College major: Journalism
Website: carpe-travel.com
Twitter: @elaineschoch
Facebook: Carpe Travel
Instagram: elaineschoch
Pinterest: Elaine at CarpeTravel
Google+: Elaine Schoch
Short bio: Elaine Schoch (pronounced the German way—Shock), is the founder and editor of Carpe Travel. She is a recovering corporate climber who spent 15 years in marketing and public relations. She launched Carpe Travel after leaving the corporate world to try to gain a better work life balance…and actually be a part of the lives of her husband and their two Princesses. Her focus on Carpe Travel is on balancing life and work with her passions—traveling—with and without kids and discovering new wines from around the world.
How often do you fly? Lately it's been about once a month. During the summers I've been trying to stick to more road trips with my kids. Albeit, it's my LEAST favorite way to travel.
How many countries have you been to? I have a hard time processing numbers over 10.
How many continents have you been to? Four—North America, South America, Europe, and Asia.
Earliest travel memory: One summer when I was maybe six-years old my parents rented a beach house on Galveston Island in Texas. The first night I cried and begged my dad to take me home…not because I didn't like the beach but the mosquitoes were eating me alive!
Favorite American city: New Orleans.
Favorite international city: This is a toss up. I love Turin and Rome in Italy. And, I have a special place in my heart for Moscow. It's simply stunning…
Least favorite country: I haven't found one…yet.
Friendliest people in the world: I think it depends on who you meet and how you choose to engage with the people around you. There are friendly and not so friendly people everywhere in the world. A lot of times you can choose how friendly people are to you by your actions. A simple hello and smile can change everything. 
Country with the meanest immigration officers: To be honest, I haven't met any "mean" immigration officers…yet. I have met some scary ones though. However, in hindsight I think it's more that I was just nervous and wanted to get back on U.S. soil. We adopted our youngest daughter in Russia, after three visits it was finally time to bring her home. The immigration line to leave the country was beyond long and at the time there weren't any roped lines allowing for people to approach the desk in an "orderly fashion." Holding a wiggly, two-year-old and managing our luggage while essentially pushing our way through the line was no easy feat. Once we finally got to the desk the officer had to stamp a pile of papers. One officer turned to two, then three and then four. All thoroughly examining the papers…twice. Holding our passports up to match our photographs. Speaking to each other in hushed voices and then to another on a walky-talky. (This was a few months before Russia banned U.S. citizens from adopting in Russia so the political topic was a hot button for some.) The officers were simply doing their jobs and I appreciated that…once they gave us the final stamp, we had landed in Washington, Dulles and she officially became a United States citizen.
Favorite World Heritage Site: Of the sites I've visited I have a few favorites. (How can you possibly have just one!) The Historic Town of Ouro Preto in Brazil is amazing. The shopping, architecture and hidden restaurants made for one of the most memorable days during my two weeks in Brazil. In Italy, I fell in love with the Cinque Terre. Exploring Red Square in Moscow at sunrise (aka 10 am in November) was chilly but like stepping into a movie with stunning cinematography and a historical plot around every turn. At home in the United States, Mesa Verde National Park in Colorado is tops so far. Walking through the ancient adobe villages is literally like walking through a history book.
Favorite airline: I love to fly internationally on Lufthansa. The free wine with meals won me over on my first flight to Italy many moons ago.
Favorite aircraft type: What ever gets me there.
Aisle or window: I'm usually an aisle kinda girl; I like the extra space.
Favorite U.S. airport: Ninety-nine percent of the time it's Denver since it means I'm home.
Favorite hotel: It really depends on the destination. I loved this little boutique hotel—Hotel Villa Steno—in the Cinque Terre and would give almost anything to stay at The Ritz-Carlton in Moscow again. If I'm looking for a staycation in Denver, it's Hotel Monaco.
Favorite travel credit card: I carried the American Express Gold card for nearly 12 years and loved the travel rewards program it offered…but, I found AMEX wasn't readily accepted in other countries I was visiting, so I always had to carry another card with me when I traveled. I recently switched over to the Chase Sapphire card. So far, I'm loving the points I'm earning towards hotels and have already earned two airlines. It doesn't have foreign transaction fees AND my card is always accepted so I don't have to carry more than one credit card with me when I travel.
Favorite fancy restaurant: I have a lot…this might have to be more of a by destination answer. I just left New York City so today I can say Patsy's on West 56th in the Theatre District. The Veal Marsala is A.M.A.Z.I.N.G.
Drink of choice (in the air and on the ground): Pretty much all I drink is coffee, water, wine. Usually in that order.
Favorite travel website(s)—besides JohnnyJet.com, of course! SmarterTravel and Conde Nast.
5 things you bring on a plane: iPhone, headphones, portable charger, bottle of water, Global Entry ID.
What do you always seem to forget? Band-Aids and toothpaste.
What do you like least about travel? Being out of synch with my exercise routine.
Favorite travel app(s): I have come to rely heavily on TripIt. I swear this app is THE best travel organization app. I also love Vivino. When I travel I'm always trying to explore the local wine scene so keeping track of the wines I sampled is a must. Vivino allows me to snap and save a photo of the wine label while also enabling me to share and see other peoples reviews of the wine. The app recently set up a purchase feature too so ordering new discoveries is simple. A few others I use a lot—Gate Guru, Open Table, Google Translate, and Google Maps.
Most embarrassing (and worst) travel moment: Trying to breast feed in the airplane bathroom. I'll just leave it at that.
What's your dream destination? Right now I'm dreaming of Cuba, Machu Picchu in Peru and the Galapagos Islands.
Favorite travel charity: I've always wanted to do a volunteer trip but most I've found require a full week or more to dedicated time, cost hundreds if not thousands of dollars and aren't always that easy (or safe) for families with young kids. Last year I came across Give a Day Global, a voluntourism program that connects international travelers with one day of volunteering. The purpose of Give a Day Global is to help travelers who want to get involved with a meaningful experience, even if they just have one day of time to give. This "experience" is aimed at helping community-based nonprofit organizations who are doing impactful work by helping them recruit volunteer labor and expand their networks of support. My family spent a day working with the group on our last visit to Cancun. The Give a Day Global program turned out to be something we could actually do – with our young kids—while still doing the "vacation" we had already planned. It was a great way for my family to experience the real Cancun.
Best travel tip: Don't let fear—or kids—keep you from traveling. Plans can change for several reasons. Being flexible can make or break your trip.