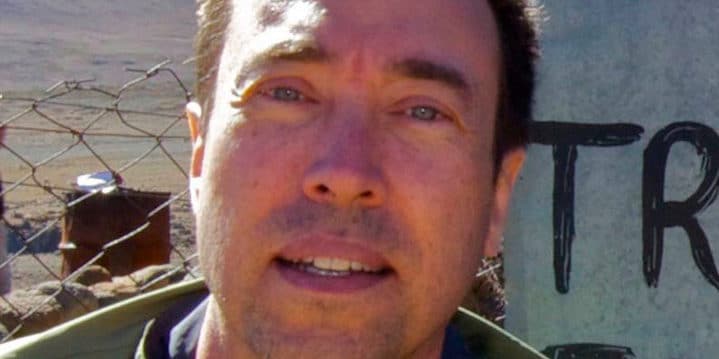 Want to know how to travel in style, just like the pros? We check in with frequent fliers to find out how often they fly, their favorite destinations and what they never leave home without.
Name: Devin Galaudet
Occupation: Travel writer and pubisher, and memoirist
Hometown: Los Angeles, CA
Residence: Long Beach CA
College: Antioch University at Los Angeles
College major: Creative Nonfiction
Website: DevinGalaudet.com and InTheKnowTraveler.com
Twitter: @DevinGalaudet
Facebook: Devin Galaudet
Instagram: devingalaudet
Pinterest: In The Know Traveler
Google+: Devin Galaudet
YouTube: Devin Galaudet
Short bio: Devin Galaudet is the editor and publisher of the In The Know Traveler and In The Know Bride, which chronicles his endeavor to marry his wife in 100 countries around the world. (20 times in 15 countries, so far). Devin has written for the Huffington Post, The Good Men Project, and many others. A frequently sought-after guest expert on relationship and travel, Devin has appeared on FOX-TV, NBC-TV, Reinvention Radio, the California Writers Coalition, JohnnyJet.com, the Jewish Journal, and hundreds of podcasts.
And Devin's memoir, "10,000 Miles with my Dead Father's Ashes," is available in September and answers the question what do you do when you lose your father's ashes.
How often do you fly? 10-15 a year.
How many countries have you been to? 84
How many continents have you been to? 6
Earliest travel memory: Driving cross-country with my parents to see family in the Chicago burbs.
Favorite American city: Long Beach, CA.
Favorite international city: San Miguel de Allende, MX, but this changes regularly.
Least favorite country: Maybe Brazil but it was simply an odd trip and probably not fair to blame the nation. So, I really don't.
I have no desire to go to: India, I think I have received too many articles about India to really want to visit.
Friendliest people in the world: Irish.
Country with the meanest immigration officers: United States.
Favorite World Heritage Site: Chichen Itza at equinox. Truly amazing!
Favorite airline: Turkish Airlines/Cathay Pacific.
Favorite aircraft type: A big one that takes off, flies and lands safely.
Aisle or window: Aisle.
Favorite airport lounge: I find them mostly the same.
Favorite U.S. airport: If I had to choose, maybe Dallas but general unimpressed.
Favorite international airport: I remember really liking Kuala Lumpur's airport when it first opened. Hong Kong was memorable.
Favorite hotel: Ugh, there are a million good ones. Almost any family-run three-star that has been around a while usually has something memorable.
Favorite cruise line: Never cruised, yet.
Favorite travel credit card: Chase Sapphire Preferred.
Favorite island: Aitutaki in the Cook Islands, I loved Puerto Rico, too.
Favorite beach: Harbour Island in the Bahamas.
Favorite National Park: Yosemite.
Favorite fancy restaurant: I had an incredible meal at John Howie's Seastar restaurant in the Pan Pacific hotel in Seattle, but I think it closed.
Favorite hole-in-the-wall: The taco truck at Insurgentes and Hildalgo, I think, in San Miguel is pretty fantastic.
Favorite airport restaurant: HA! I don't think I have ever had a memorable meal in an airport restaurant.
Favorite fruit: Rambutan, a Southeast Asia favorite.
Favorite food: Turkish or Thai.
Least favorite food: I eat everything.
Drink of choice (in the air and on the ground): Fresh coconut water.
Favorite travel movie(s): Lost in Translation, In Bruges was fun due to its setting.
Favorite travel show(s): I loved Huell Howser. He just had a folksy thing that was infectious.
Favorite travel podcast(s): I have always appreciated the classics, Rick Steves still works for me.
Favorite travel book(s): Lonely Planet for general travel guides. And a fantastic new memoir called "10,000 Miles with my Dead Father's Ashes" ;)
Right now I am reading: I am a book obsessive-compulsive. I am reading "Hillbilly Elegy" by J.D. Vance; "How to Be a Perfect Stranger: a Guide to Etiquette in Other People's Religious Ceremonies" by Magida; "The Original I Ching: The Eranos Ching Project" by Ritsema and Sabbadini. About four others, too.
Top 3 favorite travel newsletters/magazines/blogs: I genuinely think Johnny Jet is a great newsletter. I just dumped a bunch of forgettable ones.
Favorite travel website(s)—besides JohnnyJet.com, of course! Gonomad.com, WorldHum.com and, of course InTheKnowTraveler.com!
5 things you bring on a plane: Books, ear plugs, emergency snacks, fizzy vitamin tablets, throat lozenges.
What do you always seem to forget? Enough business cards.
What do you like least about travel? Anything to do with LAX.
What do you want your loved one to buy you from an airport Duty Free store? I don't think I have ever bought anything in a Duty Free store. How about chocolate?
Favorite travel app(s): World Clock or WhatsApp
Most embarrassing travel moment: Losing my father's ashes before scattering them. Mortified is a better term, though. Yes, I wrote a book about it. 
I'm embarrassed I haven't been to: India.
Worst travel moment: Jumping out of a second-story window because the front door of the youth hostel was locked and had to catch a pre-dawn train in Poland only to discover I jumped into locked fenced area and had to climb over the fence. I was much younger then.
What's your dream destination? Uruguay keeps calling to me. Central Asia, too: Uzbekistan, Kazakstan, Tajikistan, etc.
Favorite travel charity: The Unstoppable Foundation.
Best travel tip: Beat jetlag by taking melatonin. Force yourself to stay up to 10pm local time, pop a melatonin 15 minutes before bed. Repeat the next three night in a row and you will be readjusted to the new time. Well, it works for me.