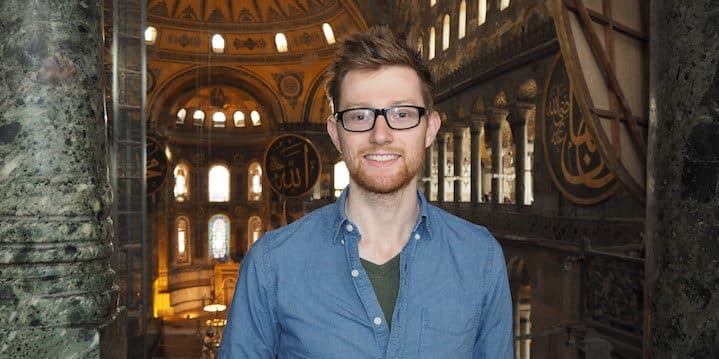 Want to know how to travel in style, just like the pros? We check in with frequent fliers to find out how often they fly, their favorite destinations and what they never leave home without.
Name: Chris Fitch
Occupation: Travel writer and senior reporter at Geographical
Hometown: Travelled too much when young to ever settle on one
Residence: London, UK
College: Royal Holloway, University of London
College major: Geography
Website: chrisfitch.co.uk
Twitter: @christophfitch
Instagram: christophfitch
Short bio: When I was young my family moved from the UK to the Solomon Islands, where I spent my youth exploring the tropical rainforests and beaches of Guadalcanal. After I grew up, I spent several years producing radio shows and documentaries, including spending some time living in and reporting from Taipei. Now my day job involves travelling the world and writing features for Geographical, the magazine of the Royal Geographical Society, and this year I'm publishing my debut book, "Atlas of Untamed Places: an extraordinary journey through our wild world." My work covers anything to do with nature, wildlife, travel, exploration, geopolitics, and more.
How often do you fly? On average probably once or twice a month, but usually in short bursts.
How many countries have you been to? 36 so far (quietly aiming for 40 before I turn thirty).
How many continents have you been to? All of them except South America and Antarctica by the time I was 12. Haven't improved since then.
Earliest travel memory: Taking off from London en route to Hong Kong aged six, the first leg on my family moving home to the South Pacific.
Favorite American city: Chicago, although to be fair I've never been in winter…
Favorite international city: Maybe Sydney? Lisbon? Singapore? Cannot choose.
Least favorite country: Thailand. Never understood why people love it there so much. Animal cruelty, military coups, masses of other tourists…what is there to like?
I have no desire to go to: Places that are cold and remote. Somewhere like…Vladivostok.
Friendliest people in the world: South Koreans. I've always been made extremely welcome in Seoul.
Country with the meanest immigration officers: The UK. Easy.
Favorite World Heritage Site: Stonehenge. As a child it was just a strange pile of rocks we drove past to visit my grandparents. Didn't know it was internationally famous for many years.
Favorite airline: For nostalgia's sake, I'll say Solomon Airlines.
Favorite aircraft type: The tiny ones where they have to weigh all the passengers and sit you according how you'll best balance out the plane.
Aisle or window: Window. Obviously.
Favorite airport lounge: Wherever will take me in.
Favorite U.S. airport: Billings, Montana. The gateway to Yellowstone National Park.
Favorite international airport: Singapore Changi. They're the best and they know it.
Favorite hotel: Tend to use Airbnbs, but if I was getting a hotel I'd look for something independent and rustic over the flashy chains.
Favorite cruise line: Never cruised in my life.
Favorite travel credit card: Revolut for everything.
Favorite island: Fraser Island, Queensland, Australia. The world's biggest sand island, gorgeous place!
Favorite beach: The Baths, British Virgin Islands.
Favorite National Park: Meru, Kenya. It's all overgrown and feels genuinely wild.
Favorite fancy restaurant: Not especially fancy, but Din Tai Fung in Taipei has won several international awards so I think it counts. Delicious xiao long bao.
Favorite fruit: Pineapple.
Favorite food: Anything vegetarian and spicy! The hotter, the better.
Least favorite food: Sashimi. I've tried it in Tokyo, and was gagging for days!
Drink of choice (in the air and on the ground): Either a pale ale or a white wine.
Favorite travel movie(s): Lost in Translation.
Favorite travel show(s): Planet Earth.
Favorite travel book(s): "The Lost World" by Sir Arthur Conan Doyle. "Around the World in 80 Days" by Jules Verne. "Hector and the Search for Happiness" by François Lelord. "Solomon Time" by Will Randall. "Jupiter's Travels" by Ted Simon.
Right now I am reading: As always, several at once: "Wild" by Cheryl Strayed, "Prisoners of Geography" by Tim Marshall, and "Linescapes" by Hugh Warwick.
Top 3 favorite travel newsletters/magazines/blogs: Geographical (obviously the best), Monocle, Culture Trip.
Favorite travel website(s)—besides JohnnyJet.com, of course! Wikitravel.
5 things you bring on a plane: A book, some snacks, a fully charged phone, headphones, a jumper.
What do you always seem to forget? To work out in advance where I'm supposed to be going once I arrive.
What do you like least about travel? The environmental impact.
What do you want your loved one to buy you from an airport Duty Free store? Chocolates.
Favorite travel app(s): Revolut, Citymapper, Galileo.
Most embarrassing travel moment: I'm supremely cool wherever I go.
I'm embarrassed I haven't been to: South America. Any of it. Also Ireland, it's right next door!
Worst travel moment: Being scammed in Istanbul by a man claiming he needed to exchange a large domination note for change. Obviously, as I realised later, the money he gave me was completely fake.
What's your dream destination? Somewhere new in the Pacific, maybe Tahiti or Kiribati.
Favorite travel charity: Born Free Foundation/Kenya Airways.
Best travel tip: Walk everywhere. You'll never get a better sense of the world than on foot (plus it's considerably cheaper than a taxi).