Want to know how to travel in style, just like the pros? We check in with frequent fliers to find out how often they fly, their favorite destinations and what they never leave home without.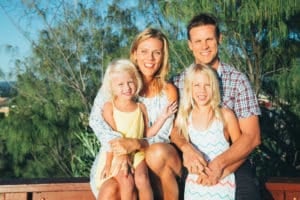 Name: Caroline Makepeace
Occupation: Publisher
Hometown: Woy Woy, NSW, Australia
Residence: Gold Coast, Queensland, Australia
College: Australian Catholic University
College major: Teaching
Website: ytravelblog.com
Twitter: @ytravelblog
Facebook: yTravel Blog
Instagram: ytravelblog
Pinterest: Caz and Craig @yTravelBlog
Google+: Caz Makepeace
YouTube: y Travel Blog
Short bio: I want to live in a world where people fearlessly follow their heart to embrace travel as more than just a two-week annual thing. I'm the co-founder of ytravelblog.com, with my husband, Craig. We travel with our two daughters and are planning an epic America Unplugged road trip of the US.
When not travelling and writing about it, you can find me swinging in a beach hammock at sunset to the tunes of Jack Johnson, or buying another crystal at a local market to meditate with.
How often do you fly? 1-2 times a month.
How many countries have you been to? 53
How many continents have you been to? 5
Earliest travel memory: My brother getting chased by a horse at a park across the road from our motel. I think we may have laughed. (Once we knew he'd gotten away of course!)
Favorite American city: San Francisco.
Favorite international city: Cape Town, South Africa.
Least favorite country: Willy Wonka's World—way too hard to find the ticket to get in.
I have no desire to go to: North Korea.
Friendliest people in the world: Americans.
Country with the meanest immigration officers: UK.
Favorite World Heritage Site: Kakadu National Park, Australia.
Favorite airline: Qantas.
Favorite aircraft type: Seaplane.
Aisle or window: If I'm sharing with strangers, the aisle. If I'm with family, window.
Favorite airport lounge: Qantas Sydney airport—I've not experienced many to be honest.
Favorite U.S. airport: Anyone but LAX.
Favorite international airport: Broome, Western Australia.
Favorite hotel: We recently experienced Ritz-Carlton for the first time in Denver and found them to be exceptional.
Favorite cruise line: Carnival Cruise lines—so much fun for everyone.
Favorite travel credit card: Amex.
Favorite Island: Rottnest Island, Western Australia.
Favorite beach: Whitehaven Beach, Queensland.
Favorite fancy restaurant: Café Sydney, Australia.
Favorite hole-in-the-wall: Belushi's Bar, London.
Favorite bar: The Toast Bar, Dublin.
Favorite fruit: Mangoes.
Favorite food: Green smoothies.
Least favorite food: Turkish.
Drink of choice (in the air and on the ground): Either chardonnay or shiraz—depends on the weather.
Favorite travel movie(s): The Endless Summer.
Favorite travel show(s): Places We Go (an Australian TV Show).
Favorite travel book(s): "The Beach" by Alex Garland.
Right now I am reading: "Looptail" by Bruce Poon Tip.
Top 3 favorite travel newsletters/magazines/blogs: I don't read a lot actually. But, my old favourites are Wandering Earl, Time Turtle Travel, and my fave travel writer is Celeste Mitchell, who writes for various publications and is editor of the Queensland Blog.
Favorite travel website(s)—besides JohnnyJet.com, of course! I probably use TripAdvisor the most (take reviews with a grain of salt) but I love Airbnb—great deals which help create beautiful memories.
5 things you bring on a plane: Journal, pen, reading book, lip balm, hand cream.
What do you always seem to forget? Snacks.
What do you like least about travel? Australia is so far away from everywhere.
What do you want your loved one to buy you from an airport Duty Free store? Perfume—no preference given.
Favorite travel app(s): TripIt.
Most embarrassing travel moment: Missing our flight home from our five-year honeymoon. We were in the bar toasting to an amazing adventure on Khao San Road thinking we had another six hours until the plane left. Oops.
It was pretty awful phoning our families who had come down to Sydney for the night so they could wake up early to welcome us back home at the airport! Sorry, we won't be there!
I'm embarrassed I haven't been to: Hawaii.
Worst travel moment: When my best friend and I were "kidnapped" on motorcyles by local boys, masquerading as guides, on Samosir Island, Sumatra. We swear they were doped out on magic mushrooms, which the area is well-known for and were just having fun scaring us.
We survived okay but when my driver began singing to me his own version of I shot the Sheriff—"I killed the tourist and then stole her passport"—I thought this ride was to be my last. It was my first backpacking experience and sure did not deter me from continuing the journey. That was 19 years ago now and the most-told (and laughed about) story about my travels.
What's your dream destination? The Maldives.
Favorite travel charity: Pencils of Promise.
Best travel tip:  Don't think it has to end just because your life circumstances change. Allow travel to evolve with you.